Hello, friends! We hope that you had a great time reading the blog and that you cannot wait for us to share everything that will help you design the most beautiful perfume bottle designs using our free yet highly editable free clear glass perfume bottle mock-up PSD file. But before we formally begin our blog, we would like to thank you guys for your overwhelming response on our previous blogs and for also sharing them with the people that you love and care for. And we hope to receive your love & support in the future too.
Like every other business and its products, the perfumery business happens to be one of the most sensitive ones to launch and keep relevant in the market mainly because it literally has to do everything with your olfactory sensors and you have to make sure that you take the scents seriously in order to attract more and more people towards your business. As you know that your branding and the product packaging are the first things your potential customers get in touch with so it is very important for you to make that first impression last longer than anything.
In this part of our blog, we are going to be sharing the main reasons why most people purchase perfumes so that you can keep that information in mind when you will start working on creating the designs of the clear glass perfume bottles.
First things first; perfumes are literally bought to keep the unwanted body odor away but when you wear a perfume, you instantly feel confident about yourself and feel better, your mood is uplifted and you are all set to conquer the day or go about anything that you are planning to do like going to a dinner date or attending a conference as a guest speaker, your perfume is going to give you that confidence boost and you are going to love that for sure.
With your perfume, you seem to look more attractive and people would want to be around you at a party, etc. so, if you are wearing a really nice perfume, know that people would like to have a conversation with you. Another advantage of using perfumes is that since they boost your confidence and your mood is great for a longer period of time, you do not feel stressed which can be linked to the fact that you will feel happy and healthy in your body. Sounds great, right? Keep reading the blog as there is more to wearing perfumes and why you, as a perfumery business need to pay attention to all the details that matter.
Although, there are many ways to market your perfume business and make sure that your potential customers feel the need to get at least one of your perfumes to see if they can work for them but the most effective one is to develop a name and design of the bottle that is so irresistible that they have to check it out and then eventually purchase it too. Everything about your packaging and product must be iconic enough to attract your targeted audiences and to know them better; you need to get all the insights into their age groups, their likes and dislikes when it comes to buying perfumes as well as the buying cycle(s) as well. This information will not only help you put up a good show through your branding and marketing, but you will also be able to see the progress that you will be making for the business and that's what matters the most, right? Keep your customers happy, let them know that you care and they will stay loyal to you for years to come.
You can also amplify your marketing strategies through your social and digital media content – make aesthetically pleasing content for the audiences by making the most of our free clear glass perfume bottle mock-up PSD file and see everything working in your favor right from the start. Also, like everything that you have been working on, your designs must be shared for review meetings, etc. in the form of mock-ups and the most effective way to create mock-up presentations is to define the rationale behind your thought process and design ideas so that when the review meeting is in progress, all the stakeholders are on the same page to move to the next step(s).
That is all for today from our end. We hope that you guys had a great time reading the blog and that you are all set to get your hands on our free clear glass perfume bottle mock-up PSD file right away. Do let us know what your creative and design journeys were like in the comments section and while you are at it, don't forget to share the blog with your graphic designer friends and favorite colleagues as well.
Free Clear Glass Perfume Bottle Mockup PSD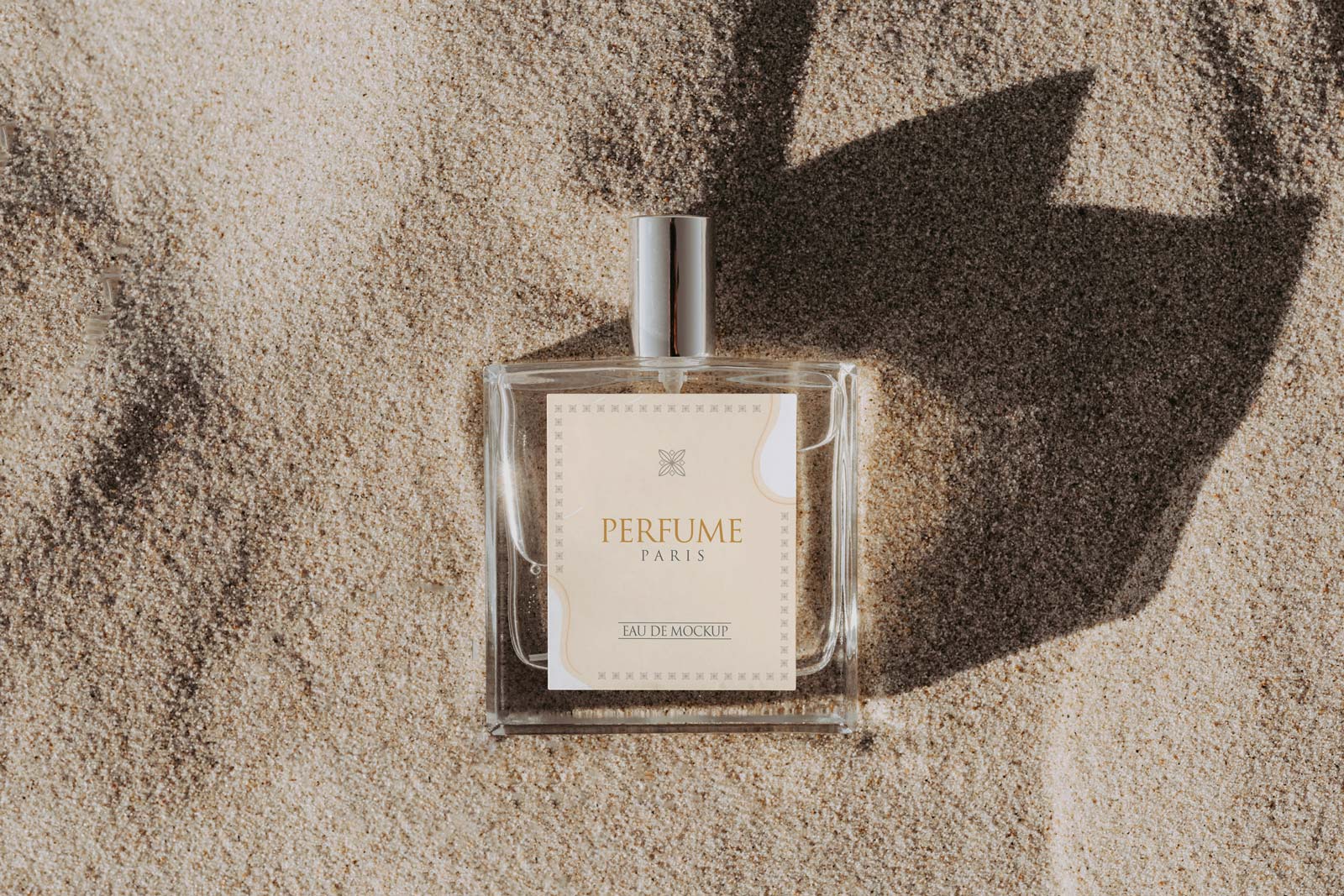 Available Format: Photoshop PSD
License: Free for personal and commercial usage
File Format: WinRAR
Mock-up Resolution: 4500 x 3000 px
Artwork Size: 850 x 1012 px
Note:
1. Free Perfume Mockup is allowed to share online (A Must Linkback to this page)
2. Say thanks if you like or share/tweet with your friends. That means a lot to me.
3. And don't forget to follow or subscribe to receive more high quality premium freebies & awesome articles only.
Download Perfume Mockup PSD
More Perfume Mockups: