Hi everyone! We hope that you guys are enjoying our blogs and that you are also working on a couple of very interesting projects too by fully utilizing our free yet highly editable mock-up PSD files. For our today's blog, we have worked on this free brown cardboard delivery mailer box mock-up PSD file. We are very excited to share everything that you need to know to start working on the designs and stuff but before doing that, allow us to thank you guys for your kind responses every now and then and for also sharing our blogs with the people that you love and care for and we hope to receive more support from you guys!
Delivery mailer boxes can be designed in many different sizes and even shapes for that matter if you are fancy and have the budget to execute the unique designs. But to be able to bring something new to the table, you must also know how to convince the team members, clients and other concerned parties with your communication skills, rationale and all the creative thinking that you had done to execute the designs. We know it can be hard, but no one said it is impossible, you know.
In this part of our blog, we will share how you guys can work on newer and better ideas to help yourself and the businesses that you are involved with to make the most of the resources that you have to deliver your products in the best ways possible. Keep reading the blog till the end to know more and make informed decisions throughout the process.
In order to work on the perfect sizes for the brown cardboard delivery mailer boxes, you first need to determine what the products are like for example; for small sized products such as notebooks, you would be happy to work on the designs of a thin mailer box whereas, for big products such as photo frames, you would want to create something that not only fits in the mailer box pretty nicely but that it also does not get bumps due to the product that is inside it. In addition to that; you must also know that you are only using the cardboard delivery mailer boxes for dry items (which can be food, notebooks, pens, cards, etc.) as it won't be a good idea to pack liquid items in cardboard delivery mailer boxes especially if you get the deliveries done through a third party vendor.
When it comes to mailer boxes, the ones that we like the most are those that have quirky communication written or designed on them. It can be in the form of words, design elements or even casual doodling as well but by the end of the day; you know that you have made the receiver of the delivery mailer box happy and that is what matters the most. In addition to that; you can also categorize the themes and designs such as for corporate level order, you might want to keep the box design simple and to the point with no witty phrases (but the communication does not have to be boring, alright?), whereas for the audience that is aged between the age groups of 25 till 35 can be intrigued with cool catch phrases (relevant to the business, of course!).
This literally is the age of creating unboxing videos and you will only be amplifying your brand's creative thinking ideas when they'd make it to the social media platforms and that's just one example of doing things, you can obviously devise a proper strategy to create more buzz too.
Before we conclude the blog, we would love to encourage you guys to make sure that you have plenty of time before the task delivery date to work on the mock-ups and compile them all into a nice and detailed presentation. When you spend that "extra" time on creating a mock-up presentation, you not only allow yourself to go through the creative thinking process one more time and see if you can add anything else to whatever that you are going to present but you all impress anyone and everyone who is involved because they know you gave the task / project your heart and you are ready to take it further by making it more fruitful for all the parties that are involved such as the business, the creative & design agencies, the vendors, as well as the end consumer.
And that is all for today from our end, you guys! We hope you not only had a great time reading the blog but will also share it with the people who might need to upgrade their brown cardboard delivery mailer box designs for their new ventures / projects. Feel free to share if you have any queries and requests along with your suggestions. We will see you guys next time with something more fun and exciting to read and work on – until then, keep creating magical designs.
Free Brown Cardboard Delivery Mailer Box Mockup PSD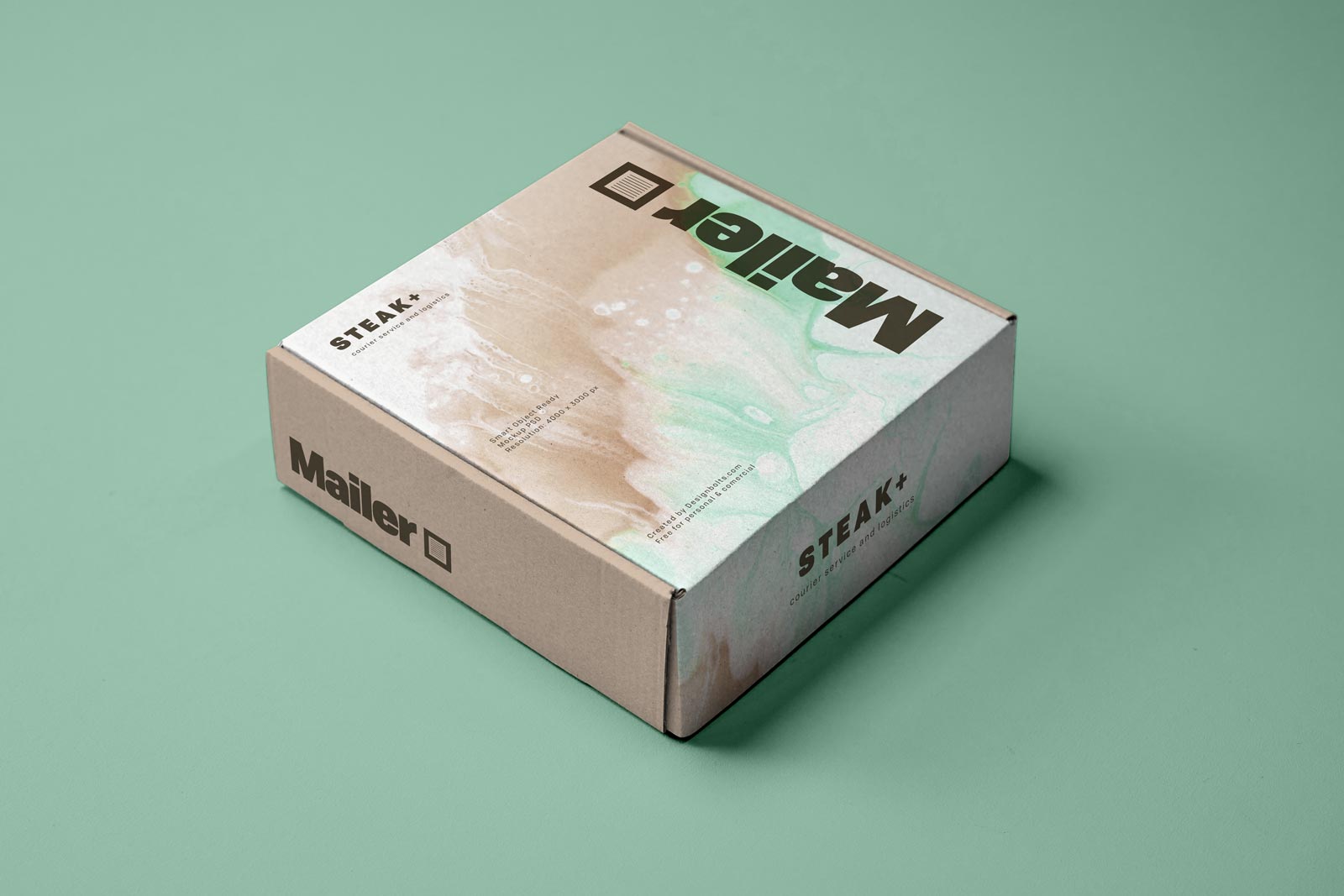 Available Format: Layered PSD with smart object insertion
License: Free for personal presentational use only
RAR File Includes: Mailer Box Mockup PSD
Note:
1. PSD Mailer Box Mockup is allowed for sharing online (A Must Linkback to this page)
2. Layers are hidden to decrease the size of file kindly unhide and place your design on red colored layer.
3. Say thanks if you like or share/tweet with your friends.
Download Mailer Box Mockup
More Similar Mockups: