Hi there everyone! We hope that you had a really nice time reading our previous blog and that you are very excited for our today's one as well because we are going to be sharing a very nice and unique way of displaying your mock-ups through our free product box on rock mock-up PSD file. But before we start talking about how you can create a beautiful product box and can also share them with your clients, etc., we would love to take this moment to thank you for the love and support you send our way and we hope that it stays the same way in the future too.
Product packaging is a serious business, we all know that, right? Because it has the power to make or break your business so, what is it that you can do to make sure that whatever you are going to sell to your target audiences – regardless of the size of your business; is more than just perfect? Well, there are many things that are involved but the most important factor that determines the fate of your products/businesses after the product itself is the packaging of it.
Now, we all are aware that the first things your potential customers are going to get in touch with are your communication on the ground, as well as on your digital and social media platforms and the packaging of the products that you want them to check out. So, your main focus when it comes to designing the packaging is to ensure that it is so meaningful and intriguing that people would want to know more about it in detail.
Allow us to share how you can work on powerful packaging ideas and also make sure that they work in your favor in the longer run.
First, you need to identify the color palette that will only be used to create the packaging of one specific product in a very consistent manner. It should be appealing, it should be vibrant and it should also reflect what your business and product are about. There has to be harmony in the branding and packaging and every other form of communication that will go out from your end as a brand. If you are not very sure that you would be able to work on the perfect brand consistent color palette, spend some time to understand what colors evoke which emotions in order to make informed decisions regarding your packaging, etc.
A good packaging design not only defines product information in an efficient manner but also mentions the functionality of the product as well – meaning that your packaging must not impact the information regarding what the products can be used for. Know that your packaging designs need to be thought of as something bigger than the appearance; so pay attention to every detail that needs your attention and you will see that you have worked on some amazing packaging designs for your own brands or for the ones that you are working with.
The second most important step is to finalize the fonts and the number of fonts. We know that you would want to be very creative and play around with the ideas to make the best packaging designs but we must share with you that you need to limit the number of fonts because less is definitely more – both in terms of the copy as well as the fonts that will be used by you to write that copy.
We wanted to work on a different way of showcasing the product packaging designs, so we decided to place the product box on a rock making it more lifelike and we are sure that while you will be working on it, you will feel that "Well, this is something new and interesting and with the detailed rationales and your presentational skills, you are going to ace that review meeting like a boss." Allow yourself to explore as many ideas as you can so that when you step into the meeting room with your very carefully designed mock-ups and creativity to share; you know that this will all work in your favor and you are going to give it back to the organizations and people you are working with. Oh, and don't forget, if you have it in you to take the risk and be different, never shy away from doing that.
That is all for today from our end, you guys! We hope that you guys enjoyed reading the blog and that you will also use it for your upcoming design projects to showcase your creative thoughts and more to your internal team members, your clients, and other decision-making bodies too. Feel free to share the blog with the people that you think would be interested in getting to know more about the product packaging and how to
Free Product Box on Rock Mockup PSD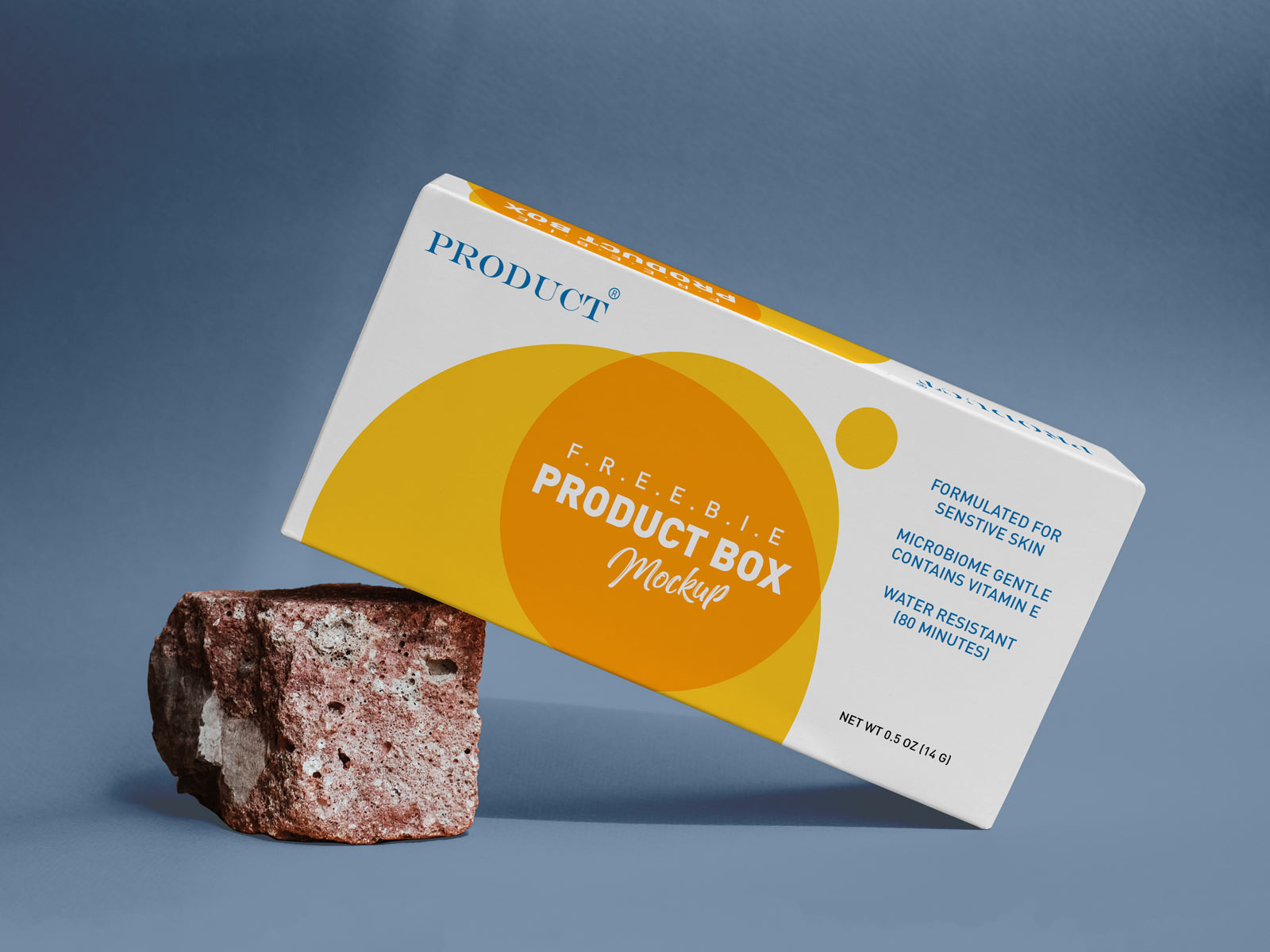 Available Format: Layered PSD with smart object insertion
License: Free for personal presentational use only
RAR File Includes: Product Box Mockup PSD
Note:
1. PSD Product Box Mockup is allowed for sharing online (A Must Linkback to this page)
2. Layers are hidden to decrease the size of file kindly unhide and place your design on red colored layer.
3. Say thanks if you like or share/tweet with your friends.
Download Product Box Mockup
Recommended: