Hi there everyone! First things first; we would like to thank you all for the love and support that you send our way and for also encouraging us to keep creating what we love to create. We also hope you had a great time reading our previous blog and that you are super excited to read this one, as it features our newly created, free yet highly editable t-shirt mock-up PSD file. With this mock-up PSD file, you can create a bunch of fantastic t-shirt designs and then some more so quickly that you won't want to stop. Let us share everything you need to know to utilize the free t-shirt mock-up PSD file.
We all come across t-shirts in one form or the other; we wear them, we use them as presents and we can also use them to create too. But most importantly, the t-shirts are used as a clothing item and we just cannot wait to share how you guys can make the best designs for your upcoming t-shirt collection that you can launch right away keeping in mind the weather conditions of where you are operating your business, etc. One thing that you must keep in mind while working on clothing items is that those are the things that people purchase as an investment too for example; there are many people around the globe who are making wise decisions regarding what they buy and what can be left and it is your responsibility as a brand to make sure that whatever you sell to them is made of durable material(s).
Another thing that you must pay attention to is the fact that you must offer something better than what others are offering (otherwise, what is the point, right?). We are not going to say those cliched things like making something unique so that you catch people's attention but what we do want to say is that you have to work on ideas and designs that nobody else is offering at the moment, and even if they are, yours are so much better than theirs, that the audiences know where to get their required stuff from.
If you are thinking about how to do that; how to offer your potential audiences the stuff that they can't resist, you first need to know what their demands are. What are they looking for? What are their buying cycles look like? Their interests, likes and dislikes as well as gender-based information, age groups, etc. When you have this information with you, you can make informed decisions way before you even start your design process. Because you will know how to start the brainstorming session, and how to start thinking creatively so that your main focus is to satisfy the needs and demands of your targeted audiences.
Recommended: 50+ Free Best T-Shirt Mockups
Always remember that even within one group of same-aged people, the interests are going to be different, for example; one person likes to listen to pop music while someone else is drawn towards trance, then there are people who do not listen to music at all and their entertainment includes watching Netflix or hanging out with friends, you know. Now, although these people might have some interest in other things that keep happening side by side like eating Nutella straight from the jar but that's so basic so you would want to play safe here by talking to them through the lyrics, or the famous dialogues that are there and you will see that they will instantly pick the t-shirts that speak to them at an emotional level.
We know that running a business does not feel like a bed of roses; and to know better you can also create mock-ups for the audiences that you can put up on your website, Instagram and Facebook, etc. and when you start receiving responses on a certain design or two, you can start the production process as well. We are sure that our free t-shirt mock-up PSD file will help you be as creative as you would want to be so make the most of it. 😉
Then there will be a group of people who are workaholics and might want to flaunt that through their t-shirts so you would want to create designs that entice them, you know and only then you would be able to make sure that whatever you are putting out there is not only being liked but it is getting sold as well – bringing you the return on investment (ROI) that you require to keep running the business.
And that is all for today from our end, you guys! We hope that you enjoyed reading the blog and that you will also get your hands on our free t-shirt mock-up PSD file right away. Feel free to share your feedback along with your requests if you wish to read up on something specific and we will get back with your requested content in our upcoming blogs super soon.
Free Men's Short-Sleeve Crew-Neck T-Shirt Mockup PSD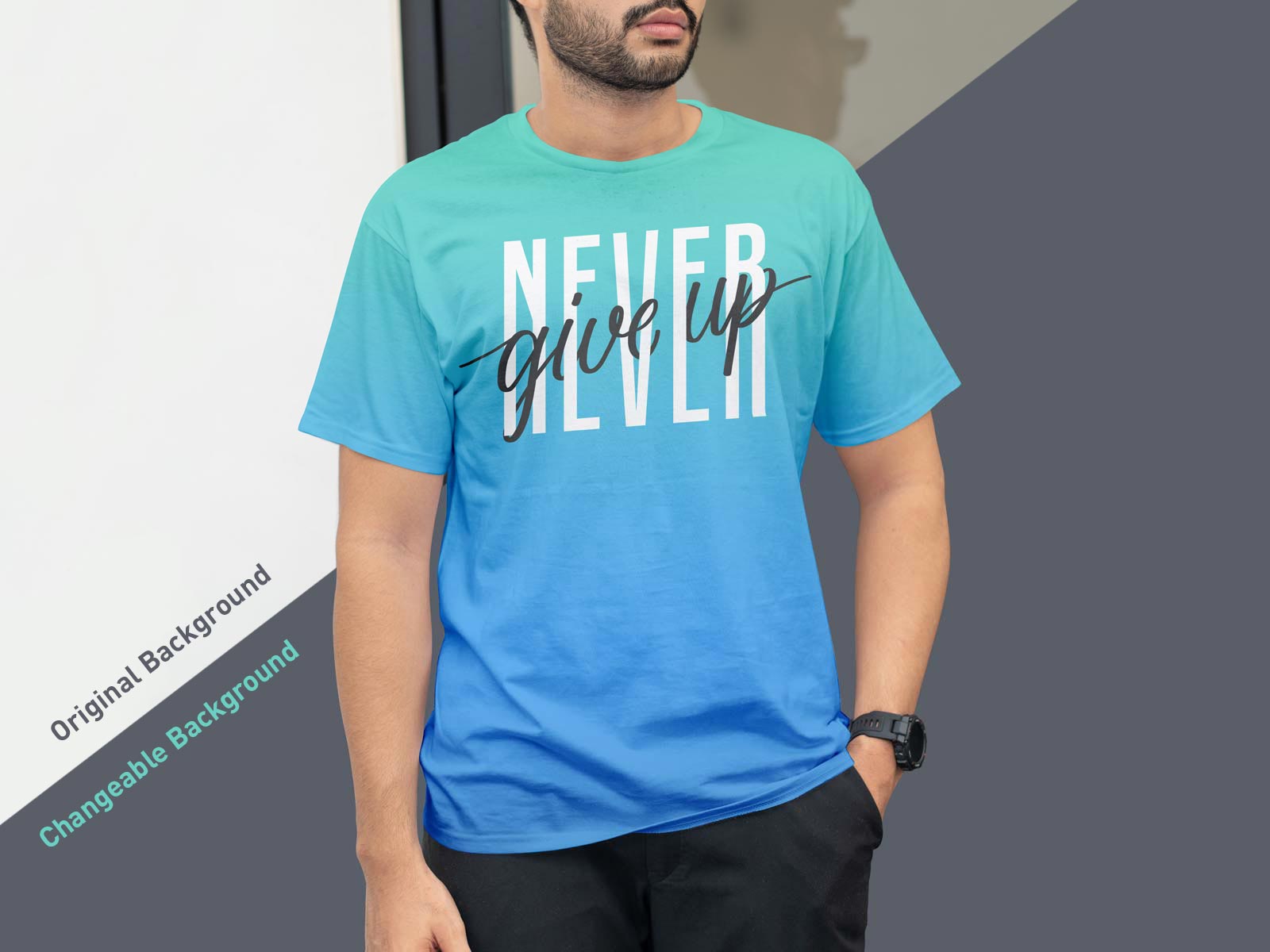 Available Format: Layered PSD with smart object insertion
License: Free for personal and commercial usage
Zip File Includes: Free T-Shirt Mockup PSD
Mock-up Resolution: 4000 x 3000 px 

Note:
1. Free Men's T-shirt Mockup PSD is allowed to share online (A Must Linkback to designbolts.com)
2. Say thanks if you like or share/tweet with your friends. That means a lot to me.
3. And don't forget to subscribe to receive for more high quality premium freebies & awesome articles only.
Download T-Shirt Mockup
Download More T-Shirt mockups: