Hi, there friends! We are back with yet another amazing blog of ours and we can bet that you all are going to love it as we will share the basic things that you need to know about the Samsung Galaxy Z Fold 4 smartphone so that you can work on our carefully created mock-up PSD file and execute all the crazy ideas that you have been working on for so long. Also, we won't take a lot of your time but we would love to thank you all first for the love & support that you keep sharing with us and for also sharing our content with the people that you love and care for.
Samsung Galaxy Z Fold 4 happens to be one of the most powerful smartphones that exist in the market and for obvious reasons such as; it has a big, immersive display, it will keep you productive throughout the day, you will get to enjoy the Nightography camera, and as per the official website of Samsung, Galaxy Z Fold is their toughest foldable smartphone allowing you to unfold your world. It's something that you would want to flex about and more because well, let's just accept it, this is a smartphone that no one could even imagine holding in their hands and the best thing is that Samsung, with their innovative ideas and technology, offer magical stuff to anyone and everyone who believes in them.
In simpler words; you get to enjoy two phones in one (it won't weigh too much, just by the way); and you get to enjoy a device that has been slimmed down everywhere except the screen (as in it only gets bigger when you unfold it for entertainment purposes, to make notes, type messages, etc.).  The minimized bezels make it easier for the user to fold and unfold the phone too so know that you are going to have a great time using the smartphone without having to worry about the fold itself or the fact that it might pause your busy schedule for a while when you are expanding the screen, etc.
The smartphone comes in three finishes which depict nothing but finesse; Graygreen, Phantom Black, and Beige. But that is not all, you get to maintain the work life balance you have always been talking about with your Samsung Galaxy Z Fold 4 as it not only lets you multitask, but you are in complete control of how to get things done with multiple tabs just like that. It becomes so much easier to do a couple of things at the same time like you are working on your favorite journal but it's in the form of a smartphone and not a very random one – it's Samsung Galaxy Z Fold 4, you know!? 😉
The expansive screen allows the users to go through multiple things like your emails, messages, photo albums, other file folders, etc. so that you do not end up sending a wrong image to someone or you do not attach an incorrect attachment in an email as well. Honestly speaking, these kinds of things literally happen while we work on our desktops and laptops for that matter but with a smartphone like Samsung Galaxy Z Fold 4, you will know what you have got to do, and you will do exactly that without having to apologize to your friends, colleagues, etc.
That being said; it is important for you to find out the gap that you guys are ready to fill with your creative ideas and innovative planning which will help your audiences make the most of one of the best smartphones that are there – and honestly, if you are not creating new apps, web apps, images, etc. even then you can use our free mock-up PSD file to create mobile covers, accessories, stickers, customized gadgets to connect with it and so much more too. All you have to do is to get insights regarding the targeted audiences and then plan out everything so strategically that you know you won't go wrong with anything.
That is all for today, dear friends! We hope that you not only enjoyed reading the blog but that you will also get your hands on our free Samsung Galaxy Z Fold 4 smartphone mock-up PSD file right away as well. Discuss your ideas with your friends and colleagues, keep improving them and make sure that you make the most of our mock-up PSD file to showcase everything that you have created for your personal and commercial projects. Don't forget to share your feedback with us in the comments section and while you are at it, do share your requests with us so that we can work on them and get back to you in our upcoming blogs super soon.
Free Samsung Galaxy Z Fold 4 Smartphone Mockup PSD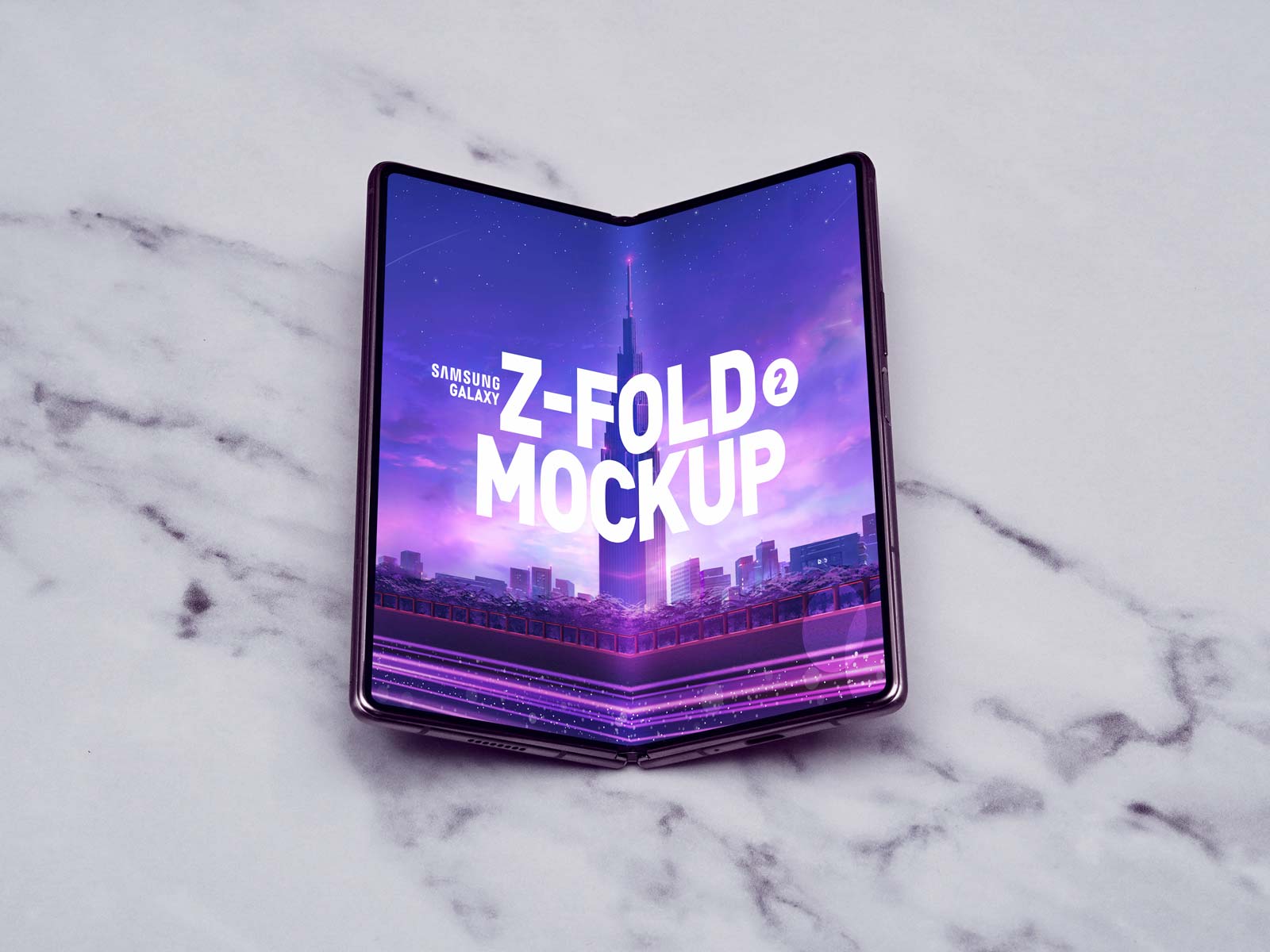 Available Format: Layered PSD with smart object insertion
License: Free for personal and commercial projects (linkback if share online)
WinRAR File Includes: Samsung Galaxy Z-Fold Mockup PSD
Note:
1. PSD Mockup is allowed for sharing online (A Must Linkback to this page)
2. Say thanks if you like or share/tweet with your friends.
Download Z-Fold Mockup
Recommended: