Hi, there everybody! We hope that you all are having a great time reading our blogs and that our free yet highly editable mock-up PSD files are helping you work on a couple of great projects for your personal and commercial clients as well. For our today's blog, we have worked on a free Kraft paper coffee standing pouch mock-up PSD file which we can bet you all are going to love but before we start sharing how you can make the most of our mock-up PSD file, we would like to take this moment to thank you all for your love & support that you send our way and for always encouraging us with your genuine feedback.
As you guys know that Kraft paper is basically paperboard that gets produced from the chemical pulp which gets released during the Kraft process; so, in this part of our blog, we are going to be sharing why Kraft paper is used for various purposes such as packaging, wrapping, filling the void (between objects) as well as for bundling. Kraft paper is stronger than regular paper mainly because it is porous and has high elasticity and high tear resistance too so it is preferred to use Kraft paper when you are packing your food items, gift items or other material that you would like to keep safe from getting damaged.
In addition to that, Kraft paper can also be used to place delicate items in order to provide support to them so that they do not break or get soggy (such as bakery products). Apart from the durability factor, we like Kraft paper because of how simple yet elegant it looks and can also enhance the aesthetics of the products too and if you are one of those people who like the simplicity of Kraft paper, then we must suggest you go for it to pack the items that you wish to sell or wrap your gift items in it and you will see that the stuff has started to look even more elegant, you know.
The mock-up PSD file of the Kraft paper coffee standing pouch that we have created for you guys can also be used for other dry food items and powdered content as well but we would like to share how you can brand your coffee business impressively.
Recommended: Red Dot Design Awarded Coffee Packaging for Inspiration
You must know that anyone and everyone who consumes coffee know their coffee and they also know a thing or two about all sorts of blends, beans, etc. as well which means that you must work on designs that can entice them and make them purchase your product this time around when there are multiple other options available in the market. Now, you must be wondering how you can do that, right? Allow us to share that with you in this part of our blog!
In addition to providing the customers with elegant packaging, you must also offer them complete information regarding the roast and flavors that you are offering which need to be mentioned right there on the front side of the pouch. Adding the origin of the coffee helps people make informed decisions so you might want to add that to the packaging as well along with mentioning the brand story so that first-timers can instantly decide if they want to make a purchase with you or not. For the longer run, make sure that you are consistent with the packaging and avoid confusing the audience with frequent changes.
Before we conclude the blog today, we would also like to encourage you guys to make sure that you are creating mock-ups for the tasks that you working on – regardless of the scale of the project and here is why: mock-ups, sure allow you and the concerned team members to visualize how things will look like in real life but in addition to that; you will also be in charge of making changes (if there are any) without having to be dependent on anyone else, you won't be spending money on anything either so, there is that and we are sure that all of us enjoy that kind of freedom, right? Take some time and spend it making mock-ups of the deliverables; be as creative as you would want to be, put your heart into whatever you are doing and you will see great results too.
That is all for today from our end, you guys! We hope that enjoyed reading the blog and that you will get your hands on our free Kraft paper coffee standing pouch mock-up PSD file right away. Do make stunning designs and feel free to let us know what your creative brainstorming and designing processes went like. Also, don't forget to share the blog with your graphic designer friends and favorite colleagues as well and we will see you guys next time with something more fun and exciting to read.
Free Kraft Paper Coffee Standing Pouch Mockup PSD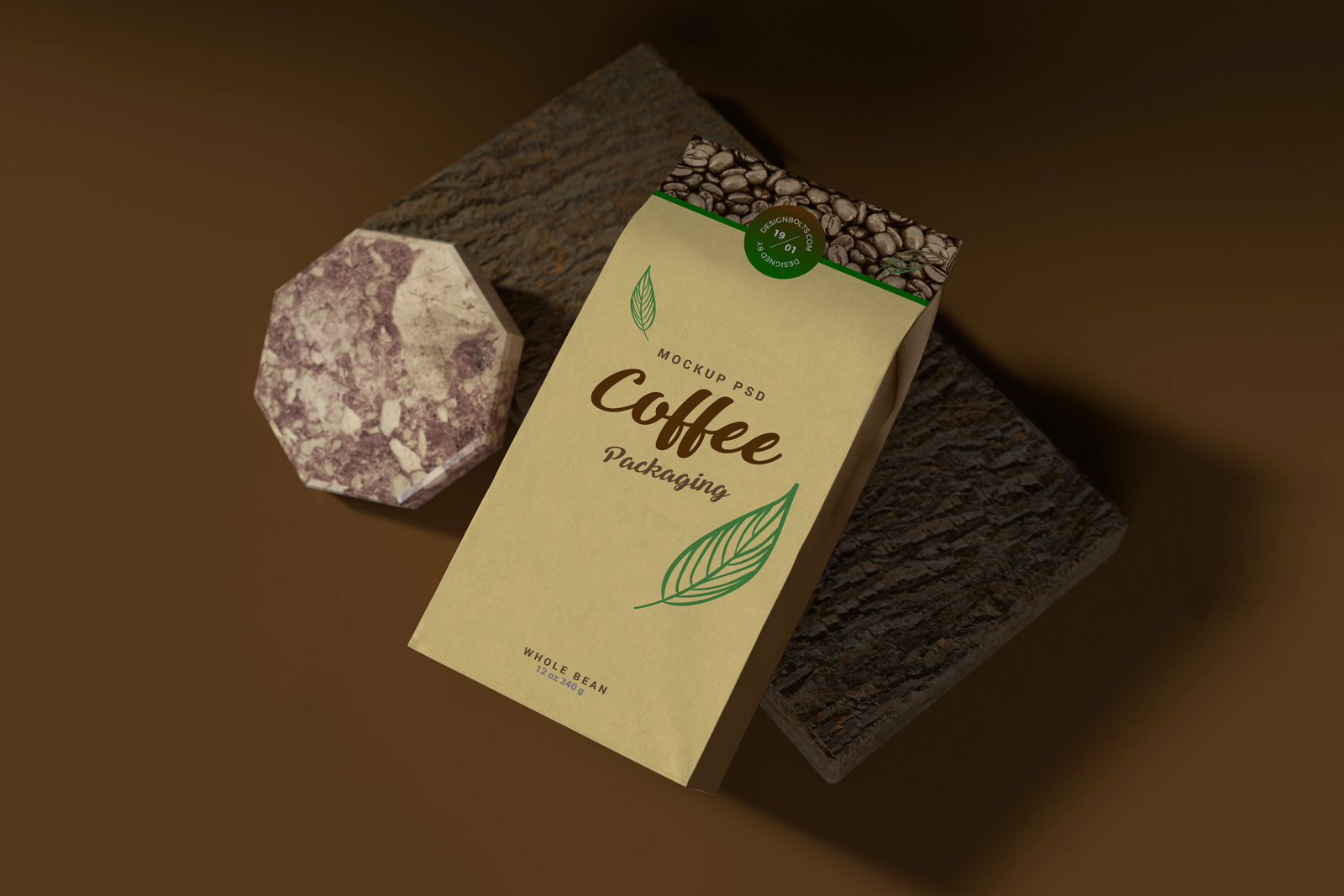 Available Format: Layered PSD with smart object insertion
License: Free for personal and commercial use
Zip File Includes: Mockup PSD
Note:
1. Coffee Standing pouch Mockup is allowed for sharing online (Linkback to this page)
2. Layers are hidden to decrease the size of file kindly unhide & ungroup
3. Say thanks if you like
Download Coffee Pouch Mock-up
More Recommended Articles: