Hi there everyone! We hope you all are having a great time reading our blogs and that you are super excited to read this one too as we will be sharing our new and free bus stop in winter MUPI mock-up PSD. But before we formally start sharing how you guys can make the most of our ideas and mock-up PSD file, we would like to take this moment and thank you all for your love and support and for always encouraging us to keep creating what we love to create.
If you are one of our old readers who follow the blog regularly, then you guys must have seen that we have shared multiple mock-up PSD files of items through which you can create meaningful out-of-home advertising materials and more and can also make sure that your campaigns get you the results that you wish to have. We have decided to break the blog into two parts; the first one will discuss what a MUPI is and then we will share our easy-to-follow tips with you guys so that you can start working on the campaigns, etc. right after you are done reading the blog. So, let us get started!
First things first; what is MUPI advertising? Well, in easy-to-understand words, we would like to share with you guys that originally, the word 'MUPI / Mupi' is an acronym for the French expression Mobilier Urbain pour l'información.  And in the English language, MUPI means urban furniture for information. MUPI is a type of out-of-home advertising installed in the busiest areas of cities, etc., especially at bus stops. MUPIs can also be installed in other places, such as on the sidewalks, etc passageways. The idea behind making and displaying MUPIs is to get maximum people to see what you are communicating through your products/services and the bigger the number of people who will come across your branded messages, the better.
We would also like to mention here that there are multiple types of MUPIs such as; Rotary MUPI, MUPI Watch, and Digital MUPI along with the regular one that we are sure you must have seen even today as well because they are out there; helping the brands deliver their messages in the best ways possible and also allowing the audiences to get in touch with the businesses in whatever ways they find easy. And you can use them after strategically deciding what you wish to do with your MUPIs. For example; the MUPIs are used as an innovative piece for advertising your business and you can literally have anything displayed once you have finalized the campaign, its deliverables and how you can integrate your out-of-home advertising and digital or social media campaigns as well.
– – – – – – – – – – – – – – – – – – – – – – – – – – – – – – – – –
Recommended:
– – – – – – – – – – – – – – – – – – – – – – – – – – – – – – – – –
MUPI designs can also be created to make them a point for Public Information which must be used by the government offices, and municipalities. By doing so, the officials can show their communities (that look up to them) that the matter. The officials can have meet and greet sessions arranged to know if the communities are facing any issues or if there is something new happening in the town that the people can look forward to, you know. When you socialize with the very people who have voted for you, you must make sure that they are being taken care of. Communicate with them regularly, ensure that their problems are solved, and offer them an open door policy and you will see that you have developed a better and happier community.
Recommended: 135+ Free Outdoor Advertisment Branding Mockup PSD Files
Lastly, you sure can use MUPIs as your points of sale (POS) as well despite the fact that usually these attractive out-of-home materials are used for outdoor advertising. So, you see there are many ways of getting in touch with your audiences but the best way to do it is to know what they are like because when you will have enough information about the individuals that you would want to consider your business, you know how to talk to them, convince them and then make them purchase your products or avail your services. Trust us when we say this: it is an easy task to deliver, all you have to do is to make informed decisions.
And that is all for today, you guys! We hope that you all enjoyed reading the blog and that you will get your hands on our free bus stop in winter MUPI mock-up PSD file right away to start creating your own designs. Feel free to share your feedback with us in the comments section and while you are at it, don't forget to share the blog with your graphic designer friends, favorite colleagues, acquaintances and students as well. We will see you guys next time with something more fun and exciting to read and work on.
Free Bus Stop In Winter MUPI Mockup PSD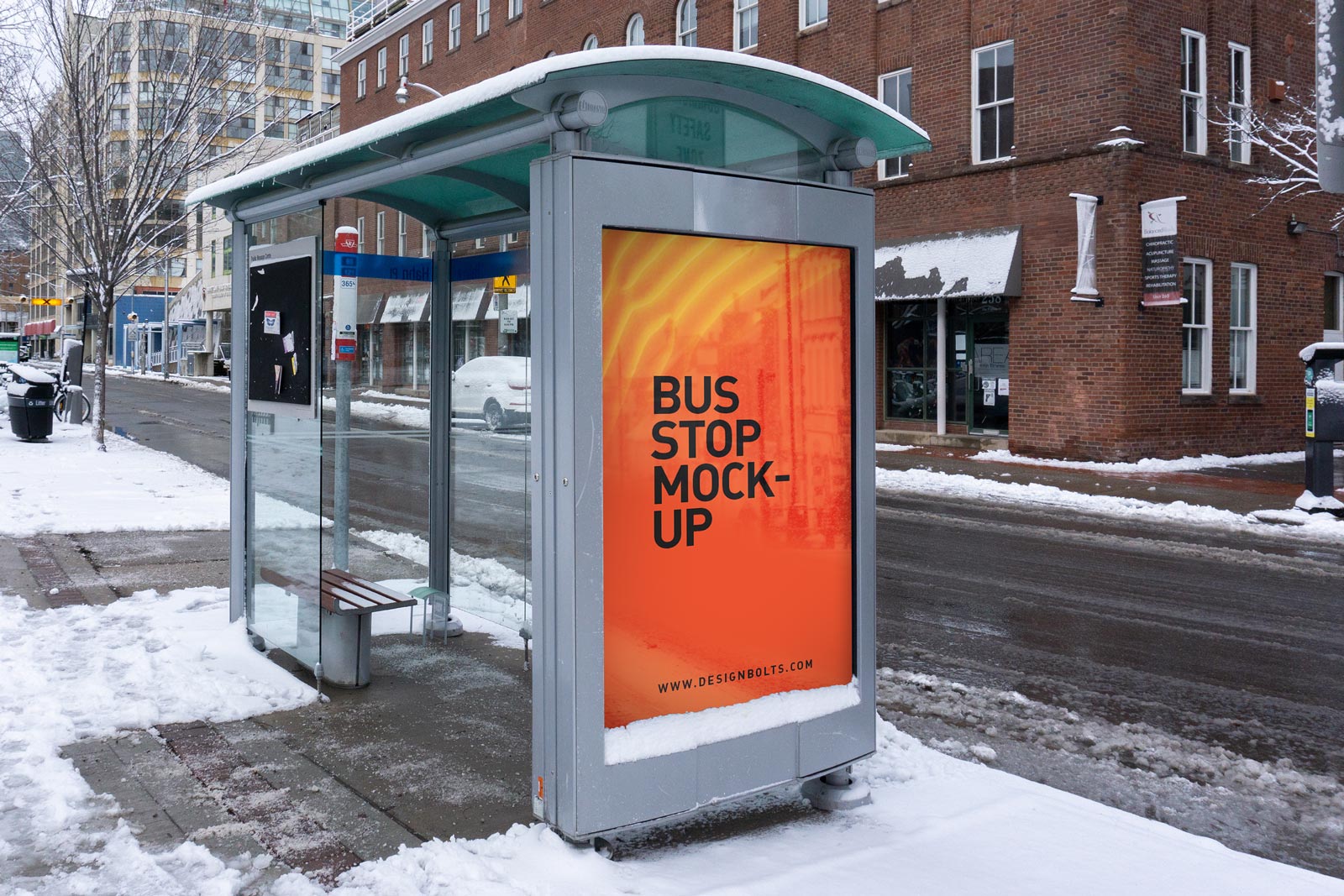 Available Format: Photoshop PSD
License: Free for personal and commercial usage
File Format: WinRAR
Mockup Resolution: 3246 x 2164 px
Note:
1. Free Bus Stop Mupi Mockup is allowed to share online (A Must Linkback to this page)
2. Say thanks if you like or share/tweet with your friends. That means a lot to me.
3. And don't forget to follow or subscribe to receive more high-quality premium freebies & awesome articles only.
Download Bus Stop Mockup
More free mockups PSD files: