Hi there everybody! We hope that you all are having a great time reading our blogs and that you are also working on a couple of amazing projects for your personal and commercial clients. For our today's blog, we have created a free yet highly editable trade show hanging sign mock-up PSD file but before we start sharing how you can utilize it for your upcoming design tasks, we would like to take a moment and thank you for your overwhelming response on our previous blogs and for also sharing them with the people that you love and care for. Your support means a lot to us and we hope to receive more of it in the future too.
First things first; for those of you who don't know what a trade show is, we would like to share this information with you guys that a trade show is organized for companies where they can showcase their products and demonstrate the services that they offer. The companies are divided into relevant categories and then they start making prepping up for the trade show which can last for a couple of days; depending on the themes, programs, etc. For trade shows, you must be a registered business, and you will also have to agree with the terms and conditions of the organizing committees through formal written contracts, etc. so that you can become a part of all the events that will be taking place during the trade show.
Okay so, whenever there is an event happening, you have to communicate about it too, right? The communication will be designed and circulated for the print media such as newspapers, magazines, and even in the form of flyers, brochures, and handouts as well. Then the organizers and the participants will also be sharing the information with their partners and customers, etc. and they can make the most of the digital and online platforms to deliver the right messages and for that too, the designs and ads will have to be designed and shared strategically so that no one misses the important information.
And whenever you come across an event or news on your preferred platforms, you see that there is harmony in the entire communication and if you like something, you would want to explore further too but the most important thing for the businesses, events organizers and their creative and design agencies to always keep in mind is to make sure that the communication is so powerful that it literally makes the targeted audiences clear out their schedules and attend the event that they want them to attend. Now, there are many ways of working on a communication strategy but if you do not know how to execute the action plan, then you won't be able to get the results that you wish to achieve.
Recommended: 135+ Free Outdoor Advertisment Branding Mockup PSD Files
In this part of our blog, we will share how you can work on your designs for the hanging signs to display during the trade shows. Keep reading the blog so that you can make informed creative and design decisions.
The main objective to create any signage is to get people's attention, right? So, when you are going to be at a trade show, there will be hundreds of other businesses as well who will have very strong signage to display as well. Your strategy should be to stand out in such a meaningful way that you entice the participants right from the start of the event. And of course, your representatives being physically present to guide the potential business partners, clients, etc. will do the thing for you in the most perfect way.
Recommended: 60+ Outdoor Signage Mockups
Like other signage, for handing signs, you must ensure that the branding is on point and as per the guidelines of your brand. If you wish to be creative, you can play a little with lights (backlit or front-lit signs instantly catch attention) and if you have the budget, you must go for innovative solutions in order to promote your business, its services and products. That is the only way to go about it, really and we are sure that with our free trade show hanging sign mock-up PSD file, you will work on a bunch of brilliantly designed ideas.
Recommended: 20+ Exceptional Trade Show Booth Display Design Ideas & Plan Views For 3D Artists
That is all for today, you guys! We hope that you had fun reading the blog and that our easy-to-follow tips & tricks will help you ace your pitch and review meetings just like that. Feel free to share your feedback with us so that we can improve the areas where need be. Also, don't forget to spread the blog within your personal and professional circles because you never know who might be waiting to get some inspiration or a free mock-up PSD file to make stunning and powerful designs. We will see you guys next time with something more exciting to read and work on, until then, keep creating magical stuff.
Free Trade Show Hanging Sign Mockup PSD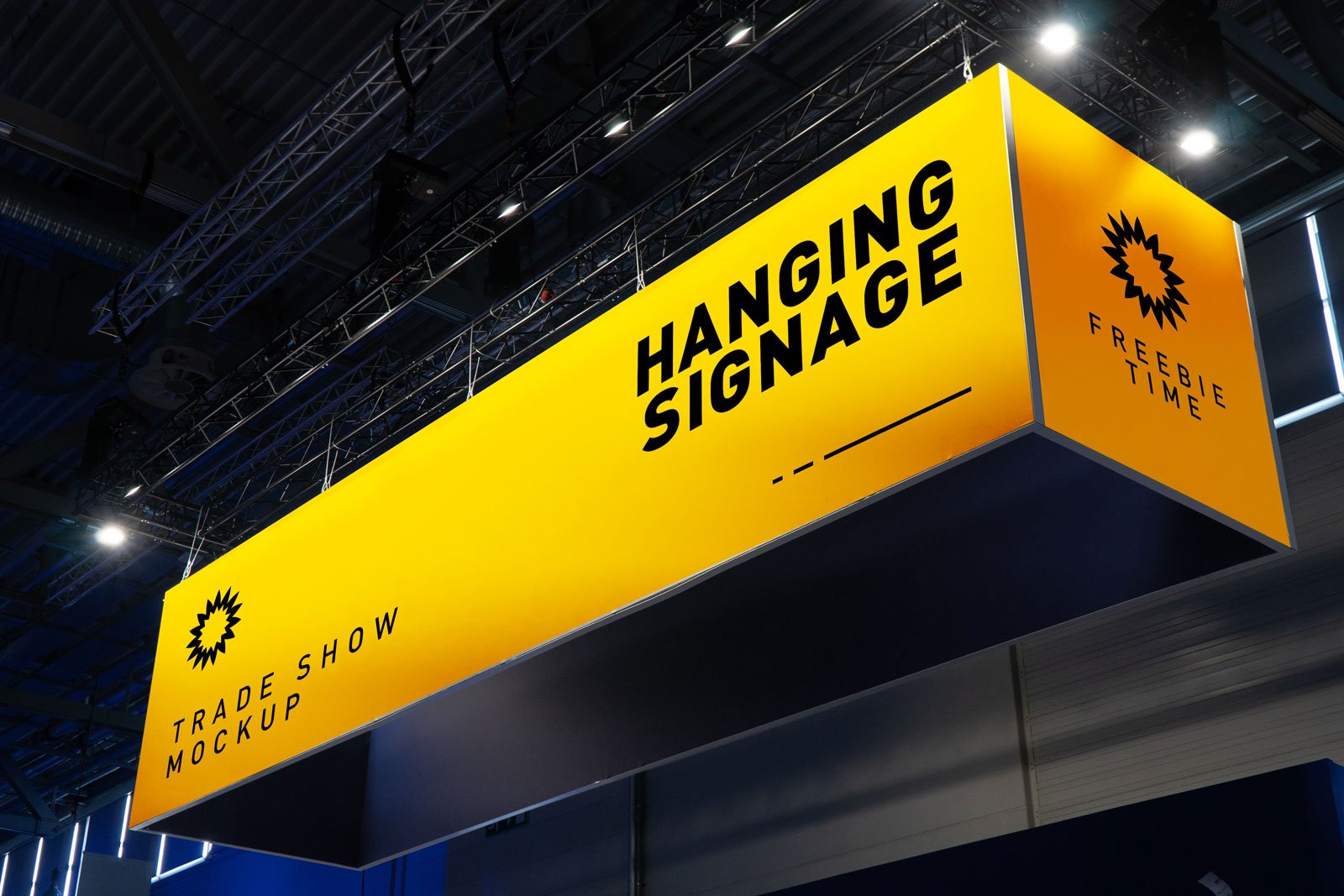 Available Format: Layered PSD with smart object insertion
License: Free for personal and commercial usage
Zip File Includes: Trade Show Signage Mockup PSD
Note:
1. PSD Mockup is allowed for sharing online (A Must Linkback to this page)
2. Layers are hidden to decrease the size of the file kindly unhide and place your design on a red-colored layer.
3. Say thanks if you like or share/tweet with your friends.
Download Signage Mockup
Recommended: