Hi there everyone! We hope that you guys are finding our blogs super useful for your personal and commercial projects and that you are also creating stunning designs by utilizing our free yet highly editable mock-up PSD files as well. For our today's blog, we have created this free trade show hanging sign mock-up PSD file which we can bet you all are going to love but before we start sharing everything that you need to know to make your designs, we would like to take a moment to thank you guys for the love and support that you send our way and for always encouraging us to keep creating stuff that we love to create.
Recommended: 20+ Exceptional Trade Show Booth Display Design Ideas & Plan Views For 3D Artists
As you know that trade shows are arranged so that companies from a similar category or even multiple categories can set up their booths and stalls, etc. to not only interact with other business entities but to also develop better strategies in order to strengthen the industries and eventually the economy of the country they are operating in. And in addition to that, trade shows also allow businesses to share information and also showcase their products and services in a better way to relevant audiences.
Convention centres in big cities are booked for trade shows and then it is up to the organizers, business partners and participants to decide if they wish to keep it a brief event which can take place for like a day or two or if the budgets allow, then the activities can keep happening for weeks too. But you all get the point, right? Trade shows take place on the model of business to business (B2B) allowing representatives of the companies, distributors, resellers, suppliers and media partners to interact in a professionally sophisticated manner and explore opportunities to grow bigger and better.
For trade shows, since a number of companies are going to be present at the venue, it is very important to ensure that your branding is so on point that the right people are coming to get in touch with you for business and more. You must be wondering how to do that in the most effective ways possible without having to exhaust your resources in every sense of the word. First things first; you must know that in order to get the right kind of attention, you need to put the right messages out there. To do this; determine the area that you have booked for your business booth and then analyze the venue (entrance, exit, and the overall space) to see how many fronts you can cover for the people to see and visit your booth.
Recommended: 135+ Free Outdoor Advertisment Branding Mockup PSD Files
Then, work on the trade show hanging sign by keeping in mind the entire booth and its branding. You would want to ensure that there is nothing but harmony in the booth so that nothing feels out of proportion there – not for you and definitely not for the attendees too. You can only do that by working through mock-ups. Create as many of them as you would require to fully understand the venue and how the set-up will look like in real life and we are sure that you would be able to put up a great (trade) show for your business just like that. We know that to be at a trade show can be overwhelming and to be present there with multiple businesses who might be your direct competitors won't be easy too but with proper planning, passionate team members and a go-getter strategy, you will see great things happening for you and your business in the long run as well.
One more thing that we must mention here is that you should never stop experimenting and taking challenges. Allow yourself to try out new things, and make bold decisions when it comes to your branding and present yourself in front of the media, your business partners and competitors and we can bet that you will be able to make your mark and will also receive the appreciation that you deserve. With your great ideas and making the most of our free trade show hanging sign mock-up PSD file, you are going to ace this trade show and so much more in times to come.
Recommended: 60+ Outdoor Signage Mockups
That is all for today, dear friends! Here is hoping that you had a great time reading the blog and that you will also share it with your friends, favorite colleagues, students, etc. as well. Do let us know what your creative and design journeys were like in the comments section and while you are at it, we would love to know if you have any special requests to make too. We will see you guys next time with something more fun and exciting to read and work on – until then, let's keep producing meaningful designs for ourselves as well as for the people we work with.
Free Trade Show Hanging Sign Mockup PSD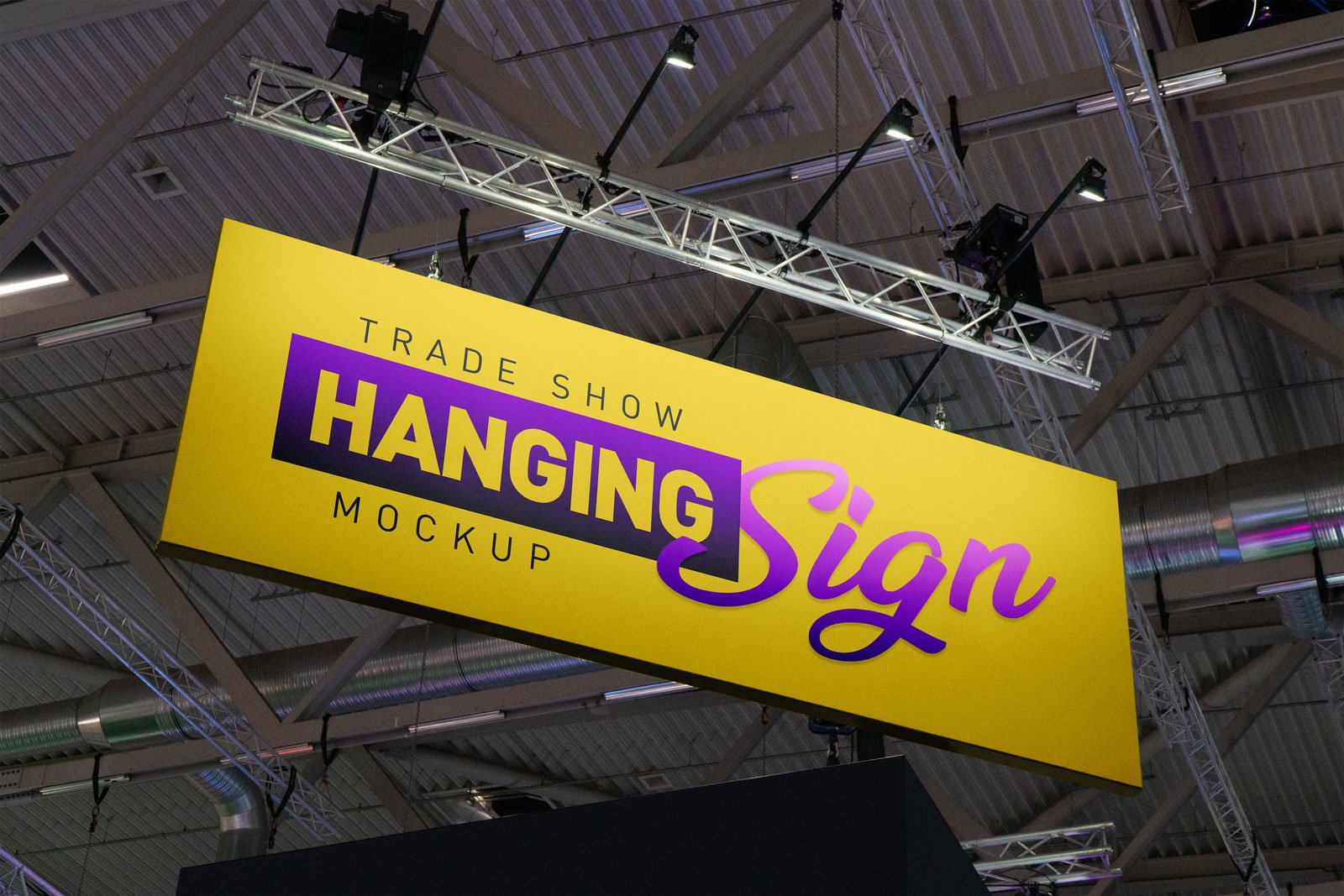 Available Format: Layered PSD with smart object insertion
License: Free for personal and commercial usage
Zip File Includes: Trade Show Hanging Sign Mockup PSD
Note:
1. PSD Mockup is allowed for sharing online (A Must Linkback to this page)
2. Layers are hidden to decrease the size of the file kindly unhide and place your design on a red-colored layer.
3. Say thanks if you like or share/tweet with your friends.
Download Sign Mockup
Recommended: