Hi everybody! In our today's blog, we are going to be sharing a review of a 5-star WordPress theme known as "Companion" which is used for business, finance, and consulting. We can bet that you won't just have an exciting time reading the blog, but you will also be able to make the most of all the features that are being offered by the said theme. So, let us get started right away!
If you are a business owner, we are sure that you would know how to have a website developed and made life for the audiences to use but one of the most crucial parts of the whole process is choosing the right theme that will do the thing for you. As you know there are hundreds and thousands of themes available online and the processes of choosing them for your business and even customizing them has become super convenient but even then, many businesses still do not have happening websites; websites that make it easier for the visitors to navigate through the pages that they would like to visit to gather more information or websites that do not repel the visitors.
We feel that one of the reasons for a website not performing well is the theme that was picked to represent the business. It has to be top-notch and must complement the business, etc. too so that anyone and everyone who is on the website does not feel alienated and that they spend enough time to avail of the services or make a purchase too. We know that picking up the right theme can be challenging and at times, overwhelming but no one said that it is impossible, you know. But the question remains there; how do you know (for sure) that this website theme is the best one for your business? Allow us to share a few easy-to-follow tips to make an informed decision regarding choosing the right theme for your own business or for the ones that you are working with.
Keep in mind that the speed of your website is directly dependent on your website theme and if you are opting for a WordPress theme that was made using a poor coding system, then expect your website's loading time to be longer than usual and believe us; no one likes that to happen – not the ones who are working on the website and definitely not the users either. Then comes the security of your website; again, very important and you must ensure that your website is all safe from hackers you need to cover all your fronts and avoid all sorts of vulnerabilities to keeping your website(s) safe.
One of the deciding factors of an overall impressive website is its design – if the design helps you achieve your business goal(s), know that you are on the right track. Get to know and understand your business inside out to see what will work for you and we can bet that only doing that will help you get your hands on the right theme just like that. The design of an attractive and effective website is clean & to the point, with white space that is also super easy to navigate through. And in addition to that, there must also be a visible call to action button (CTA) to get things done. Having a responsive design is also important – meaning that your website must be working just fine on any screen without the visitors having to switch to a bigger / smaller screen to make it work. That can only happen if you have a theme developed by professionals trusted by thousands of clients. Fast-loading pages, easy-to-read text (without having to zoom in or out), fully customizable, premade demos, cohesive design as well as easy navigation are all that you need for the business and financial theme.
All of what we have mentioned above brings us to the main reason why we needed to share everything about "Companion" here today with you guys. Keep reading the blog till the end to know how this 5-star WordPress theme is not only a very smart choice when it comes to going for a business that caters to finance or consulting services, but it has multiple features to offer as well that will make it a satisfying experience for yourself as well as for your website visitors too.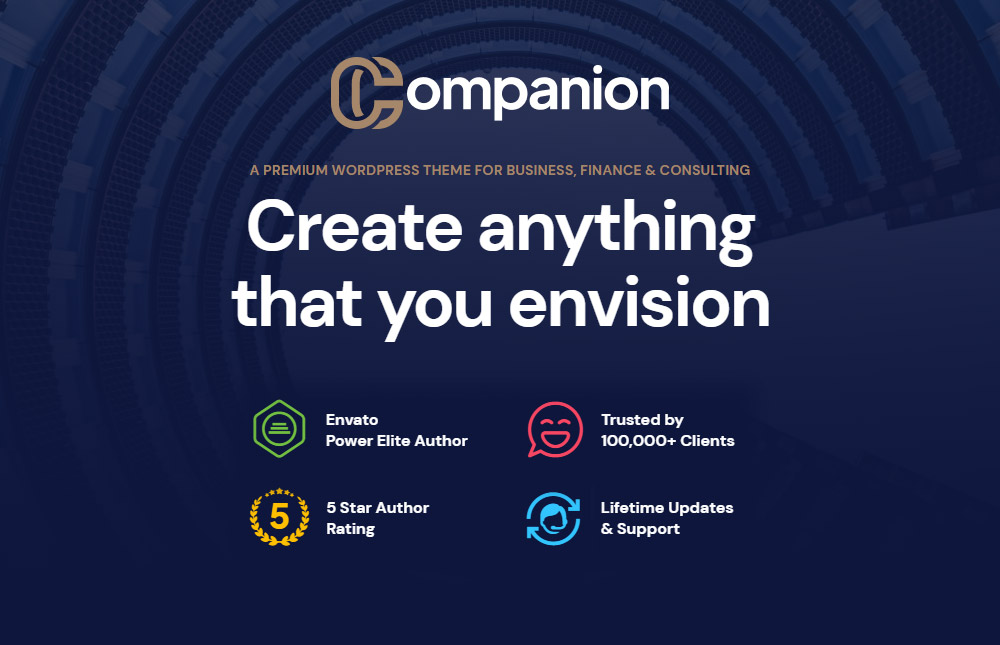 Need specific Demos: 
One of the best things about "Companion" is that it offers ready-to-use demos which have been worked on keeping in mind the specific needs of businesses because every business that exists has certain goals to achieve, it has to cater to a special audience and it needs to ensure that they are ahead in the game, right? And that is exactly what "Companion" is offering; demos that will help you talk to your audiences depending on your business objectives and their needs. Some of the categories for which the demos are available are Corporate, Human Resources, Digital and Marketing Agency, Accountants, Consultancy, etc.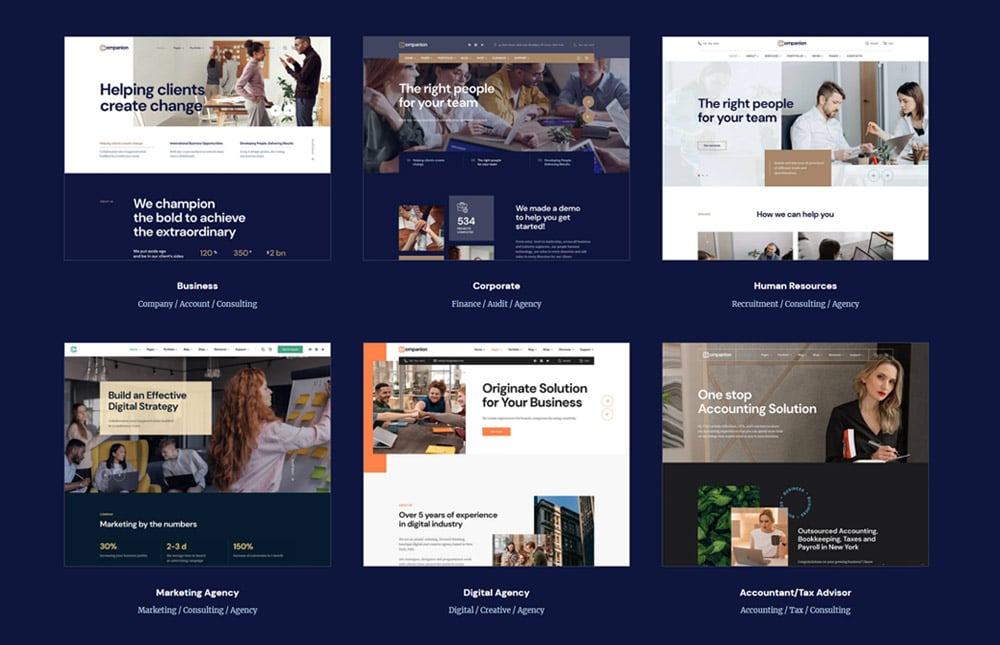 Custom-made Elements: 
Companion WordPress theme has more than 30 Elements to offer so no matter what business category you are going to go for when you'd get your hands on this very theme, know that you are in here for a treat. There are multiple Elements to choose from such as; Advanced Title, Blockquote, Event Program, Event Countdown, Events List, Contact Info, Breadcrumbs, Case Banners, Cases Grid, Team Carousel, Team Members, Testimonials, Newsletter, and so much more.
All you will need to do is to decide which Elements will you need for your website and you will be good to go. Oh, and did we tell you that all of that can happen without you coding anything? Well yes, you read that right as these exclusively designed Elements can be used to create stunning websites without having to connect any third-party plugins and complicated coding systems.

Variety of Premade Templates: 
We're glad to share this information with you guys that Companion has about 40+ Pages to offer which you can customize as per your business demands. Brand the Pages however you would like to and make the most of them by telling your unique story, pricing details, product information and so many other things with a few clicks and you will see that everything is being gathered having a cohesive design that reeks of harmony and will fully complement your business profile as well.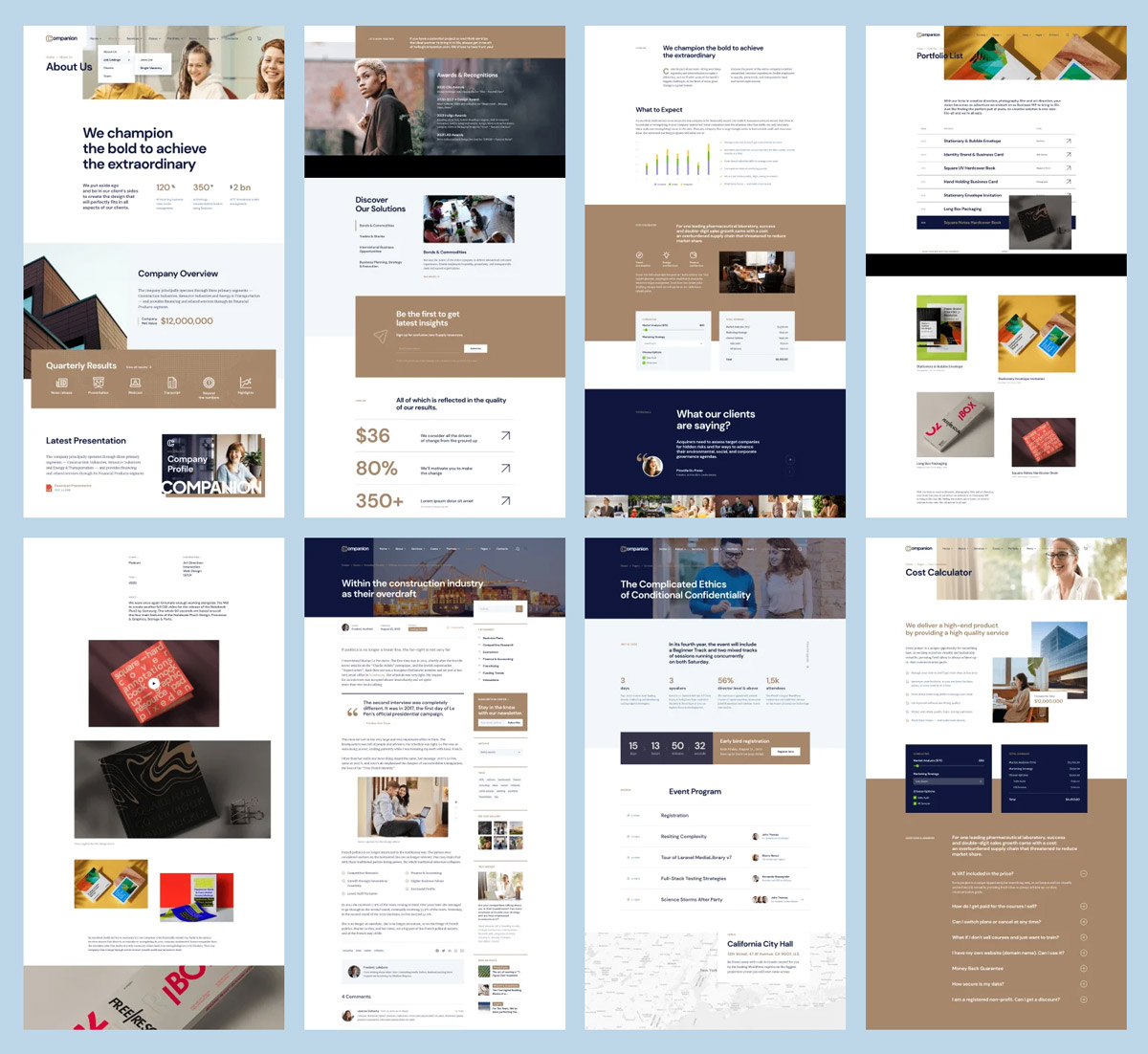 Business Automation:
In addition to Companion offering a fully responsive theme, easy navigation, and an option to sell your products, it also allows your visitors to stay in touch with you by booking appointments or getting a cost estimate of what you are selling – and like a true companion, you will feel happy to know that your business is being run through a fully automated process.
Hasslefree WooCommerce Integration:
Sell your products and services right on your WooCommerce-based website. You can display single products or multiple product lists via various layout options.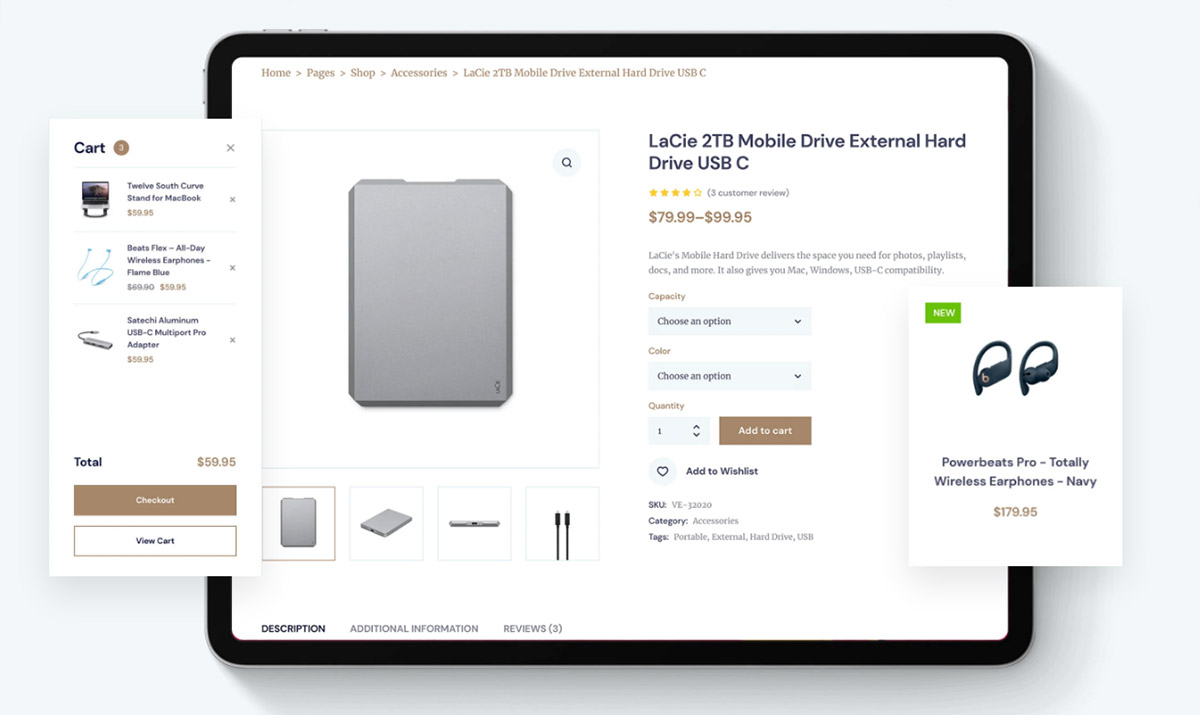 Portfolio Building:
No matter how big or small your business is, every success story must be displayed on your website so that more and more people can feel convinced to shop with you or to get in touch with you and that can only happen with Companion being open to offering the option to showcase your portfolio in the best ways possible. Make your profile, choose a style from Panel, Grid, Masonry, and List and then go live – allowing your customers to see what you're awesome at.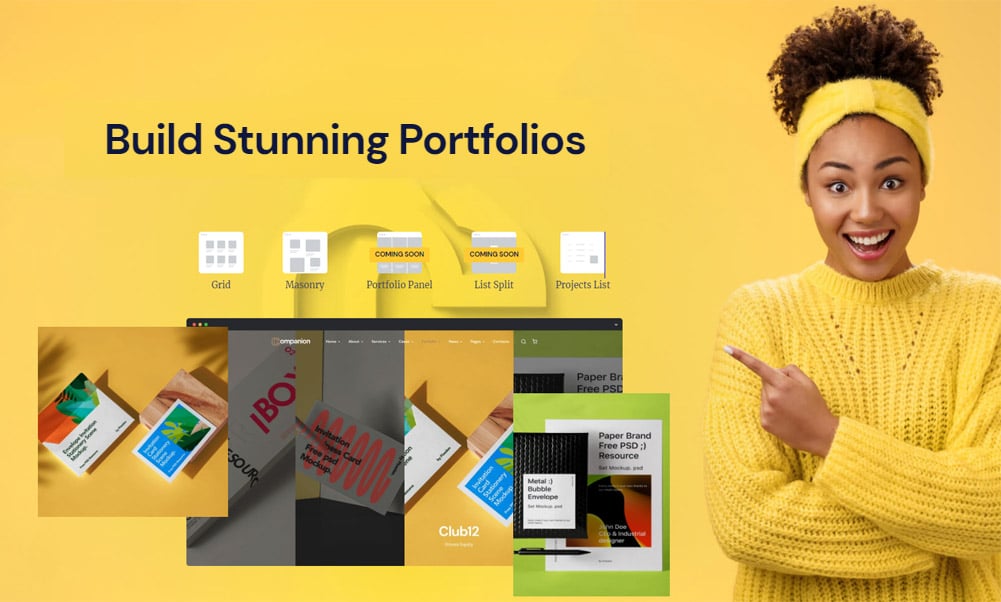 Fully Responsive:
Your website will look stunningly beautiful on larger as well as smaller screens for a great experience.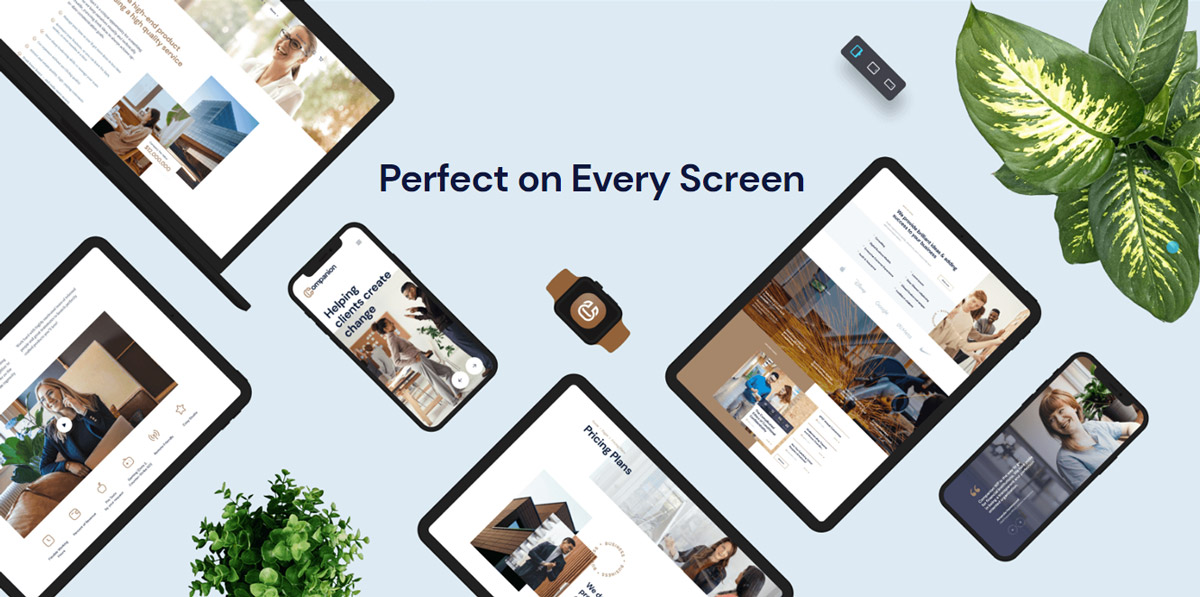 Let's now talk about all the fancy features being offered by Companion!
To make your website one of the best ones to exist; Companion also offers tools to help you run your business in the most effective manner such as Cost Calculator, eRoom for Zoom Meetings and Webinars, and Bookit featuring a professional booking system. Know that these tools are included in every demo so you won't have to get extra work done to get them.
– – – – – – – – – – – –
Recommended: