Hey there everyone! Today, we are very excited and we know you are too because, in this blog, you are going to be reading so many amazing things about the newly launched Apple iPhone 14 Pro Max, and when you are done, you will be able to get your hands on our free yet highly editable mock-up PSD file too so that you can make stunning designs, launch apps and mobile websites, and so much more for the users of iPhone 14 Pro Max. Let us get started without any further delays.
Okay so, allow us to share what iPhone 14 Pro Max offers (and if the hype is real or nah?!). As per the official website of Apple, this smartphone is Pro. Beyond. Meaning that it has more than just the regular stuff you might be expecting from it. We are sure that by now, you guys must have started to plan how you are going to get your hands on iPhone 14, which too in purple color but in addition to the stunningly beautiful colors (Deep Purple, Gold, Silver, and Space Black), iPhone 14 Pro Max is here to offer amazing new ways to interact with the smartphone itself and the way you would be carrying out your day to day tasks. It is bigger, it is better, it is literally Pro. And we can bet that everyone is in here for a treat.
Along with the ultimate chip and 48 MP camera, the iPhone 14 Pro Max has safety features that can literally save lives too, and guys the details are worth every penny. For example; this smartphone is designed to offer durability and quite frankly speaking; if you are spending some $1099 on something, it has got to be durable, you know otherwise what's the point? iPhone 14 Pro Max comes with a Ceramic Shield which is tougher than any smartphone glass that exists.
iPhone 14 also has a Dynamic Island (an Apple innovation) which is hardware and software and a lot more in between. Let us share what it can do for you guys! So, Dynamic Island will bubble music for you, it will display sports scores, you can FaceTime with it too, and everything else too without having to stop doing what you were already doing. Oh, and did we tell you that iPhone 14 has an always-on display too? Well yes, you read that right. The always-on display will be forever ready to let you do your thing just like that. In addition to that, you will experience a glanceable lock screen with which you won't have to tap on the screen to know what's happening on the other side.
Guys, iPhone 14 has all-day battery life and we are here for that – imagine being always in charge of doing whatever you are doing without having to worry about your battery going low on you. And we are sure that all the workaholics are going to love that about their new iPhone while they enjoy the very powerful and intelligent camera too which has nothing but versatility to offer. You will get amazingly detailed photos even when there is not a lot of light and we know that all of us have been there where we got disappointed with our previously used phones that could not get us the photo results that we wanted to have.
Now comes the most interesting feature of all times; the Emergency SOS via satellite. With this feature, you will be able to stay in touch with your loved ones even if you don't have cell services or WiFi on you. We feel that it is one of the most useful features to have been introduced and although we hope that no one has to use them in an emergency but it was something worth mentioning. There is so much more than iPhone 14 is offering and trust us when we say this; it is all worth the wait and money too. So, while you get your own iPhone 14, we are sure that with the help of our free iPhone 14 Pro Max mock-up PSD file, you are going produce a couple of brilliant projects for yourself and for your clients.
And that is all for today from our end, you guys! We hope that you had a great time reading the blog and that you have already started thinking of all the possibilities that can be explored to make the most of our free iPhone 14 Pro Max mock-up PSD file. Do share the blog with your friends who are graphic designers, developers, etc. as well as with your team members and favorite colleagues too so that they can work on their projects too. Also, if you guys have any special requests to make, do share them in the comments section and we promise to be back with your requested content and more super soon.
Free iPhone 14 Pro / Pro Max PSD & Vector Ai Mockups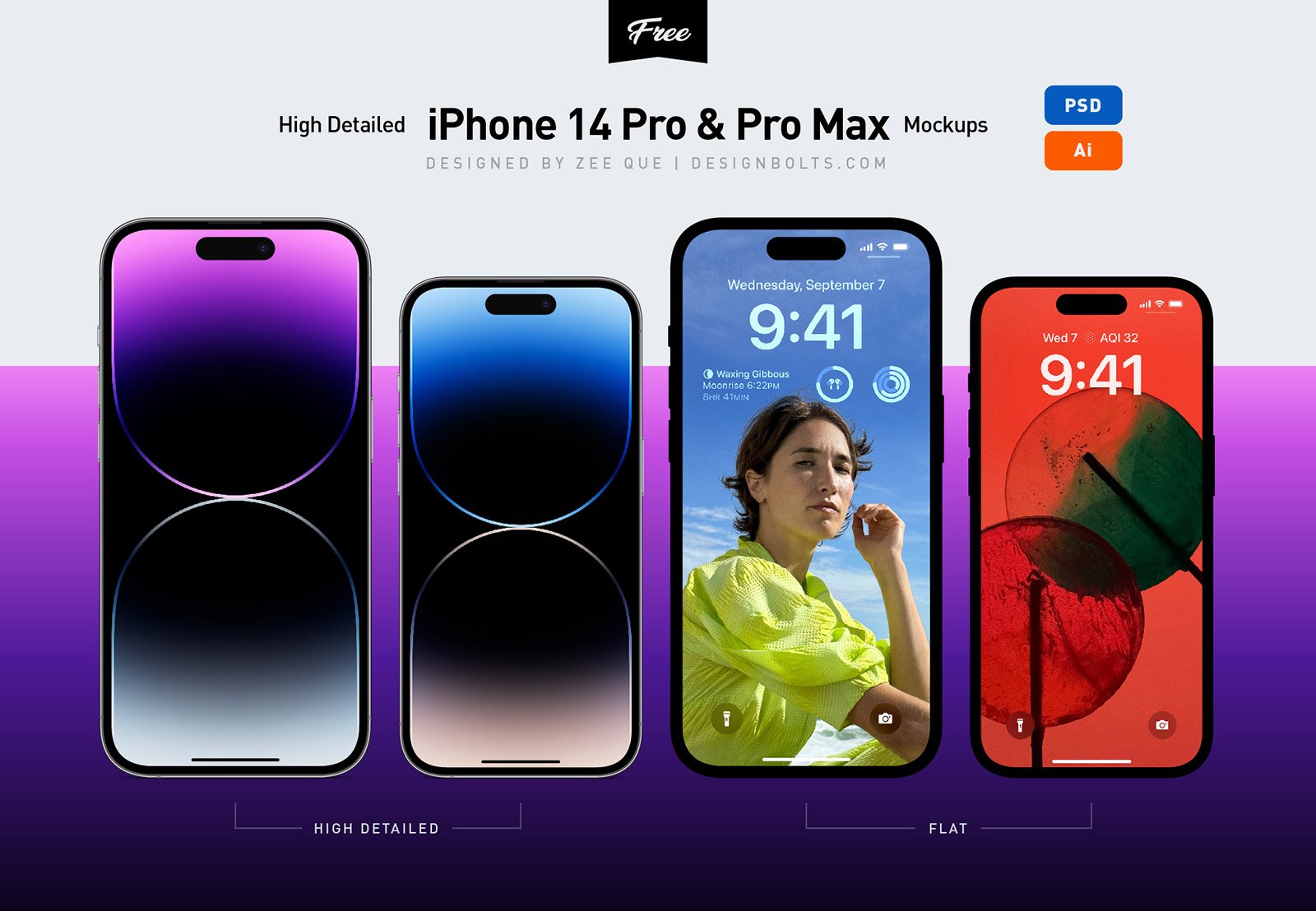 Available Format: Layered PSD with smart object insertion
License: Free for personal & commercial use
RAR File Includes: Free Apple iPhone 14 Pro & iPhone 14 Pro Max in PSD & Ai
Mockup PSD Resolution: 3000 x 2250 px (2x supported)
Note:
1. Free iPhone 14 Pro Mockup PSD set is allowed for sharing online (A Must Linkback to this page)
2. Designbolts signature is placed as first layer kindly hide and use the mockup
3. Say thanks if you like or share/tweet with your friends
Download iPhone 14 Pro & Max PSD
Download iPhone 14 Pro & Max Ai
Recommended: