Hello there friends! We are back with yet another exciting and informative blog for you guys along with our free yet highly editable mockup PSD file which will let you all create some of the best designs for MUPIs for your personal and commercial clients. As you guys know that in our blogs, we make sure that we share enough information with you all so that you can bag your business deals just like that and can also deliver nothing but perfection in the form of ideas, campaigns and designs. So, let's get started with our today's blog in order to know everything that will help you create effective MUPIs like a pro!
We are sure that those of you guys who follow our account regularly have gotten to know and work on multiple MUPI designs from time to time but for those of you who have just started reading the blog, we would like to first share the basic information about MUPI with you all and we will then get to creating the designs and everything else. So, first things first; MUPI is an acronym for the French expression: Mobilier Urbain pour l'información which translates to urban furniture in English and has been a great source of delivering a business' message to their target audiences.
Out of home advertising (OOH) is considered to be far better in terms of results when it comes to comparing it with digital and social media advertising and in addition to that, it is also cheaper as well and still gets the job done. We are sure that whenever you sit with the concerned departments and clients, etc. to discuss the budgets and everything else, you would also have to keep in mind all the money that will be spent to run successful campaigns and we know that many boardrooms have heard that there isn't this much money or that let's keep it low-key. So, even in those cases too, you can still execute a great OOH advertising campaign with great results without having to spend a lot.
Creating MUPI designs is as much fun as any other OOH advertising material because for them too, you need to craft a story in a way that speaks to your audiences at an emotional level and also invokes emotions in order to make them take a decision right away for example; signing up for your newsletter, following you on your social media handles, inquiring about a product or service on your WhatsApp business account or even visiting your store too. But to make all of this happen, you need to know your path. Don't just get in without getting your hands on the insights, don't rush into the process of checking the task done. Spend some time on the business platforms, understand what they need to communicate, what can be improved, know what the audiences are like and then dive into brainstorming the ideas.
– – – – – – – – – – – – – – – – – – – – – – – – – – – – – – – – –
Recommended:
– – – – – – – – – – – – – – – – – – – – – – – – – – – – – – – – –
Once you have worked on a couple of ideas, have them vet with someone who is in charge or take the lead to go with the ones that sound impressive to you and your team members. By analyzing everything that matters, start working on the designs and then experiment with the copy, colors, other design elements, etc. You can keep those options for the latter half of the meeting and run them through the decision-makers by explaining how a different strategy can work in their favor and we can bet that if done right, you will be able to introduce something even more effective in their communication that will work amazingly for the business in years to come.
That being said, we would also like to mention that you guys must spend some time creating mock-ups for the review presentations in order to present your ideas with rationale in a more meaningful way. We know that by now you guys have accepted the fact that we just cannot underestimate the power of mock-ups so let's not rush into delivering our great ideas without being on the safe side as there is always a chance that someone would want us to make a revision or two in a couple of designs and we can only make that happen in a seamless manner if we have saved mock-ups with us so that we can go back to them whenever we need to.
Recommended: 135+ Free Outdoor Advertisment Branding Mockup PSD Files
And that is all for today, you guys! Here is hoping that you all had a great time reading the blog and that you will also share it within your personal and professional circles so that more and more people can create super awesome MUPI designs for their upcoming projects. Do also share your feedback with us in the comments section so that we can better the things that need our attention and can also share more exciting blogs in the future too. Until next time, keep creating impressive stuff.
Free MUPI on Busy Street Mockup PSD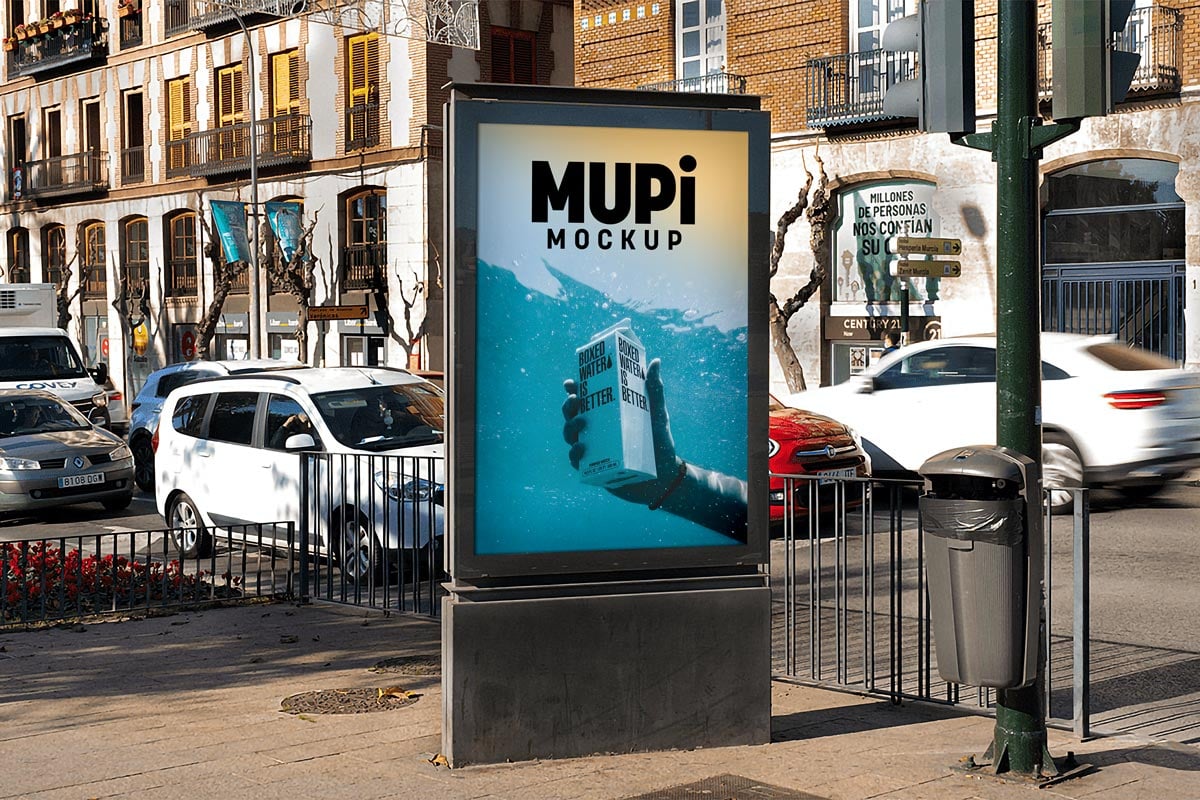 Available Format: Photoshop PSD
License: Free for personal and commercial usage
File Format: WinRAR
Mockup Resolution: 4290 x 2680 px
Note:
1. Free Mupi Mockup is allowed to share online (A Must Linkback to this page)
2. Say thanks if you like or share/tweet with your friends. That means a lot to me.
3. And don't forget to follow or subscribe to receive more high-quality premium freebies & awesome articles only.
Download Mupi Mockup
More free mockups PSD files: