Hi there, you guys! We hope that you guys had a great time reading our previous blog and that you are super excited to read this one too as we will be sharing everything that you need to know in order to create some of the most brilliant designs of disposable Kraft paper food bag for your own business or for the ones that you are working with. But before we do that, we would like to take this moment to thank you all for your love and support and for also sharing out blogs with the people that you care for. We hope to receive more of that in the future as well.
As you guys know that Kraft paper is made of the chemical pulp that gets produced during the process of kraft and because the paper is super porous, has high elasticity to offer and also has high tear resistance, it is preferred by businesses that are working in many different categories such as clothing, food, etc. Kraft paper food bags are usually available at grocery stores as well so that the customers can pack and store delicate items in them too such as loaves of bread, vegetables, and more. The great thing about the Kraft paper food bags is that they keep the food items fresh for some time as well and provide excellent support too.
In addition to being carrier bags, Kraft paper bags look nice as well for example; imagine a winter morning when you are heading to work and you feel like grabbing a bite from the street vendor who sells these very delicious bagels and you would want to have a couple of them so you place an order and in return, you receive a beautifully designed Krapft paper food bag with a nice good morning message written on it – having your favorite flavor of bagels. Does it not sound like a perfect morning? It does to us. And we are sure that if you are one of those people who like the simplicity and subtlety that life has to offer, we can bet that small things like a well designed Kraft paper food bag, a couple of warm bagels and your coffee would be more than just enough to make your day a great one.
As far as the Kraft paper food bag designs are concerned, we would like you all to think of incorporating different themes into your designs. For example; if you are making something for a business that caters to school-going kids, then you would want to add something for the kids only in the design such as doodles and poems or even games too which can be played once they have done consuming the food, you know. Then you opt for witty work-related quotes for office-going individuals who stop by at your shop or cart when they are starting the day. So, you see everything is literally there for you to think of as many ideas and possibilities as you can and we know that you will end up creating nothing but amazing things for yourself as well as for the people that you are working with.
Before we conclude our today's blog, we would like to encourage all of you to take out some time and also work on creating mock-ups for your review meetings for every project that you are working on. By now, we are sure that you guys would know how important mock-up presentations are and the role that they play in getting you the business deals or final approvals too but we also know that most of us do not get the time to create mock-ups and then compile them all in a nice presentation so that we can impress the decision makers by telling them how dedicated we have been during the whole process.
To handle such things in a good way, it is very important to always set a humanly possible deadline with your internal team members as well as with the clients so that you have enough time to be creative as well as to get done and over with things in a more systematic way. Trust us when we say this: mock-ups can help you in ways that you cannot even imagine – both in terms of helping you build a nice image but also in terms of how you will be spending time, effort and money on making and producing the designed items, etc.
That is all for today from our end, you guys! Here is hoping that you guys not only enjoyed reading the blog but you will also share it with your graphic designer friends and favorite colleagues as well. Feel free to share your feedback with us in the comments section and while you are at it, don't forget to share your requests too so that we can work on them and get here with your requested content and more super soon.
Free Disposable Kraft Paper Food Bag Mockup PSD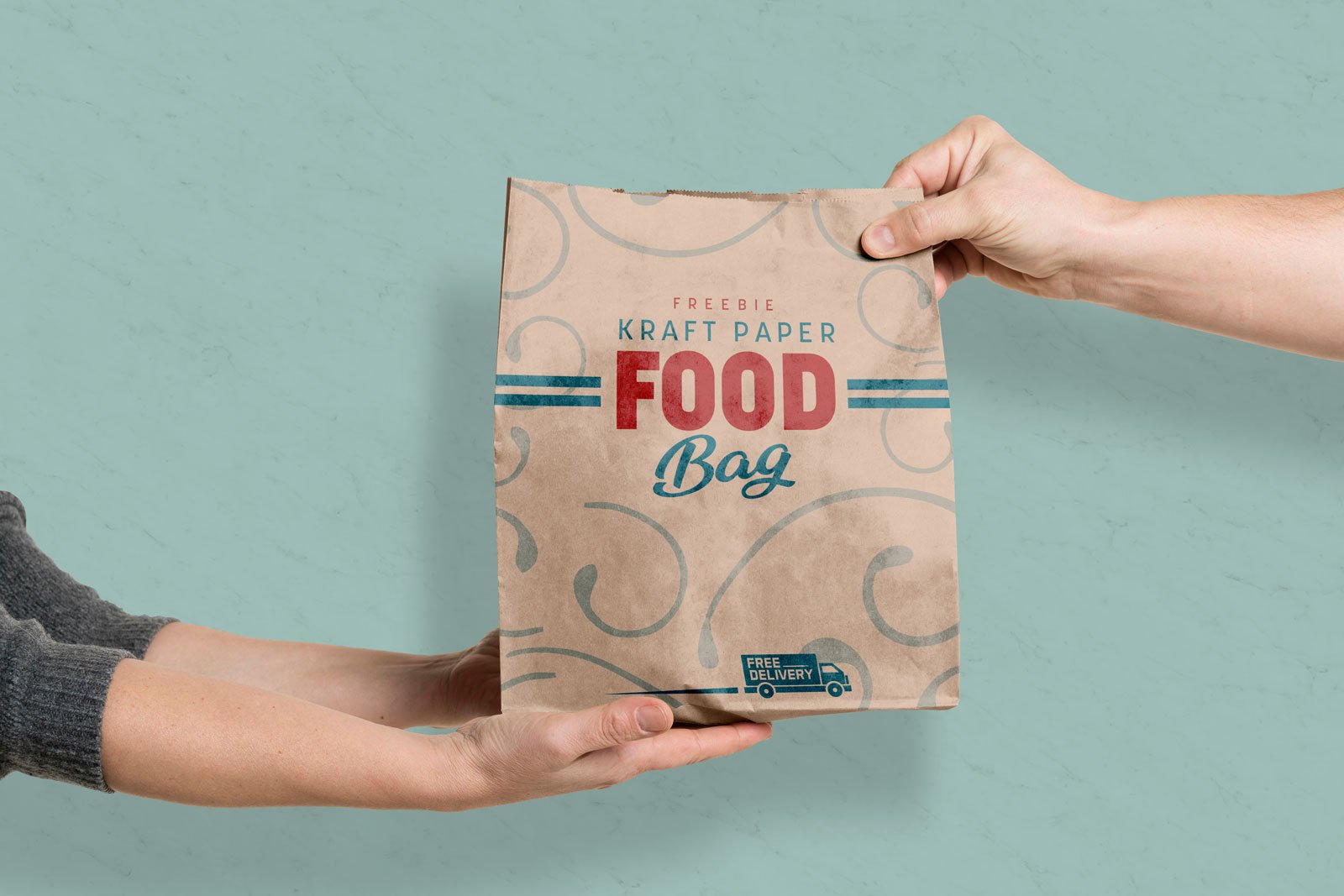 Available Format: Layered PSD with smart object insertion
License: Free for personal and commercial usage
Zip File Includes: Free Disposable Bag Mockup PSD
Mock-up Resolution: 4500 x 3000 px approx

Note:
1. Free Mockup PSD is allowed to share online (A Must Linkback to designbolts.com)
2. Say thanks if you like or share/tweet with your friends. That means a lot to me.
3. And don't forget to follow or subscribe to receive for more high quality premium freebies & awesome articles only.
Download Disposable Bag Mockup
More Free Packaging Mockup PSD Files: