Hi there everyone! We are back with yet another amazing blog of ours and we can bet that you all are going to love it as much as we did while we were working on it. And we are going to be sharing everything that you need to know to make perfect designs of Z-Fold brochures in the blog but before we do that, we would love to take a moment and thank you all for the love and support that you guys send our way and for always sharing our blogs within your personal and professional circles. We hope to see more of that happening in the future too.
If you are one of our regular readers, then you must have read our previous blogs that covered the basics of brochures and how you can create the best of the best designs for your upcoming projects but in this part of our blog, we are going to be talking about the basics once again for those readers who have either joined our blog recently or who would love a visit down the memory lane so that when they get to their work desk to design their Z-Fold brochures, they would know exactly what to do and how to do it.
By now, you guys would know that a brochure is an advertising tool which is used to promote a business, organization or the products and services that are being offered by a company. This promotional document contains more information than a flyer (which is a one-page promotional document) and it has to have all the information that is required to spread information to the customers and clients in an effective way. Technically speaking; there are multiple types of a brochure and we are going to be listing them down below:
Gate-Fold brochure: These brochures are a little more expensive than the rest of the types that you will be reading about as they are solely designed and distributed for corporations to serve high-end marketing purposes and since they are expensive, they are not one of the most preferred types too which makes sense because if you can spend fewer amounts of money on something and gain the same or more results from it, then you must always go for the less expensive option and do your thing. Gate-Fold has an eight-panel structure to offer and is super compact too.
Bi-Fold Brochure: With four panels in total that are used for the copy and two internal panels, Bi-Fold brochures are a thing within companies for multiple reasons such as; they make the brochures look like small magazines with your information in them and are used to talk about multiple products and services.
Tri-Fold Brochure: With three folded panels all set to convey your branded information to your existing and potential customers; Tri-Fold brochures are considered to be super effective when it comes to reading the information and also keeping them on the go too.
Z-Fold Brochure: Z-Fold brochures are designed to spread information using imagery and while that is one of the most super effective ways of advertising your business, the unique and distinctive fold of these brochures entice people even more and they would want to get to know about your business, etc. in detail so that they can make a decision or two regarding availing your services.
Now that we have shared the information regarding the different types of brochures, we would like to share how, with the help of our free Z-Fold brochure mockup PSD file, you can make stunning designs for your own business or for the clients that you are associated with. First things first; think about the order of information so that when you actually sit to design everything, you don't get overwhelmed and happen to make choices that you will have to revisit. Then ensure that the margins have been set up perfectly in order to avoid any future mishaps once the printing has been done. Make the most of typography and colors to compartmentalize the pieces of information that are going to go up on the brochure.
– – – – – – – – – – – – – – – – – – – – – – – – – – – –
More Awesome Free Mockups:
– – – – – – – – – – – – – – – – – – – – – – – – – – – –
Read, proofread, and repeat at least more than three times before you send out the designs to be printed so that you are 110 percent sure there won't be any (silly) mistakes, none whatsoever that might result in an explanation in front of your team leads, etc.
That is all for today, you guys! We hope that you all had a really nice time reading the blog and that you will also share it with your graphic designer friends and favorite colleagues too. Also, feel free to share your feedback with us and while you are at it, we would love to know your requests too so that we can work on them and get back with your requested content and more super soon in our upcoming blogs. Until then, keep creating magical designs for yourself and for the people that you are working with.
Free Z-Fold Brochure Mockup PSD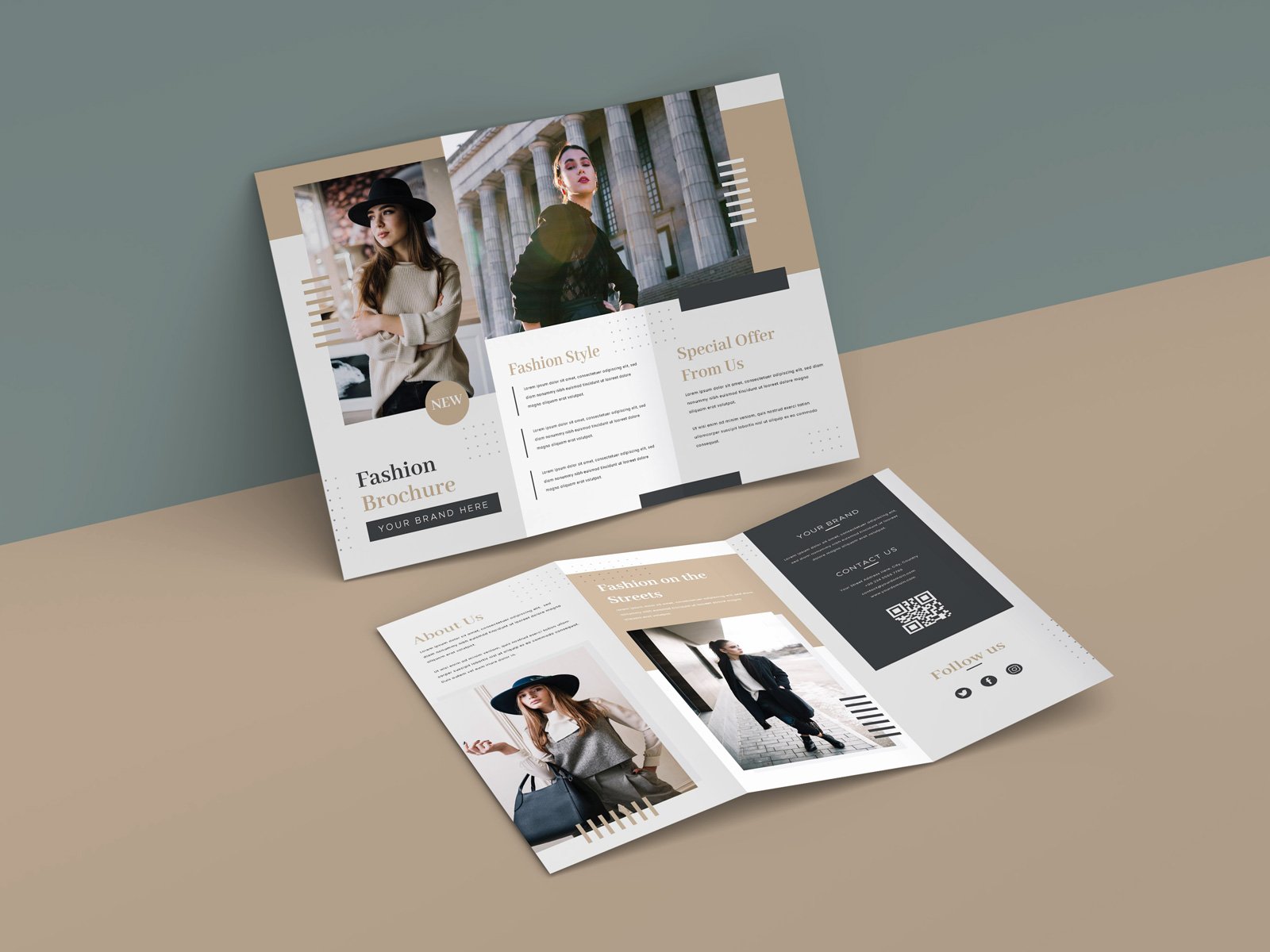 Available Format: Layered PSD with smart object insertion
License: Free for personal and commercial usage
RAR File Includes: Free Z-Fold Brochure Mockup PSD
Design Template Resolution: US Letter (300dpi)
Note:
1. PSD Mockup is allowed to share online (A Must Linkback to this post)
2. Say thanks if you like or share/tweet with your friends. That means a lot to us.
3. And don't forget to subscribe to receive for more high-quality premium freebies & awesome articles only.
Download Z-Fold Brochure Mockup
Recommended: