Hello there everyone! We hope that you all are doing great and that you are also having an amazing time reading our blogs and everything else that we share here. For our today's blog, we have created this free yet highly editable leaning against wall flyer mock-up PSD file that you guys can use for your upcoming design projects and we can bet that you are going to enjoy working on each one of them too. Allow us to dive right into it so that we can share everything that you need to know in order to design some kickass flyers.
Recommended: High Quality A4 flyer mockups
If you are one of our regular readers, then you must have read the old blogs that we did to cover the advantages of opting for flyer advertising and how you can make the most of it if you know the basics, and today we are going to be talking about some more benefits of including flyers to your campaigns to achieve the results that you wish to achieve. Make sure that you guys have read the blog till the end in order to make informed decisions.
Okay so, first things first; flyer advertising is not only an affordable way to communicate your branded messages and promote your services and products, etc. well but it is also one of the most effective ways to get things with guaranteed results. We are sure that you guys would find it convenient to go for digital and social media campaigns from time to time and while there is nothing wrong with that approach, we feel that when we limit the communication to a certain platform, we are taking the message away from a much bigger audience and that is not a very nice strategy to follow, you know.
Always remember that well-designed marketing / advertising material goes a long way and since flyers are easy to read by default, you have the edge on so many levels such as you only need to decide what piece of information you would want to include for a certain campaign, announcement, etc., what design elements you are going to pick to divide the information into sections, and the type of printing you want to go forward with. Like everything that you have used in the past to promote your branded messages, for flyers, you have to ensure that you do not settle for less. Go for high-quality printing materials even if the campaign that you are going to run is not a long-term campaign. Because it is one of the qualities that will impress your audiences who would feel more intrigued to check out what you are offering.
– – – – – – – – – – – – – – – – – – – – – – – – – – – – – – – – – – – –
More Free Premium Flyer Templates:
– – – – – – – – – – – – – – – – – – – – – – – – – – – – – – – – – – – –
As far as the designs of the flyers are concerned, keep in mind that simplicity is more attractive than elaborate designs and fancy vocabulary. Since you are going to be distributing the flyers to a variety of people, do not confuse them with too much information or words that they do not understand. Go for witty one-liners and puns if need be as they bring out the element of fun in the communication and can also help your audiences remember the messages for a longer period of time too – resulting in higher brand recall. For imagery, always go for high-resolution items with a clear-cut call to action (CTA) and you will see your advertising goal is achieved in a matter of hours. One more thing to keep in mind is to record the learnings – whatever they maybe to improve yourselves for your upcoming campaigns and we can bet that you will always stay ahead in the game.
Lastly, always, always ensure that you have enough time to work on multiple creative thoughts and concepts in order to present a variety of ideas in front of your internal and external teams. A well-designed mock-up presentation along with the rationale and thought processes show how seriously you took the job and invested yourself into presenting nothing but the best. And of course, you guys would know how helpful mock-ups are when it comes to making revisions too that you can get to the areas that need improvement without having to pause your printing process, etc. and you will be good to go. So, when something like that exists, you must utilize it properly and spend your time, effort and money on things that actually matter.
And that is all for today, you guys! We hope that you had a nice time reading the blog and that you will also share it with your graphic designer friends, favorite colleagues and acquaintances, etc. as well. Also, feel free to share your feedback and special requests in the comments section down below so that we can work on them and get back with your requested content and more super soon. Until then, keep creating magical designs for yourself and for the people that you are working with.
Free Leaning Against Wall Flyer Mockup PSD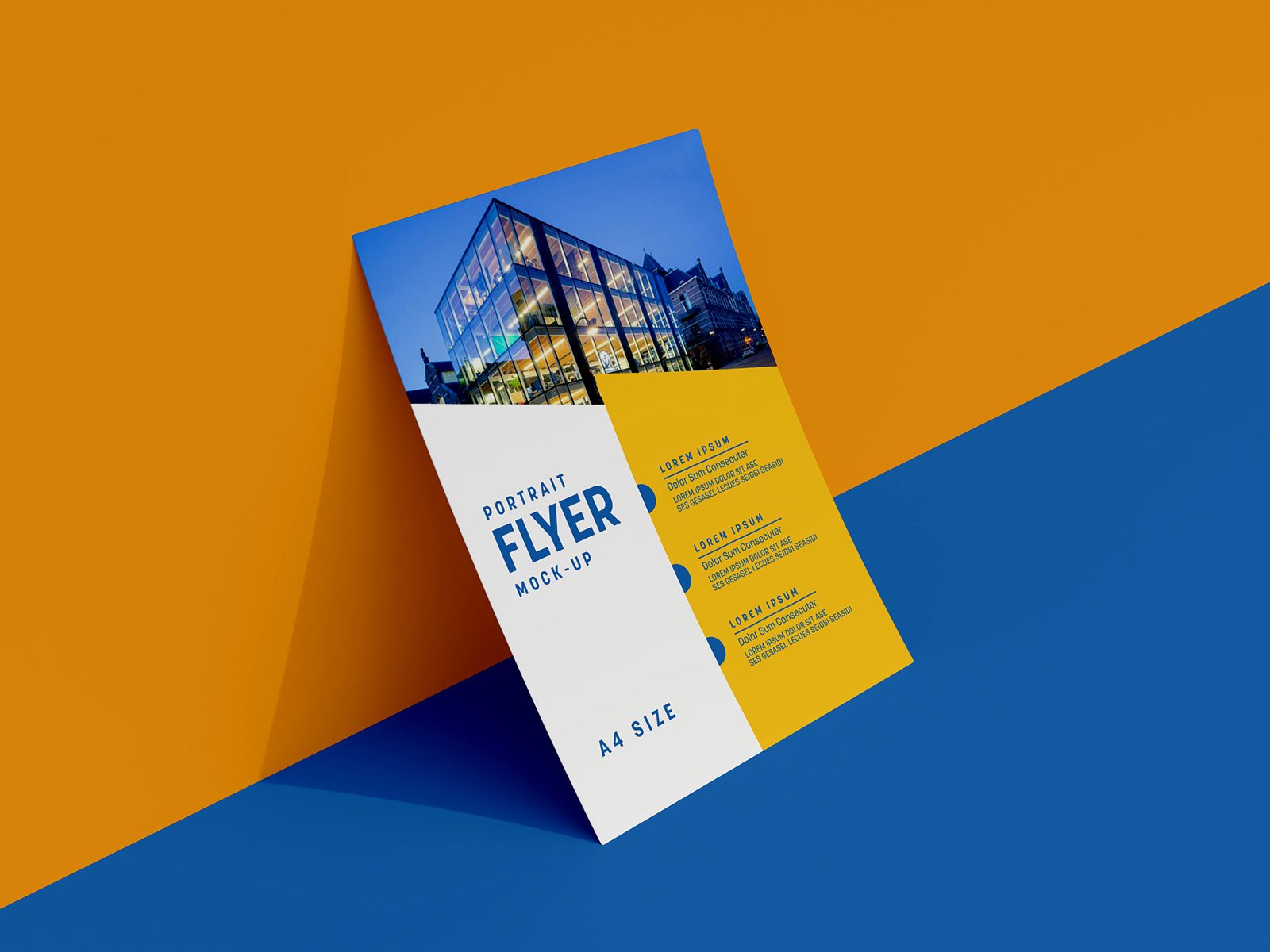 Available Format: Photoshop PSD
License: Free for personal and commercial usage
File Format: WinRAR
Mockup Resolution: 3840 x 2160 px
Paper Artwork Size: A4
Note:
1. Free A4 Flyer Mockup is allowed to share online (A Must Linkback to this page)
2. Say thanks if you like or share/tweet with your friends. That means a lot to me.
3. And don't forget to follow or subscribe to receive more high quality premium freebies & awesome articles only.
Download A4 Mockup
More Flyer Free Mockup PSD files: