Hi there everyone! We are back with yet another super useful blog of ours and we can bet that you all are going to love it as much as we did when we were working on it. But before we start sharing everything that you guys need to know to design stunningly attractive restaurant menus, we would like to take this moment and thank you all for the love and support that you send our way and for always making sure that your loved ones are reading our blogs and making the most of our free yet highly editable mock-up PSD files and more.
If you are one of our regular readers, then you must have read our menu related blogs and worked on the mock-up PSD files that we created for you guys in order to help you all stay ahead in your game all the time. But for your today's blog, we needed to do something different today so we have worked on this free clipboard restaurant menu mock-up PSD file which is all set to help you guys get into the Pinterest-y feels and make sure that you become one of the most preferred restaurants of all times.
Now, we are sure that most of you guys must be thinking about what's wrong with the regular menu cards and everything else that we have been using for years in restaurants, etc. but with things changing for good, it becomes important to bring in something new to the table and not just for your customers, but even you are going to feel great about changing a thing or two even it's introducing a new menu design. We would also like to mention here that your menu can actually change the mood of your customers because they can really trust you with their food knowing that you know what you are doing.
Honestly, the menu is one of those elements at an eatery that can help you make or break the business and if you know how to do things right, you are already winning at your game. Menu designing can be fun if you know the basics and since it is usually something that will be going to last you at least a year (unless the menu cards get dirty or start wearing off), you would not have to worry about it for some time either.
Recommended: Beautiful Food Menu Ideas
That is the beauty of going for a durable material all the while working on the fact that your menu has more than the food items to offer. Keep it something that will evoke emotions and will also make your customers place an order right away. Because otherwise, what happens is that the visitors, if do not feel really good about the menu itself, they are going to leave and in your business, that is not something that you are going to like, you know. In this part of our blog, we are going to be sharing a couple of menu design tips that you must follow to create brilliant menu designs for yourself or for the people that you are working with.
First things first; for a menu design, it is so very important to observe the eye scanning patterns in order to put the information out there in the most effective way. By doing so, you are only going to make it super easier for your customers to go through the entire menu without having to keep asking questions and still not being able to make a decision. Your menu designs must always be sectioned into logical segments, the content must be readable and also, do not opt for fancy language otherwise it will only double the workload of your servers and they might not be able to actually serve the food, etc.
Recommended: Restaurant Menu Design Ideas
Go for illustrations to make the menu designs explain what you are saying and if you are going for imagery, then make sure that it is not only in high resolution but it is also complementing the menu and looks exactly the same in real life too (when the orders will be on the tables).
That is all for today from our end, you guys! We hope that you not only had a great time reading the blog but you will also share it with your graphic designer friends, favorite colleagues and other people that you know who happen to own an eatery, etc. so that they can have magical menu designs made for themselves. And we are sure that they are going to love you for sharing our free clipboard restaurant menu mockup PSD file with them.
Also, don't forget to share your feedback with us on the blog and while you are at it, feel free to share your special requests with us too so that we can work on them and get back with your requested content and more super soon.
Free Clipboard Restaurant Menu Mockup PSD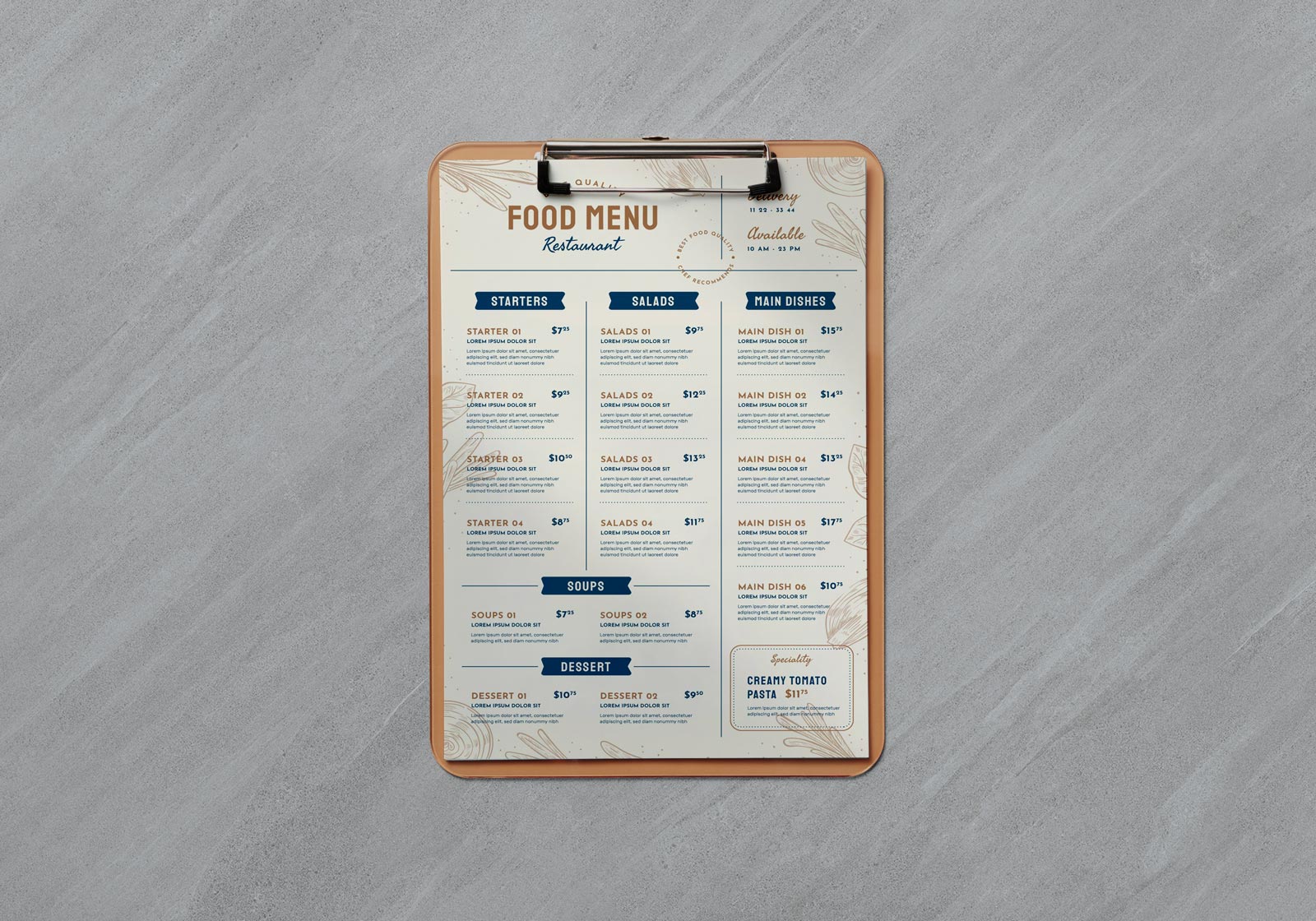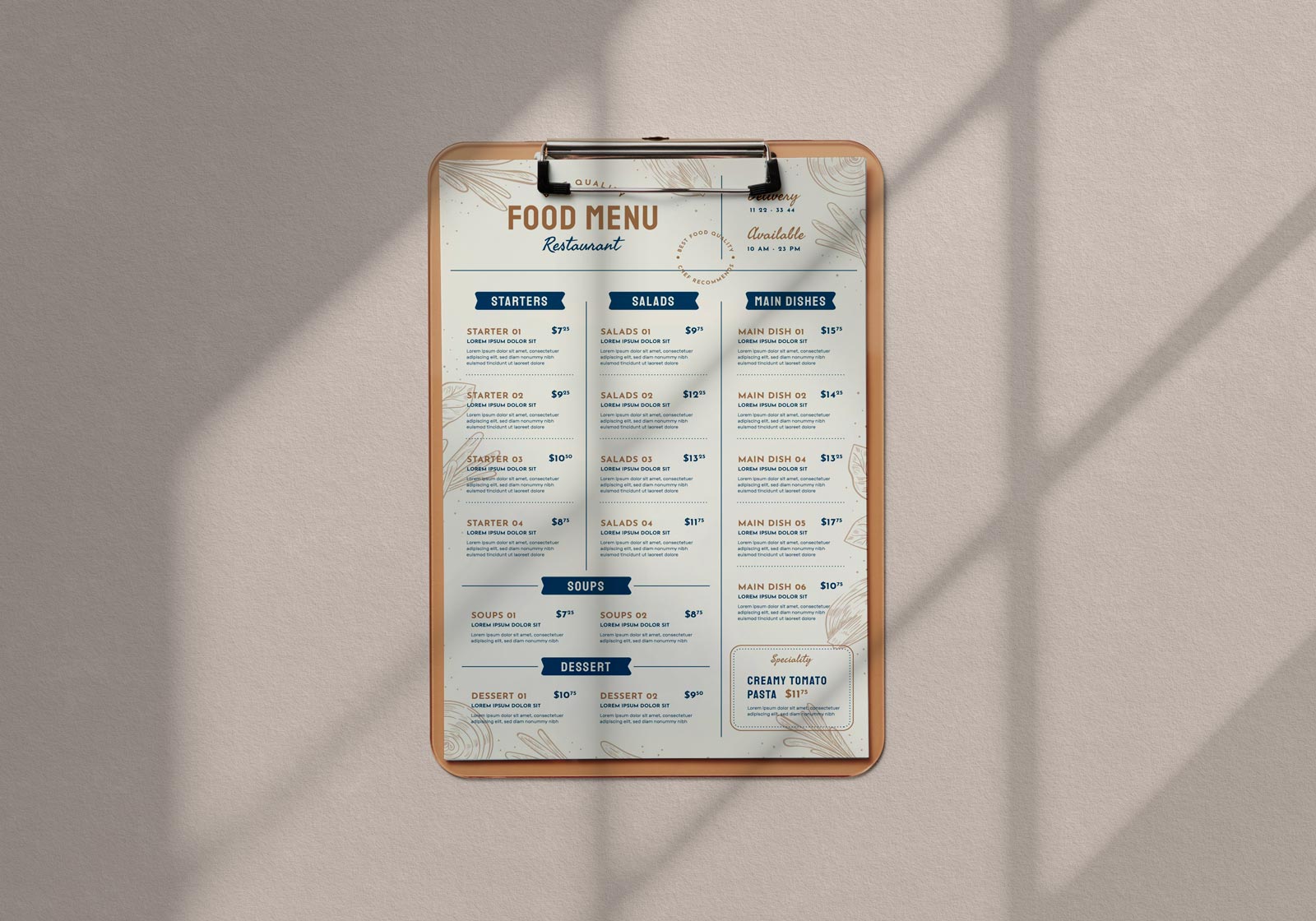 Available Format: Photoshop PSD with changeable background color
License: Free for personal and commercial usage
File Format: WinRAR
Mockup Resolution: 4000 x 2800 px
Note:
1. Free Restaurant Menu Mockup is allowed to share online (A Must Linkback to this page)
2. Say thanks if you like or share/tweet with your friends. That means a lot to me.
3. And don't forget to follow or subscribe to receive more high-quality premium freebies & awesome articles only.
Download Menu Mockup PSD
More Free High-Quality Menu Mockups: