Hi there, you guys! We hope that you all had a great time reading our previous blogs and that you are very excited to check out our new and free flyer mock-up PSD file that we have created for you all. As you guys know that we keep all our mock-up PSD files highly editable, we can bet that you guys are going to have a fantastic time working on it and while you are at it, we just want to encourage you to be open to creativity and explore newer design techniques that will help you stay ahead in the game – always. So, let's dive right into it, shall we!?
We like to keep things fun and simple so we are going to be utilizing this part of our blog to help new readers and graphic designers understand what a flyer is and how it can help them run successful advertising campaigns for their clients, etc. But even if you are someone who has been in the field for a long time, it would be a nice idea to freshen up your knowledge and follow the tips and tricks that can help you make informed decisions, you know.
Okay so, a flyer is a piece of advertisement that is used to distribute among the masses to propagate a branded message which can be about a new store launch, an upcoming sale, new admissions/courses being offered at a university, or even to intimate the audiences regarding a change in the address, etc. as well. Flyers are handed out to people in public or are also sent out to them via mail (for example; newspapers, independent mail, and more). In addition to that, know that a flyer is a single piece of advertisement which is used to talk about just one message only otherwise, you will be bombarding your audiences with too much information and there are chances that they might not be able to make any action after having read your communication.
In this part of our blog, we will share easy-to-follow design tips and tricks to help you guys work on effective flyers so make sure that you have read the blog till the end.
Recommended: High Quality A4 flyer mockups
First things first; you must focus on one key message so that your audiences do not get lost in multiple messages – no matter how simple the communication is. Secondly; you must always work on developing a clear call to action (CTA) in the communication for example; 'Shop Now, 'Call Now, 'Place Your Order Today, etc. Make sure that you have allotted a prominent position to your CTA so that anyone and everyone who is going through your flyers knows what needs to be done once they have gathered the information.
It is also very important to keep harmony in your communication regardless of the medium that you are using whether it is digital or out-of-home advertising (OOH). You must experiment with the design elements but do not create anything that looks different from the branding of your business otherwise it will become difficult for people to remember you as one brand. For your digital content, one more thing that you can try out with your flyers is to look out for ways in which you can repurpose them for example you can very easily use the flyer designs as your social media posts and have the same communication to be run on multiple platforms at the same time.
– – – – – – – – – – – – – – – – – – – – – – – – – – – – – – – – – – – –
More Free Premium Flyer Templates:
– – – – – – – – – – – – – – – – – – – – – – – – – – – – – – – – – – – –
Lastly, we would love to encourage you guys to always, always invest your time and efforts into making mock-up designs for all sorts of projects that you are working on. It does not fall under the category of being over-smart or efficient for that matter, but in fact, you take your job seriously and you wish to share a set of ideas that can be taken into consideration before sending out the materials for printing. Also, if you feel that you do not get enough time to create mock-ups, we suggest you either set realistic delivery dates with your team leads and clients or you plan out the whole thing in such a way that you know you will have ample time to revisit your designs and also create mock-ups based on even more exciting concepts to present.
And that is all for today from our end, everybody! We are sure that you guys enjoyed reading the blog and that you are going to be sharing it with your graphic designer friends and favorite colleagues as well so that they can make a handful of stunning flyer designs for themselves and for the businesses that they are associated with. We would also like you all to take some time and share your feedback with us so that we can improve the areas that need improvement while also sharing the things that we love to create.
Free A4 Flyer / Flier Mockup PSD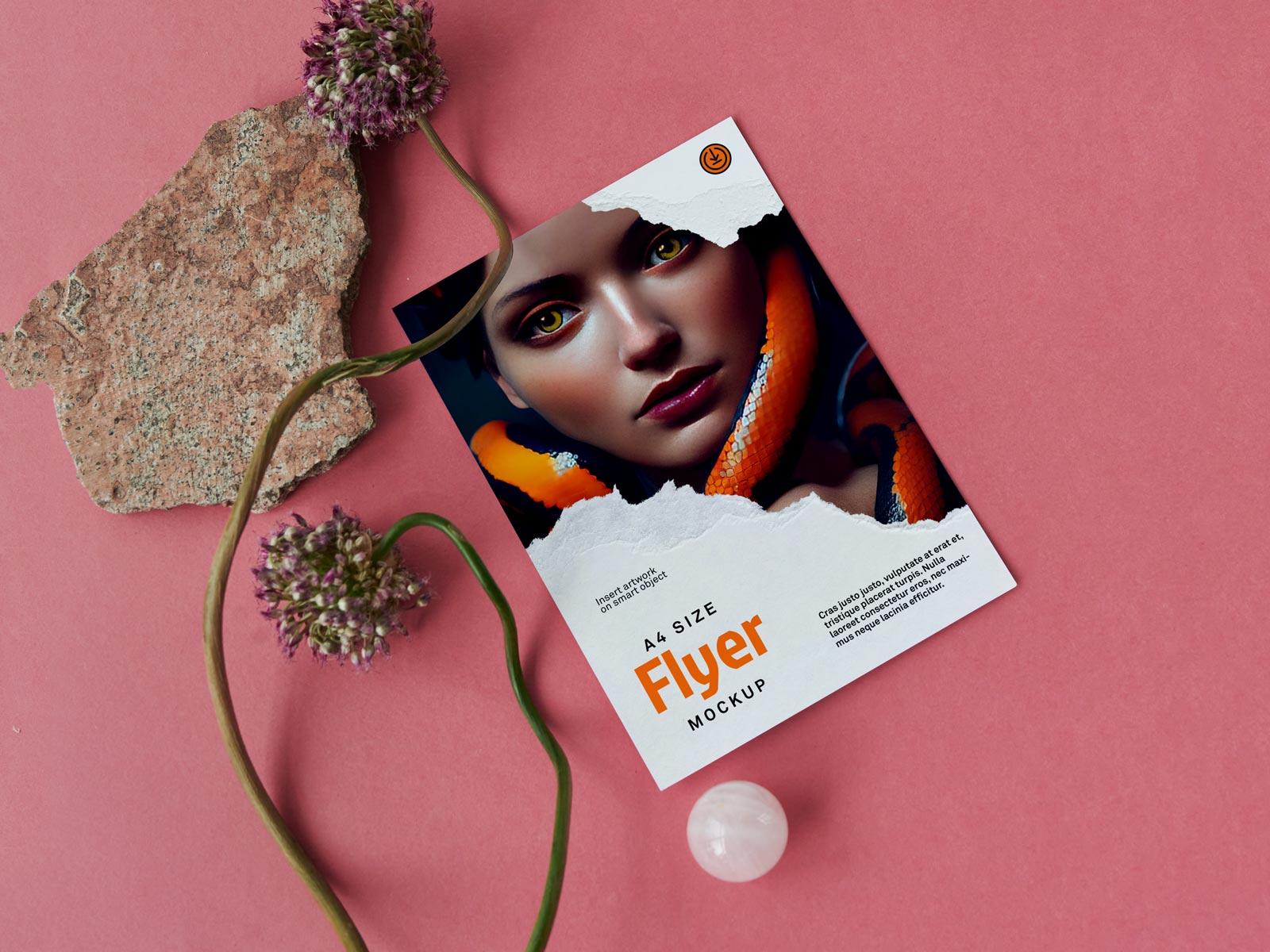 Available Format: Photoshop PSD
License: Free for personal and commercial usage
File Format: WinRAR
Mockup Resolution: 3000 x 2250 px
Paper Artwork Size: A4
Note:
1. Free A4 Flyer Mockup is allowed to share online (A Must Linkback to this page)
2. Say thanks if you like or share/tweet with your friends. That means a lot to me.
3. And don't forget to follow or subscribe to receive more high-quality premium freebies & awesome articles only.
Download A4 Mockup
More Flyer Free Mockup PSD files: