Hi there, friends! We are very excited to share our today's blog with you guys as we know that you were waiting to get your hands on a brand new clothing hang tag mock-up PSD file which is not only free but is super editable too. And we are sure that you are going to love working on it but before we share everything that you need to know to design pretty hang tags for your businesses, we would like to take this moment and thank you all for the love and support that you send our way and for always sharing your genuine feedback with us as well. We hope to receive more of that in the future too.
Clothing hang tags are used to inform the customers about the pricing and all but there is more to them as you can totally use your hang tags to promote your brand in so many creative ways. But it has become more of a fact now that almost all the brands do not really use the hang tags to tell their story and although, we are not trying to rain on your parade here, but we would like to tell you guys that you are missing out on an excellent opportunity to communicate with your customers in a very creative and affordable way. Like you will be putting up the hang tags there already, why don't you use them to engage with your loyal customers too while you are at it, you know?
In this part of our blog, we will share the other purposes of clothing hang tags that you can read about and then utilize the promotional material accordingly.
Clothing hang tags can be very easily used to share information that they can keep in mind while using a certain product that they have purchased from you. For example; care information as in how to wash the item, how to iron it, information regarding air or tumble drying and more. Then, you can also use the hang tags to share your unique selling points such as talking about how different your articles are from the rest of the things that are available in the market. Talk about sustainability and how you are making efforts to protect the planet, etc. By doing so, you will be able to put a nice word out there about the things that you are doing and making your mark too. Because all of that is important; and there are chances that many people might not have come across your TV commercial or interactive digital campaigns, but they sure are going to read out that useful piece of information from your hang tags and you will know it was all worth the effort.
Recommended: 80+ Best Packaging Mockups
Another thing that you can use the clothing hang tags for is to talk about the composition of the fabric, etc. That information will help the conscious shoppers to ensure that they are putting their money into the right things and it is always a great idea to flaunt the cool things that you are doing as a business as it helps you to be apart from the rest of the businesses. Also, if you guys can manage and we think that you should, always go for eco-friendly materials for your hang tags. That won't just act as a conversation starter, but you will be proud of everything that you would be doing in order to actually protect the environment because let's be honest with each other, we have ruined the planet for ourselves as well as for our future generations and to be conscious about these things is the only way that we can do to minimize the consequences.
Now, let's talk about what else you can do to make your clothing hang tags differently. Go for unique printing techniques such as; embossing, foil stamping or even matte lamination for that matter. Oh, we cannot imagine how beautiful the results are going to be once you will actually go for something not everyone else is doing and the sense of achievement that will come with it will be totally worth all the time, effort and money too. So, always explore your opportunities and figure out the ways that you can stay ahead in the game to make your business more than just a successfully run business.
Recommended: 30+ Premium Quality Product Mockups
That is all for today from our end, everyone! We hope that you guys had a great time reading the blog and that you will also share it with your graphic friends and favorite colleagues as well. Feel free to share your feedback with us too so that we can improve the things that need improvement and while you are at it, don't forget to share your requests with us too; we promise to get back with your requested content and more in our upcoming blogs super soon.
– – – – – – – – – – – – – – – – – – – – – – – – – – – –
More Awesome Free Mockups:
– – – – – – – – – – – – – – – – – – – – – – – – – – – –
Free Clothing Hang Tag Mockup PSD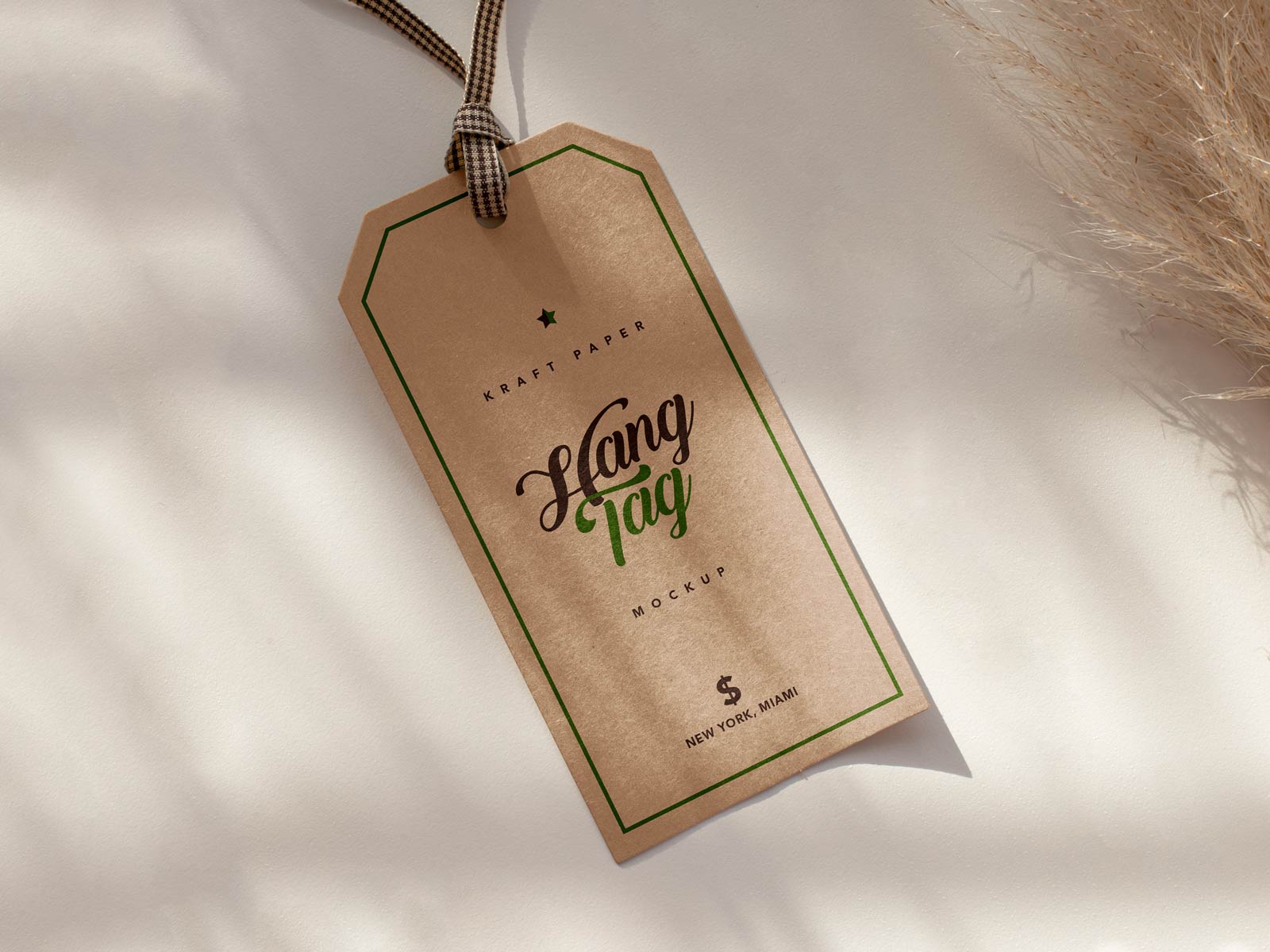 Available Format: Photoshop PSD
License: Free for personal and commercial usage
File Format: WinRAR
Mockup Resolution: 3600 x 2700 px
Note:
1. Free Hang Tag Mockup is allowed to share online (A Must Linkback to this page)
2. Say thanks if you like or share/tweet with your friends. That means a lot to me.
3. And don't forget to follow or subscribe to receive more high-quality premium freebies & awesome articles only.
Download Hang Tag Mockup
Recommended: