Hi there everyone! We are back with yet another exciting blog of ours along with a free yet highly editable tin spray can mock-up PSD file for you guys but before we share how you can use it to make your own designs, we would like to take this moment and thank you for the love and support that you send our way and for also sharing our blogs, tips & tricks, etc. with the people that you love and care for. We would love to receive more support in the future too.
Tin spray cans are made and used for storing many different kinds of liquids in them for example; color sprays, snow sprays, etc. Then there are pharmaceutical companies that use such cans, beauty companies as well that make sprays, etc. for personal hygiene too. And lastly, automotive companies use tin spray cans to store automotive paints, protective liquids and more. In addition to that; tin spray cans are also used by the lacquer industry.
So, you see there are multiple ways of using one container type which can store your products safely and will also make it easier for your customers to use them too. Tin spray cans are also preferred when it comes to storing liquids, etc. because they happen to be stronger than the other materials that are available in the market and they also give you more control over the content too such as the quantity of the liquid – how much you would want to spray, you know. Then there do not become a liability when you have to store them in boxes and all as you would not have to worry about the containers getting broken or even damaged for that matter as well.
Now, let's talk about the packaging designs of tin spray cans in order to fully understand how you can sell your products in the market. First things first; you need to understand that your brand image needs to be so on point that the customers do not have to ask any questions and they just know that they have to get what you are selling. That's how powerful your branded communication needs to be as well so that you become a preferred brand when it comes to other big and small brands in the city / country.
Building a brand image and making sure that it has the impact that you want it to have on the people is a time taking process and it will happen too but in the meanwhile, what you can do is look for insights for example; how your competitors are doing things. How do they package and market their products, and what are the pain points they are catering to so that you know that you have to do more than that in order to help your prospective customers always pick your products? That's how influential you need to be when it comes to being out there and we can bet that you will see great things happening for your business just like that.
Another thing that you need to keep in mind regardless of the scale of your business is that you must always create multiple versions that can represent your creative thoughts so that you are giving options to the decision-makers. By doing so, you will be letting them make informed decisions by weighing in many things such as the tonality of the communication, the packaging itself, and whether or not a certain something is good to go out in the public and be sold, you know.
Also, never underestimate the power of mock-up presentations as they give you more control over your projects while also letting you explain your thought processes in a more effective way and when you show your team members how involved you were in the whole thing, they know that you are a responsible resource who will do anything in their capacity to take the business where it needs to be. So, why not make the most of the mock-ups when you cannot just show your creativity and skills but you can also get back to the files and make changes if need be without having to stop any of your printing or production processes for that matter? What are you waiting for? Get your hands on our free tin can spray mock-up PSD file and start doing your thing!? 😉
And that is all for today from our side! We hope that you guys had a great time reading the blog and that you will also share it with your graphic designer friends, students, colleagues, etc. as well. We will see you guys next time with something more fun and exciting to read and work on, until then you all keep making magical designs for yourself and for the people that you are working with.
– – – – – – – – – – – – – – – – – – – – – – – – – – – –
More Awesome Free Mockups:
– – – – – – – – – – – – – – – – – – – – – – – – – – – –
Free Tin Spray Paint Can Mockup PSD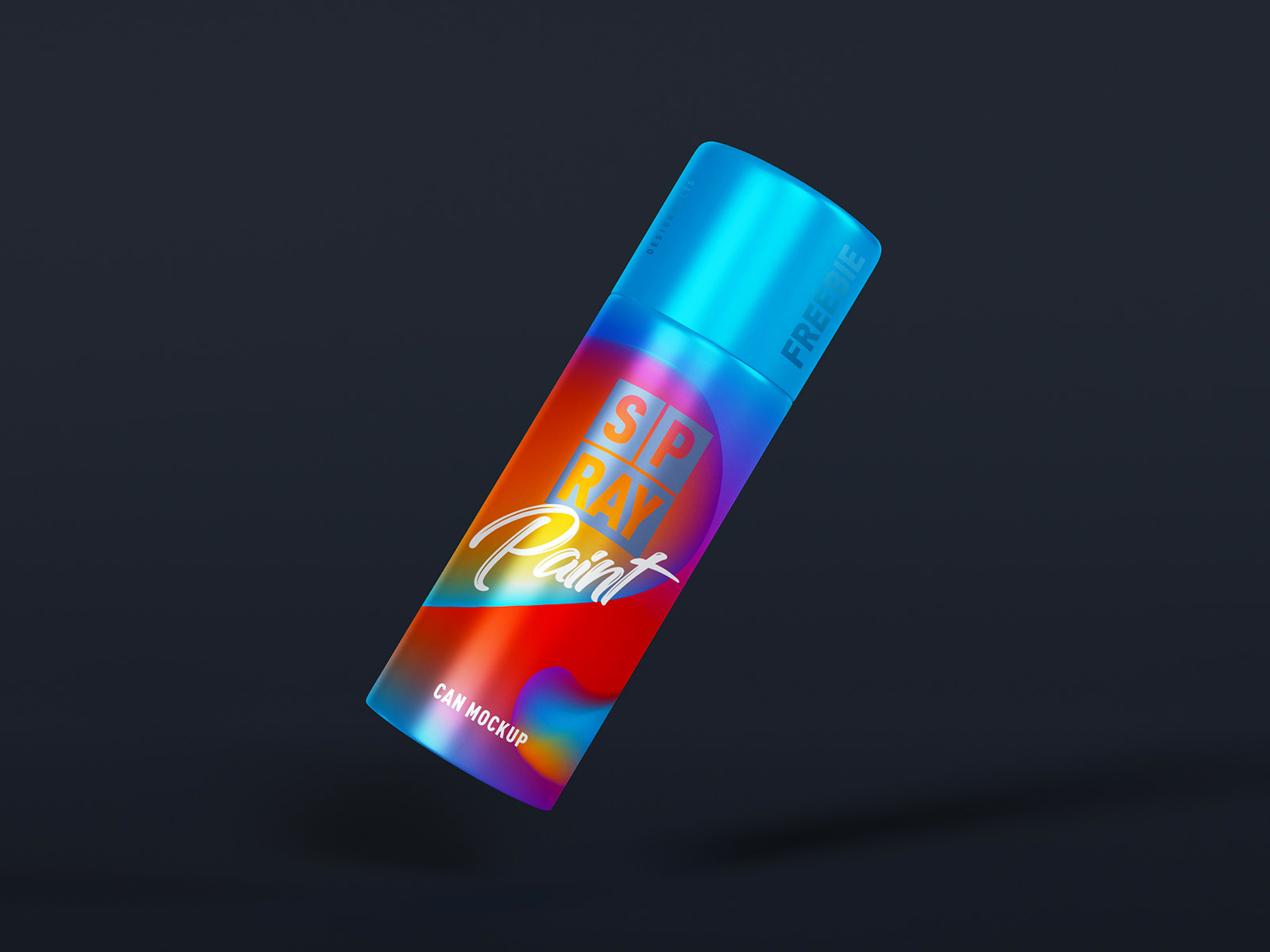 Available Format: Photoshop PSD
License: Free for personal and commercial usage
File Format: WinRAR
Mockup Resolution: 4000 x 2160 px
Note:
1. Free Spray Paint Can Mockup is allowed to share online (A Must Linkback to this page)
2. Say thanks if you like or share/tweet with your friends. That means a lot to me.
3. And don't forget to follow or subscribe to receive more high-quality premium freebies & awesome articles only.
Download Spray Paint Can Mockup
Recommended: