Hi there everyone! We are back with yet another amazing blog of ours and we can bet that you all are going to love it very much because we are about to share our new and free loose fit women's T-shirt mock-up PSD file. But before doing that, we would like to thank you guys for the love and support that you guys send our way and for always sharing our blogs with the people that you love and work with. It means a lot to us and we hope to receive more support in the future too.
As you all know that T-shirts happen to be the most fun clothing item to wear literally in every season but the best thing about them is that you can have them in as many colors and designs as you would want to – especially if you know how to use Photoshop. So, we decided to share our newly created free loose-fit women's T-shirt mock-up PSD file with you guys that you can use to make stuff for yourself, or for your customers, etc. In addition to that; you can also make T-shirt designs to gift your loved ones as well as they happen to be an interesting gift option too and we just love that, you know.
There are many different ways of designing a T-shirt but the best one is that allows you to be super creative without restricting yourself from trying out new ideas or should we say the box ideas!? Anyways, in this part of our blog, we are going to be sharing a couple of easy-to-follow design tips that you can keep in mind while making T-shirts for yourself, your businesses, etc. Make sure that you guys read the blog till the end in order to benefit yourselves!
First things first; always take some time out to explore what you are going to make. And do that regardless of the medium that you are going to be utilizing. Allow yourself to accept challenges and try out as many modern techniques as you can in order to bring something super cool to the table. You can always get inspired by your surroundings, you know. If you feel that you are not being able to come up with any new ideas; go outside for a while, and let the environment influence you (only to get ideas and not in a bad way, alright?).
Recommended: 50+ Free Best T-Shirt Mockups
Then come back to your work table, sketch a couple of designs and choose the ones that speak to you, feel powerful, and have a lot to offer. Now, it is time to imagine your designs on the T-shirts; and you can only do that if you believe in the power of mock-ups so, yeah it is definitely time to create a couple of mock-up designs to evaluate if whatever you have created should be made public – as in should the designs be uploaded to your websites, Instagram accounts or Facebook Shop for that matter? And if the answer is yes, then go for it. Get to know what your audiences expect of you and stun them with your creativity and variety of options to choose from.
As far as the content of the T-shirt designs is concerned, make sure that you do not make anything that is considered below the belt in civilized societies. Just play it all cool and make your designs look fun by experimenting with colors, and other design elements and we are sure that you will end up with such amazing designs, that there are chances you might want to keep them all for yourself. 😉
If you are running a business, we are sure you would know how important it is to only sell top-notch fabric along with perfect high-quality printing to your customers but we will take this moment to encourage you guys one more time to never compromise on the quality of what you are going to sell because it can literally make or break your business and we know that you would want it to succeed.
And that is all for today, you guys! We hope that you not only had a great time reading the blog but that you will also share it with your favorite colleagues, graphic designer friends, and other people who might be looking to get their hands on a free yet highly editable loose-fit women's T-shirt mock-up PSD file for their personal and professional projects. Feel free to share your feedback with us in the comments section down below and while you are at it, also let us know if you have any special requests to make too so that we can work on them and come here with your requested content and more super soon.
Free Loose Fit Women's T-Shirt Mockup PSD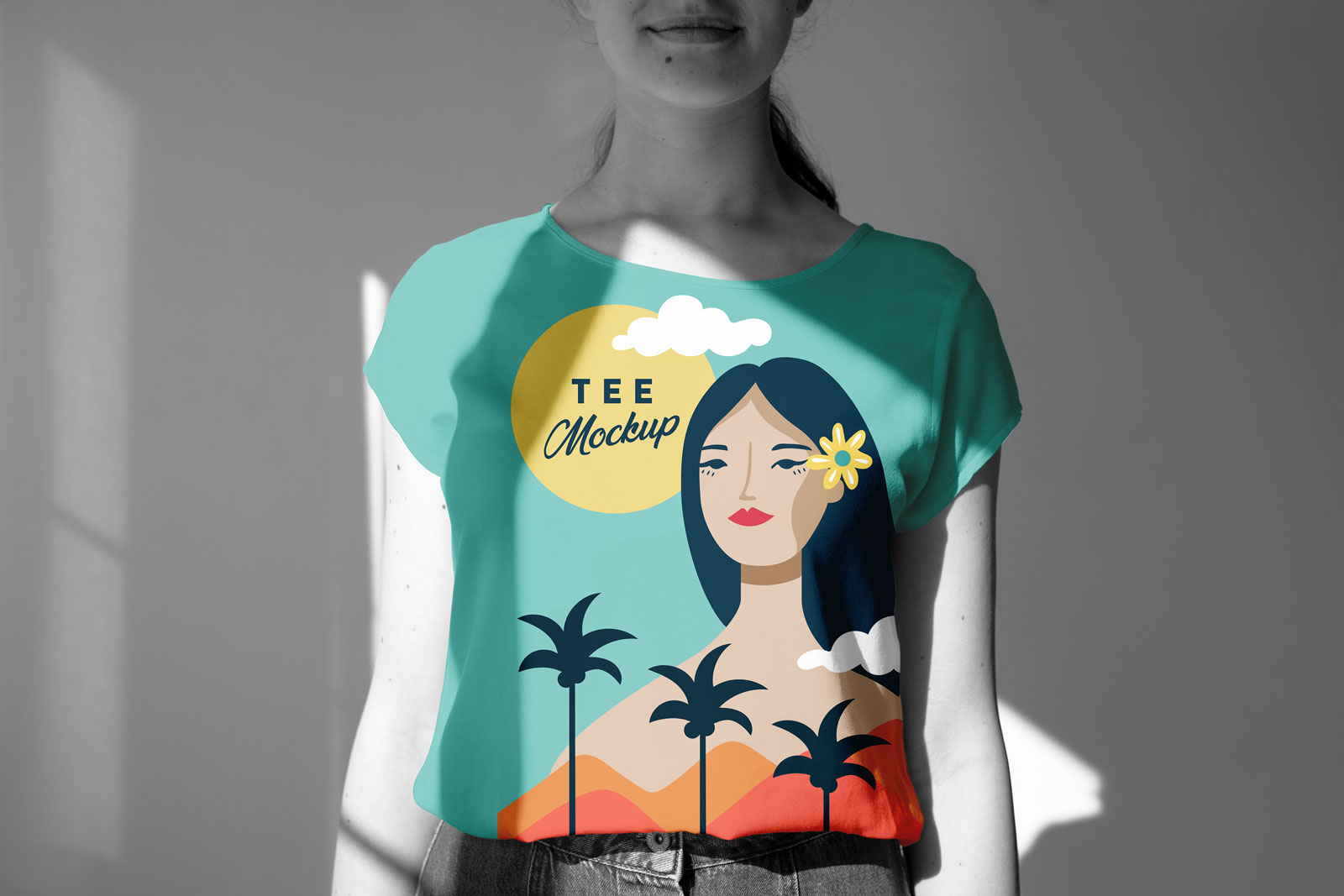 Available Format: Layered PSD with smart object insertion
License: Free for personal and commercial usage
Zip File Includes: Free T-Shirt Mockup PSD
Mock-up Resolution: 4000 x 2667 px 

Note:
1. Free Women's T-shirt Mockup PSD is allowed to share online (A Must Linkback to designbolts.com)
2. Say thanks if you like or share/tweet with your friends. That means a lot to me.
3. And don't forget to subscribe to receive for more high quality premium freebies & awesome articles only.
Download Women's T-Shirt Mockup
Download More T-Shirt mockups: