Hi there everyone! We hope that you guys had a nice time reading our previous blogs and that you are very excited to read this one too as we are going to be sharing a free large hand holding poster mock-up PSD file with all of you. But before we do that, we would love to take a moment to thank you all for your immense support and the love that you send our way for always sharing our blogs in your personal and professional circles too. It means so much to us and we hope that it stays like that in the future as well.
Posters remain one of the most effective and affordable ways of promoting a message or two in a rather fun way but nowhere does it say that you cannot use the posters to promote a branded communication or a serious message for that matter. We are sure that you guys would know that posters are of many different kinds such as textual and graphic and you get to decide how you want to make the most of them for your personal and professional goals. Allow us to share how you guys can make brilliant poster designs using our free large hand holding poster mock-up PSD file. Do make sure that you guys read our blog till the end in order to make better and informed creative and design decisions.
First things first; your poster design must always have a simple and clear layout to offer so that anyone and everyone who happens to read it knows where to find all the information. Do not confuse your audiences with multiple messages or a lot of information regarding a single message but in fact, design your posters in such a way that they deliver all the relevant information which can be read in one glance as well. There has to be a clear call to action (CTA) at a prominent position as well along with all the important information such as your postal address, phone number, email or website address.
And if you are making the poster designs for an event, then you would want to include the exact date, time, phone number and registration process in detail to make it easier for everyone to be a part of the event, etc. With the advancement of technology and so many other things, now it has become so much easier to give that information right away by creating QR codes so while you are working on your poster designs, we would love to encourage you to incorporate technology into them as well and you will see how things have started to work in your favor just like that.
Posters always become super interesting when there is typography on them so always make sure that you incorporate that into your designs and while you are at it, play with colors, sizes, and even with the imagery that you are going to be using to ensure maximum impact. One more thing that you must always keep in mind is to keep proofreading the content before you send the final files out to get printed because you would really not want to have any typos and errors in the copy and design. We wanted to make our free large hand holding poster mock-up PSD file full of life so we chose to add the human element to it and we are sure that with the help of the mock-up PSD file, you guys will be able to make a bigger and more meaningful impact on your team members, line manager and clients, etc.
Lastly, always make sure that you guys spend some time making mock-ups and putting them all together in a well designed mock-up presentation as well before you schedule a review design meeting. We are aware that you guys know how important and useful mock-up presentations are but it is always a great idea to be reminded of such things from time to time so that we can always stay on the right track, you know. And since mock-ups make all the tasks so much easier where you do not even have to worry about your efforts, time and money being wasted so why not make the most of such a thing that can be helpful in so many ways, hmm?
That is all for today, you guys! Here is hoping that you enjoyed reading the blog and that you will also share it with your graphic designer friends, favorite colleagues and acquaintances, etc. as well who might be needing to work on their upcoming poster design projects. Also, do let us know if you guys have any special requests to make as well and we promise to be back with your requested content and more in our upcoming blogs very soon.
Free Large Hand Holding Poster Mockup PSD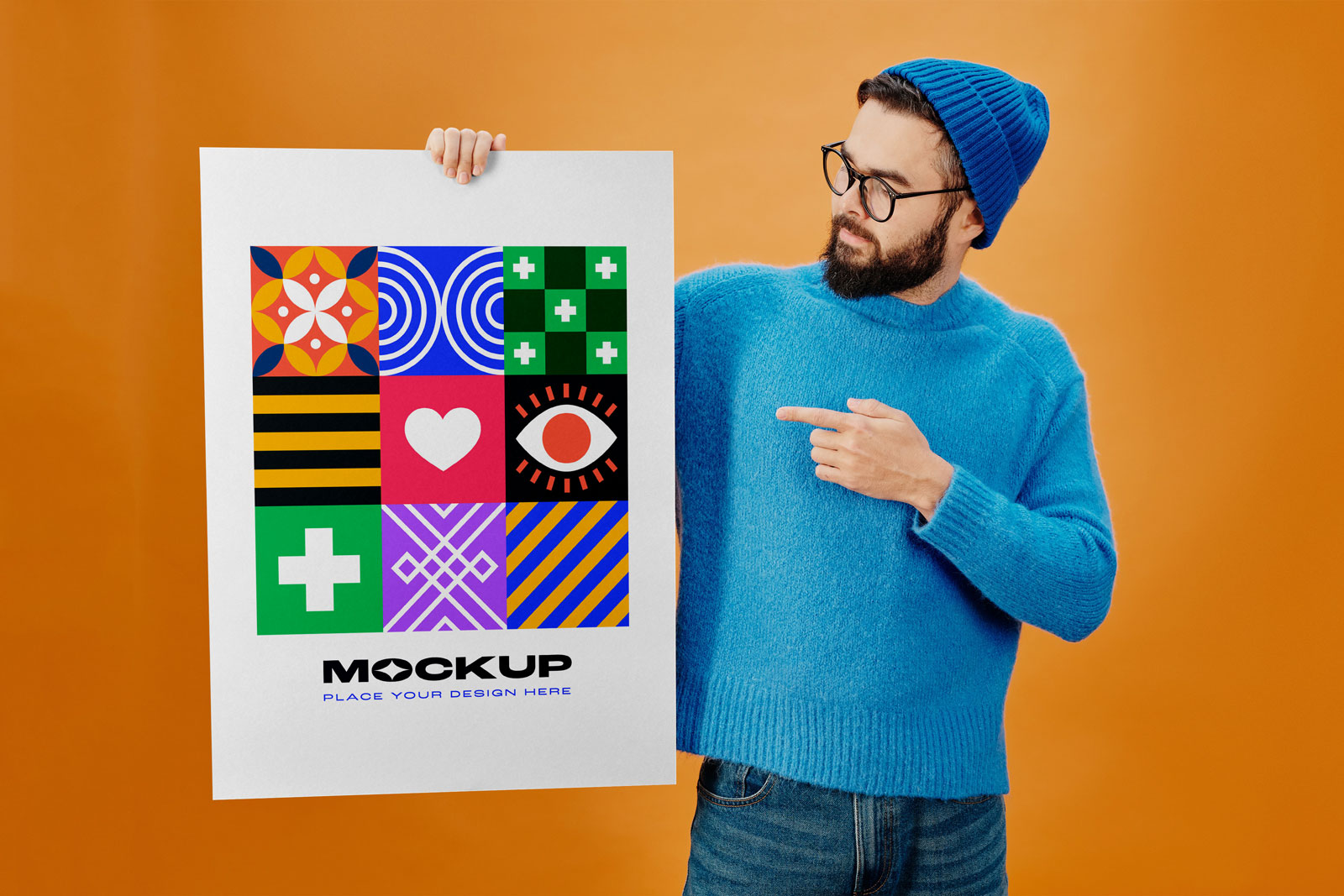 Available Format: Photoshop PSD
License: Free for personal and commercial usage
File Format: WinRAR
Mock-up Resolution: 4000 x 2667 px
Note:
1. Free Poster Mockup is allowed to share online (A Must Linkback to this page)
2. Say thanks if you like or share/tweet with your friends. That means a lot to me.
3. And don't forget to follow or subscribe to receive more high quality premium freebies & awesome articles only.
Download Poster Mockup
Recommended: