Hi there everyone! We are back with our super exciting blog of ours and we can bet that you all are going to love it as much as we did when we were working on it. But before we start sharing how you can use our free black woman t-shirt mock-up PSD, we would like to take this moment and thank you guys for the love and support that you send our way and for also sharing the blogs with the people that love and care for. And we hope to see more of that happen in the future too.
A t-shirt is one of the most convenient clothing items that are there and for so many reasons such as; you can wear the t-shirt as an undershirt to complete your look with a denim shirt or you can wear it individually too with a pair of jeans or shorts and you will be good to go. Then t-shirts are also considered great gift options as well and we think if you are one of those people who are always looking for personalized gift items, then you must consider this option as it will allow you to be more creative and exclusive at the same time.
For every t-shirt design, it is very important to make a proper plan to know how the design space is going to be used. For example; are you going to go for a full t-shirt design, or do you want to go for the front side of it only? Do you wish to cover the back side with the design as well or just the logo at the back or a witty quote can work too? Then you also have to keep in mind the various neck and sleeve options that are there like the round neck, the v-neck, half sleeves, cape sleeves or even full sleeves for that matter. In addition to that, you must also work on the length as well as usually the t-shirts do not cover the hip area but there are many people who would want to go for a long t-shirt too – preferably used as an alternative to a sleeping suit.
Once you have worked on everything that we have mentioned above, you need to define the purpose of designing the t-shirts which could be literally anything, really. For example; if you are designing the t-shirts that are to be included in a PR box, then you need to see the guidelines of the brand which is executing the campaign. Get to know what their demands are and what they expect from sending out the t-shirt along with other cool things to social media influencers, etc. However, for corporate-level giveaways, it will be a great idea to stay relevant with the brand only and don't go for things that are too funky or come across as nonserious in terms of communication. But of course; if the business is of the sorts such as advertising and marketing agencies, make-up brands, and music-producing companies.
Recommended: 50+ Free Best T-Shirt Mockups
Always, always and always remember to pay complete attention to the colors of the t-shirts. You might be working on something that has to be playful and lively but your choice of colors can ruin that for you. If you are making something that is to celebrate an occasion, keep it relevant to the theme of that instead of putting in all the colors from your brand color palette as it will overshadow the purpose of making a t-shirt design in the context of celebrating the occasion, etc. Keep the color palette to the point but you really do have the choice of putting aside the branding for once and experimenting with the other design elements that can be incorporated into the designs.
Similarly; there are many, many people who do not like it when the t-shirts are too loud so you will have to really know and understand what your clients and direct customers are expecting from you. It will not only help you work on the right themes only but you will also be able to save a lot of your time on making other stuff, you know. Also, don't forget to make different mock-ups to show multiple creative thoughts to share before the decision-making bodies in order to get their final approvals.
That is all for today from our end, you guys! We hope that you guys enjoyed reading the blog and that you will also make the most of it for your upcoming design projects for your personal and commercial clients as well. Feel free to share your suggestions and requests with us in the comments section and we will come back with your requested content and more in our upcoming blogs very soon.
Free Black Woman T-Shirt Mockup PSD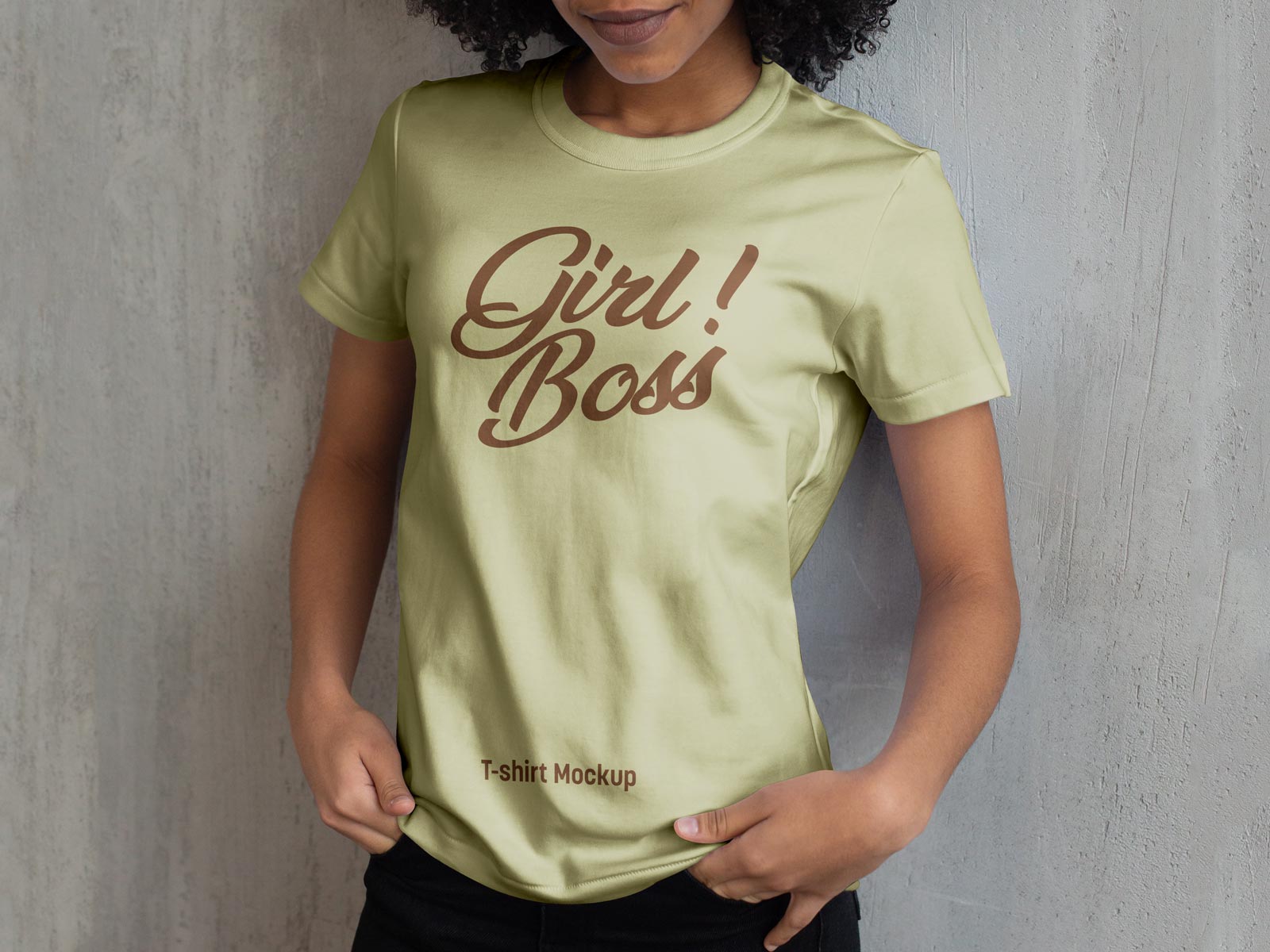 Available Format: Layered PSD with smart object insertion
License: Free for personal and commercial usage
Zip File Includes: Free T-Shirt Mockup PSD
Mock-up Resolution: 4000 x 3000 px 

Note:
1. Free Women's T-shirt Mockup PSD is allowed to share online (A Must Linkback to designbolts.com)
2. Say thanks if you like or share/tweet with your friends. That means a lot to me.
3. And don't forget to subscribe to receive for more high quality premium freebies & awesome articles only.
Download Women's T-Shirt Mockup
Download More T-Shirt mockups: