Hi everyone! We hope that you guys enjoyed reading our previous blogs and that you have made the most of our free yet highly editable mock-up PSD files for your personal and commercial design projects. For our today's blog, we have designed a free hand holding shopping bag mock-up PSD file for you guys that you can use to work on your upcoming projects so, let us get started without any further delays.
If you guys are our regular readers, then you would know how much we love making and talking about shopping bags and that's mainly because we just cannot ignore the fact that even your shopping bags can be your efficient promoters if you know how to use them strategically. And we are sure that while you are executing your very interesting campaigns and all sorts of communication in the most organized ways possible; you would still want to know what else you can do to amplify your branded messaging. Keep reading the blog till the end to make more creative and informed decisions for your personal business ventures or for the ones that you are associated with.
First things first; you need to know each and every product that you have to sell so that you are super clear on the sizes of the shopping bags because the very interesting thing that you can do is to go for themes in the context of sizes of the products. Go big if you are selling big items and go as tiny as you would want to if you are going to sell adorable stuff in small sizes to your customers because even the witty language related to the size of the items on the shopping bags, is sometimes enough for the people to stick to a brand for their shopping needs.
You can design your shopping bags that can be either used for promoting your brand through your story or you can keep them simple with very subtle branding here and there so that the shopping bags can be reused as well. For example; if you are a brand that is making conscious efforts to not harm the planet anymore and is making sustainable products, then you can talk about that by crafting a nice and meaningful story that will be placed on your shopping bag design.
Recommended: 50 High Quality Free Shopping Bag Mockups
Similarly, you can make the most of the latest design trends and create shopping bag designs that are very subtle and one can use them as gift bags to give to their friends, colleagues, etc. you know. And trust us when we say this; a big number of people do that so we guess it would be a great idea if you can offer them something that they won't have to spend their money on and can use the bags perfectly well to carry whatever they wish to carry or nicely pack a present for their loved one. By doing so, you are also helping yourself and your customers to keep the carbon footprint in check as well and won't that be just great? It will be, right? So how about we start focusing on things that we can better for ourselves and for the future generations while we are also in the business of selling products that we are making with love and care for the people who believe in us?
When you are designing shopping bags, along with going for the best quality bags, you also need to be playful and interesting when it comes to the main designs. Be as creative as you would want to be while also keeping the brand identity design intact so that there is harmony in all the communication that goes out in the public from your end.
We would also like to encourage you guys to always make mock-up designs regardless of the magnitude of the projects that you are working on in order to impress your team leads, clients and direct customers in the most cost-effective ways while also spending your time and energy on the right things only. We can bet that once you will start believing in the power of nicely designed mock-up presentations or mock-ups for that matter; you won't look back. Ever.
That's all from our end! We hope that you had a nice time reading this blog and that you will also share it with your graphic designer friends, favorite colleagues, and acquaintances, etc. so that they can get their hands on our free hand-holding shopping bag mock-up PSD file and create stunning shopping bags for their businesses, etc. Feel free to share your feedback with us as well and we will see you guys next time with something more fun and exciting to read and work on.
Free Hand Holding Shopping Bag Mockup PSD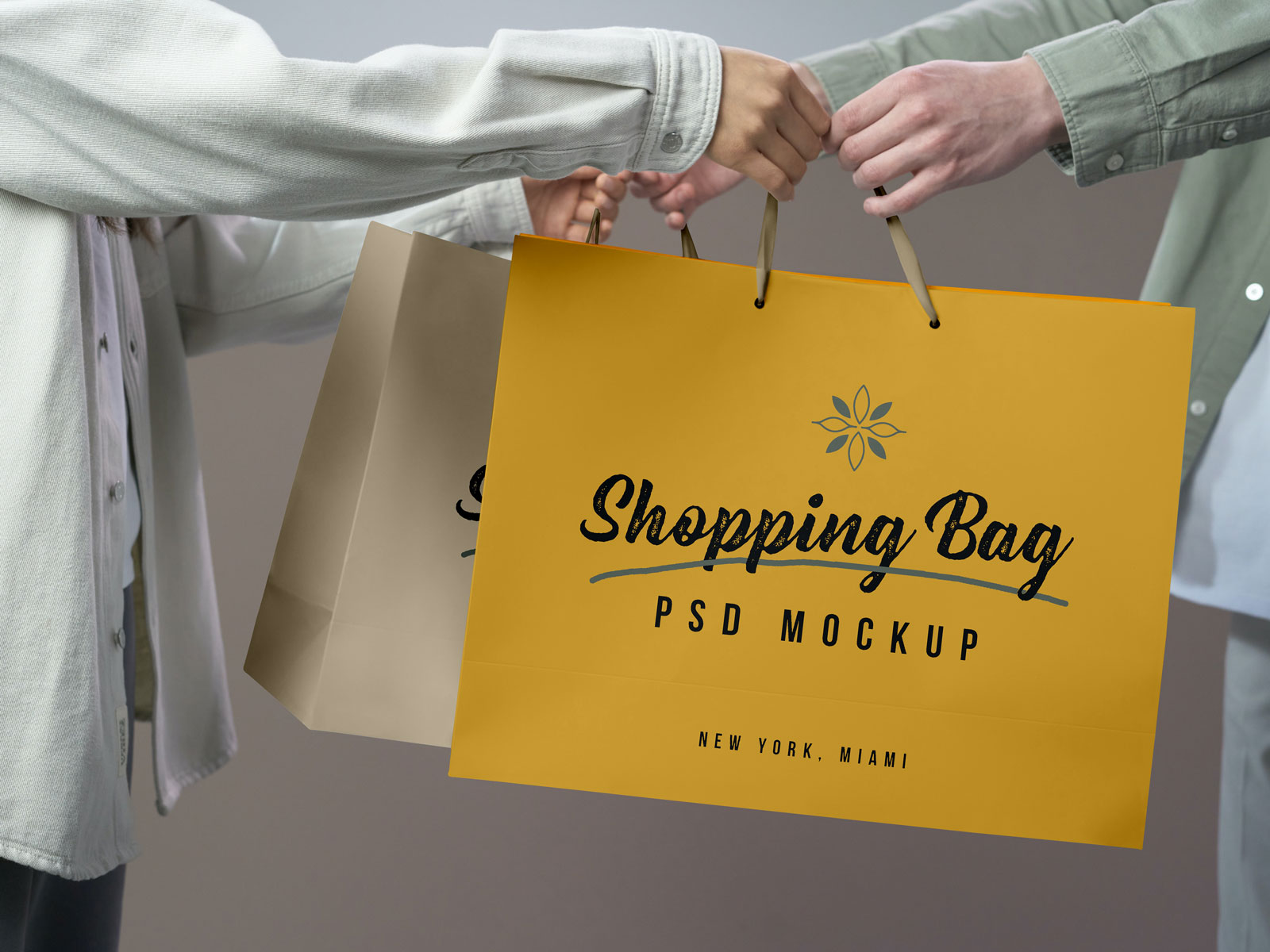 Available Format: Photoshop PSD
License: Free for personal and commercial usage
File Format: WinRAR
Mockup Resolution: 4000 x 3000 px
Note:
1. Free Hand Holding Shopping Bag Mockup is allowed to share online (A Must Linkback to this page)
2. Say thanks if you like or share/tweet with your friends. That means a lot to me.
3. And don't forget to follow or subscribe to receive more high quality premium freebies & awesome articles only.
Download Shopping Bag Mockup
More High-Quality Free Shopping Bag Mockup PSD Files