Hi there everyone! We hope that you guys had a great time reading all our previous blogs and that you are also utilizing our free yet highly editable mock-up PSD files for your personal and commercial projects as well. For our today's blog, we have worked on this free 3D hand iPhone 14 Pro Max mock-up PSD file that we know you all are going to love but before we start sharing everything that you need to know to work on our mock-up PSD file, we would love to thank you for the love and support that you send our way and for also sharing our blogs within your personal and professional circles. 
As you guys know that with the passage of time Apple has proved that they make the best stuff that is loved by the majority even if the price factor is a little too high compared to other tech brands that are present in the market. And the latest line-up by Apple is yet another example of sheer brilliance and excellence combined. In this part of the blog, we are going to be talking about all the great things that Apple is offering in iPhone 14 Pro so that you guys can also start thinking of how you can make the most of our mock-up PSD file for your design and development projects. 
First things first; of all the great things and features that Apple has added to the iPhone 14 Pro, the safety feature has definitely taken the lead and while we hope that you guys never have to experience anything that goes out of control where you lose access to the internet or your cellular services, etc. this feature is there to save lives – quite literally. And the smartphone is definitely beyond Pro (and more than just that too!) and here is why: 
The new iPhone 14 Pro is designed for durability and that become a reality with its Ceramic Shield which is tougher than any smartphone glass that exists, really so, even if you are the clumsiest of them all, you can still have your iPhone 14 Pro in the best of the shape without having to worry about a thing. Aesthetically speaking, iPhone 14 Pro comes in 4 beautiful colors; Deep Purple, Gold, Silver, and Space Black – making it a complete package for anyone and everyone who is looking for an upgrade and have a variety of stunning colors to choose from.
The always on display is also always ready to get you where you wish to be without interrupting anything that you were doing before you started doing something else and with a glanceable lock screen, you really won't have to spend a lot of time checking your notifications as well. Like you can ignore the ones that are not that important while you can get to the ones that are, you know. Oh, and when you will put your phone inside your pocket, then it will go dark saving the battery life like a Pro that it is and we can bet that you all were waiting for something that efficient to happen too. 
Also, the iOS 16 will let you customize your lock screen however you want to customize it. Isn't that great? All the fun things that you love and keep close to your heart can literally just be there, right there for you and we can bet that you are going to be super crazy with all the new updates and freedom to do things your way as well. 
Then there is A16 Chip that makes everything super fast, and super efficient – like a Pro that you would want to keep doing your thing on your very own iPhone 14 Pro that ensures excellent performance, unmatched speed, a very powerful operating system and more that will help you excel at your personal and professional life in the most perfect ways. Now, imagine all that greatness that is being offered through a smartphone and think of all the opportunities that you can create to make the lives of the masses even more fun by making apps, designs, accessories and so much more.
That is all for today, you guys! We hope that you not only enjoyed reading this blog of ours but that you will also share it with your graphic designer friends, favorite colleagues and students, acquaintances, etc. as well so that they can work on some amazing designs for their upcoming projects. Also, feel free to share your feedback with us in the comments section and while you are at it, don't forget to let us know if you have any special requests to make as well and we will get back with your requested content and more super soon. 
Free 3D Hand iPhone 14 Pro Max Mockup PSD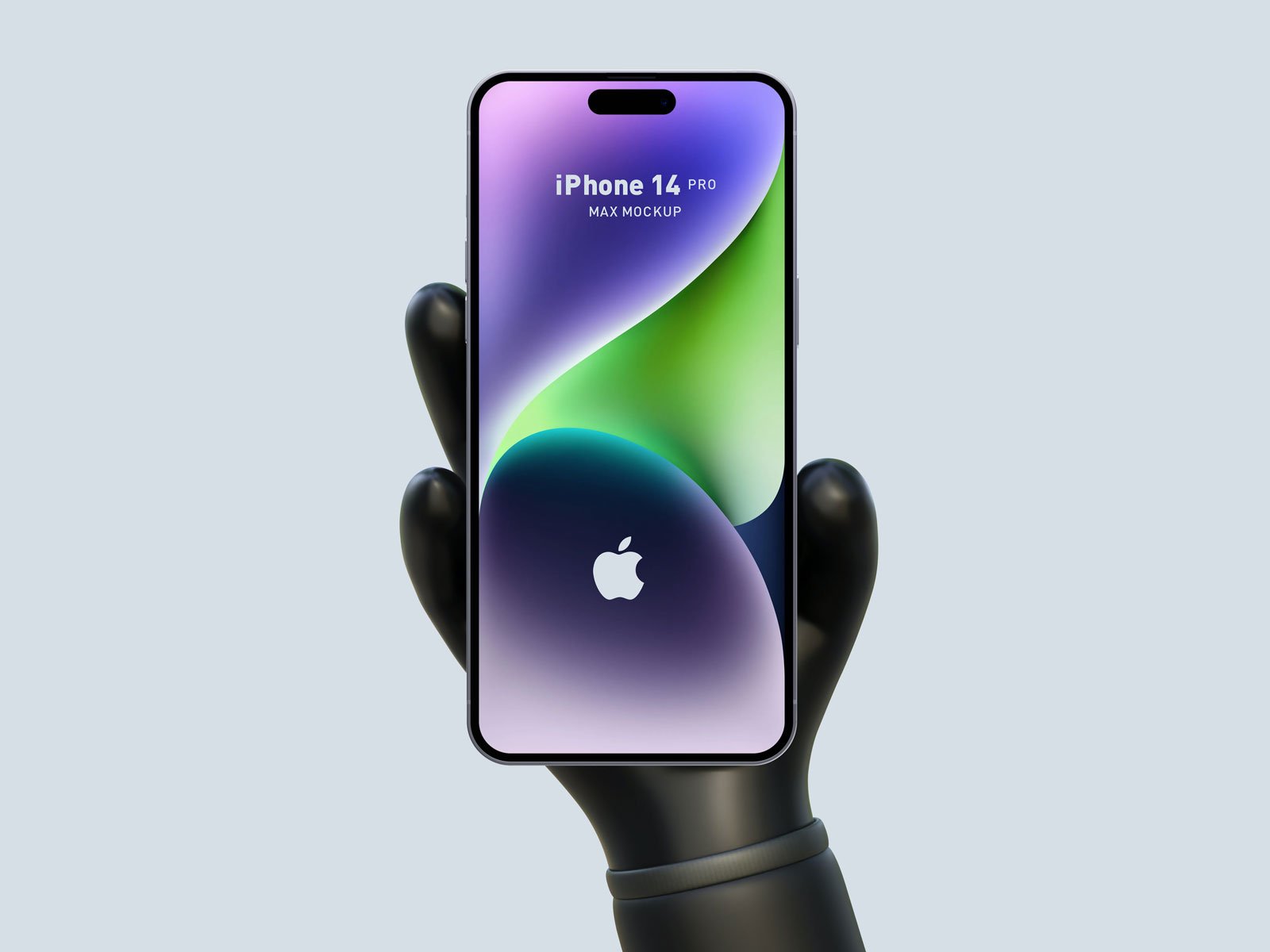 Available Format: Layered PSD with smart object insertion
License: Free for personal & commercial use
RAR File Includes: Free Apple iPhone 14 Pro Max
Mockup PSD Resolution: 5000 x 3750 px
Note:
1. Free iPhone 14 Pro Mockup PSD set is allowed for sharing online (A Must Linkback to this page)
2. Designbolts signature is placed as first layer kindly hide and use the mockup
3. Say thanks if you like or share/tweet with your friends
Download iPhone 14 Pro max Mockup
Recommended: