Hi everyone! We are back with yet another exciting blog of ours and we can bet that you all are going to love reading it as much as we did when we were working on it. For our today's blog, we have made this free yet highly editable A4 landscape flyer mockup PSD file that you can instantly use for your upcoming personal and commercial design projects and before we share everything that you need to know to start making your own flyer designs, we would like to take a moment to thank you for your constant support and genuine feedback that you send our way and for always motivating us to keep creating what we love to create. 
If you guys are one of our regular readers, then you must have read the previous blogs that we did on flyer designs and how you can make the most of the flyer advertising for your businesses, etc. But for our today's blog, we needed to share something different with you that will let you spread your branded messages far and wide in a more effective way so allow us to share how you guys can work on your A4 landscape flyer designs by using our mock-up PSD file for free.  
Okay so, flyers fall under the category of those advertising materials that are made of paper and basically intended to be distributed in a public place, in the shopping malls, or even by mail as well. The flyers are also distributed individually so that you can develop a relationship with your potential customers by interacting with them directly. If they are interested and also have time when you are handing out the flyer copies to them, they would also ask you questions regarding your business, the products that you are about to sell or the services that you wish to offer.  
And, of course, your designated team members will brief them accordingly in order to welcome them on board where they can check out the business in detail and can also make a purchase or two or take any other action that you would like them to take such as signing up for the newsletter, following you on your Instagram account, liking your Facebook Page, etc. By doing that, they will remember you and can come back to your social media platforms later during the day to see if you cater to their demands and then it will be taken from there.  
– – – – – – – – – – – – – – – – – – – – – – – – – – – –
More Awesome Free Mockups:
– – – – – – – – – – – – – – – – – – – – – – – – – – – –
Apart from being super effective for any and every campaign, flyers are also cheaper when it comes to spending money on them to actually design and print them too, you know and that is another reason why you must always bring into consideration all your options that you can explore in order to make your campaigns successful. Because we know usually what happens is that people rely on just one of the platforms or mediums for that matter to run their campaigns and without even realizing it, they tend to make their potential customers, etc. miss out on so much information only because they did not get to receive the promotional messages, you know. 
We always say that whenever you guys are working on your business strategies, you must give serious thought to all the available and, of course, relevant platforms that are there in order to reach your target audience without limiting your branded communication. In an ideal scenario, the most successful campaigns are those that include a TV commercial, a radio spot, on-ground activation and out of home advertising options as well, print communication in the form of a press release, flyers, brochures, etc. and digital and social media content as well.  
When you will bring in all your options to make your campaigns work, you will notice that you have started to get the results that you wish to get and that is the beauty of making a multi-dimensional plan for your businesses regardless of their scale. We know that budget can be an issue but you can always test the waters before you dive into all the platforms to see what's working for you and what's not. And we are sure you will be able to make informed decisions later on.   
That is all for today! We hope that you not only had a great time reading the blog but that you will also share it with your graphic designer friends, your colleagues, students as well as with your acquaintances, etc. as well. Do share your feedback with us in the comments section and while you are at it, feel free to share your special requests with us as well. And we will come back here with your requested content and more super soon in our upcoming blogs.  
Free A4 Landscape Flyer Mockup PSD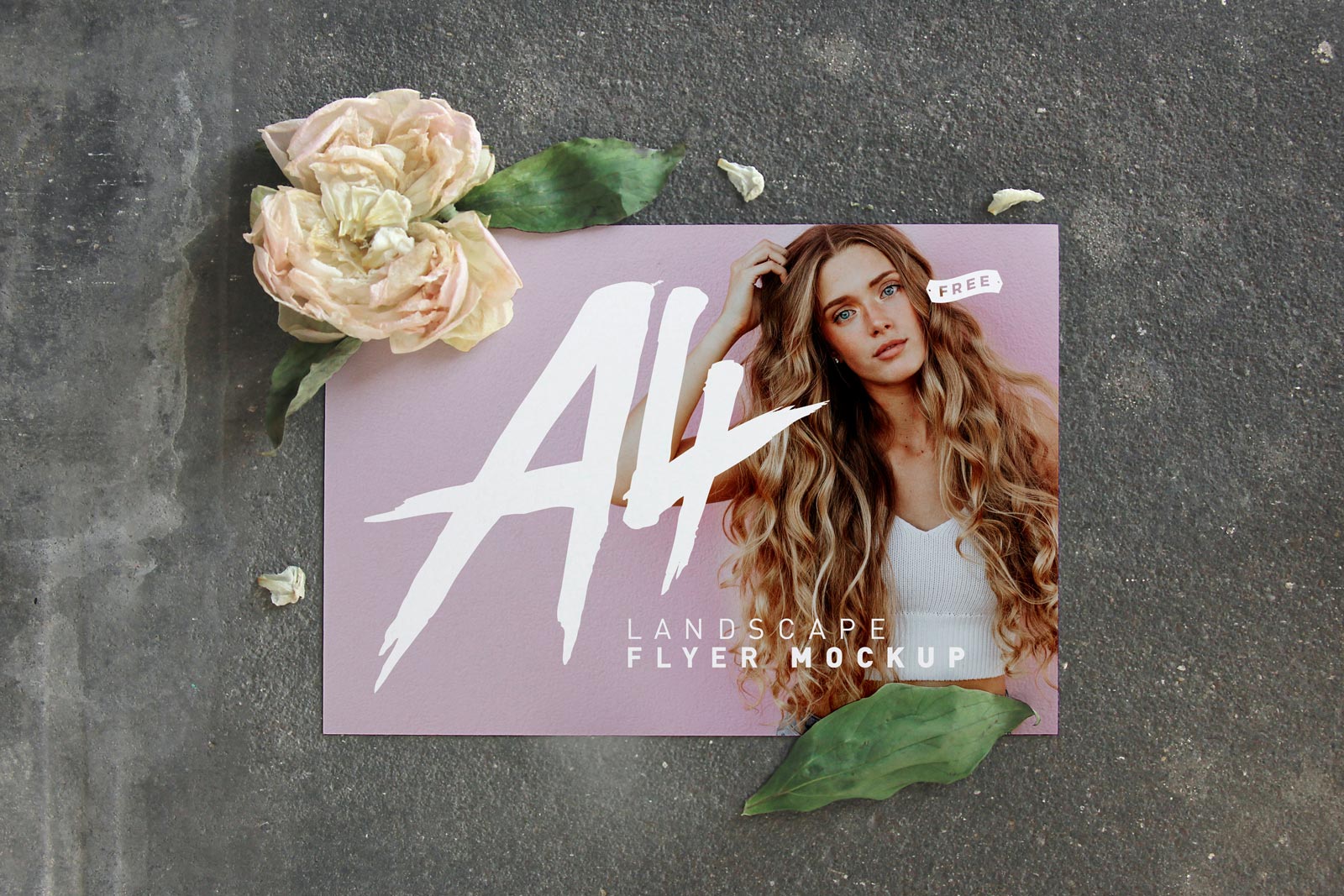 Available Format: Layered PSD with smart object insertion
License: Free for personal and commercial usage
RAR File Includes: Free A4 Mockup PSD
Design Template Resolution: A4 (300dpi)
Note:
1. Free PSD Mockup is allowed to share online (A Must Linkback to this post)
2. Say thanks if you like or share/tweet with your friends. That means a lot to us.
3. And don't forget to subscribe to receive for more high quality premium freebies & awesome articles only.
Download A4 Mockup
More A4 Size Free Mockups: