Hi everyone! We hope that you all are enjoying reading our informative blogs and that you are very excited to check out what we are about to share with you all today. But before doing that, we would like to take a moment to thank you guys for the love and support that you send our way and for always encouraging us to continue making what we love to create. And we hope to see more of that happening in the future too. For today's blog, we have made this free hotel signage mock-up PSD file, that you all are going to love so let's dive right into it.  
As you all know that for any business to work properly (even if the business owners have loads of money to spend on advertising and marketing, etc.), it has to have nice signage that can be used to promote the services or the products that are being offered to the audiences. In order to have nice signage that is also super effective and get the things done, you need to have a solid plan to follow while also knowing what your competitors are doing, what are the demands of your target audiences and how you can offer them your services to fill that gap.  
We are sure that you guys must be wondering that it is easier said than done to make a kickass strategy and then execute it too but what if we told you guys that it is, hmm? Well, keeping in mind the work schedules of an average creative and advertising agency, we know that many people who are working there do not get to explore the depths of creativity that lie within them. And that happens mainly because they are only working from deadline to deadline without being allowed to try out something new; a unique trend that is being followed by half of the world, a risk that a relatively new business took and it took the business to a point no one could ever think of.   
Always remember that if you are planning to do something different that is also unique and won't die due to other more exciting things happening in parallel, then you will have to put in more than just your effort and time. You must be a risk taker who knows what it takes to stand apart from the crowd and what it will take to stay ahead in the game in the years to come as well – otherwise, you won't be able to do your thing if you do not have a long term plan, you know. One more thing that you must keep in mind is to know and understand your audiences so well that you know you cannot go wrong, and even if you do, you must also know how to undo that or maybe bring something so much better to the table, that no one can tell what happened.   
Recommended: 50+ Vintage Hotel Signage Ideas
Now, let's discuss how you can make the most of our free hotel signage mock-up PSD file for your upcoming projects! Choosing the perfect font that represents the personality of your hotel is very important. Once you have devised what the hotel personality is going to be like; you have to figure out which typeface can best depict it too and then go for it. Your typography is one of the most crucial elements of the signage which can make or break the brand just like that. Then you need to work on the color palette. Communicate your brand values through the color palette by (strictly) following color psychology.   
Then comes the lighting; now you need to decide if you want to go for LED signage or if you wish to go for a neon one. Know that LED looks classy for hotels with a vintage personality, and you can go for the neon signage for something that is very hip and contemporary. And, of course, your hotel signage must be legible at a level of 10/10 so that it can be read from a distance as well.   
Recommended: 60+ Best Free Signage Mockups
That's all for today! We hope that you all had a nice time reading the blog and that you will also share it with your graphic designer friends, your colleagues and other people who you think can make the most of it for their upcoming projects and more. Don't forget to share if you guys have any suggestions and special requests to make too so that we can start working on them and get back here super soon.  
Also, while you are at it, feel free to share what your creative and design journeys were like when you made the hotel signage for your business or for the ones that you are associated with.  
Free Hotel Signage Mockup PSD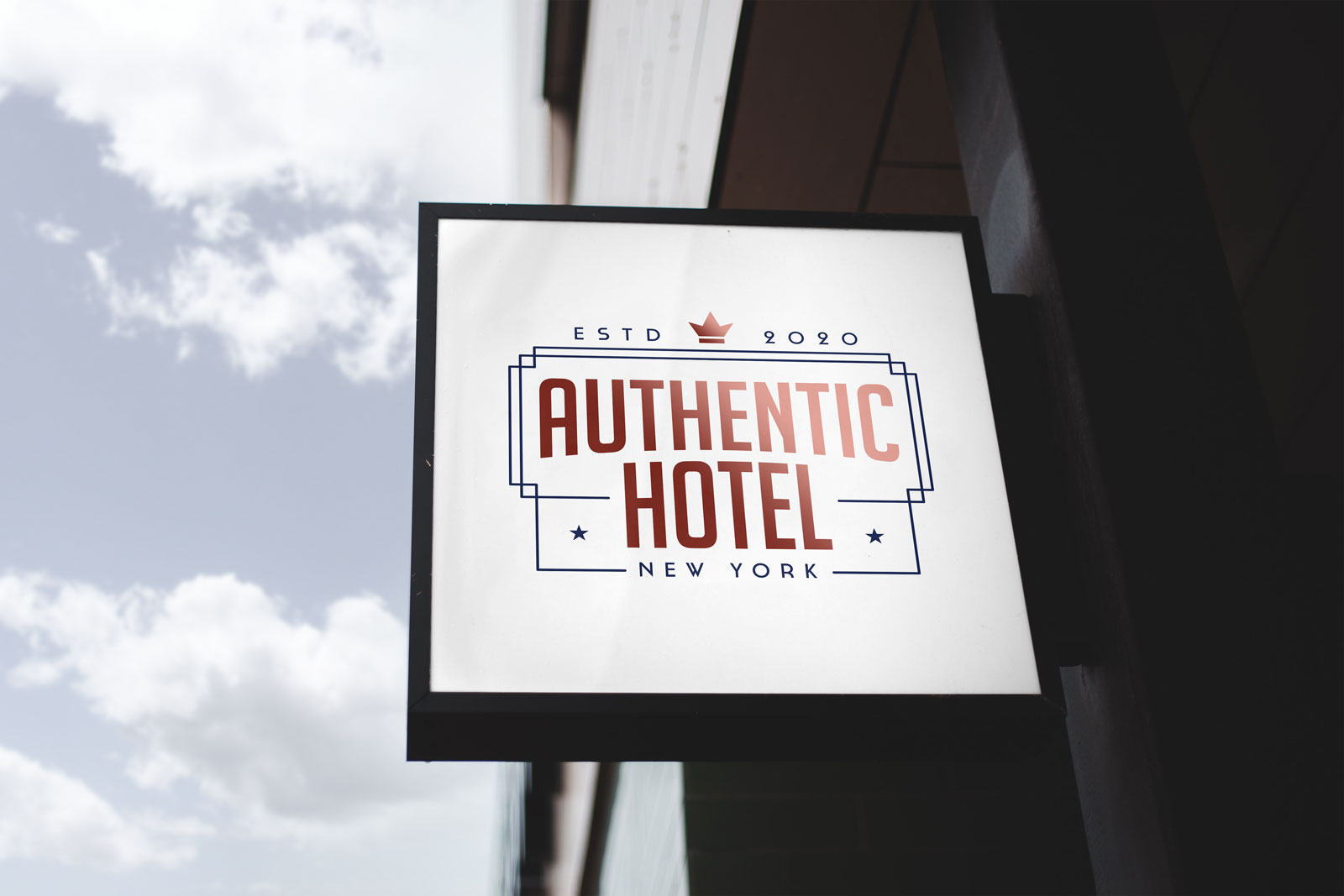 Available Format: Photoshop PSD
License: Free for personal and commercial usage
File Format: WinRAR
Mock-up Resolution: 4500 x 3000 px
Artwork Size: 2060 x 2060 px
Note:
1. Free Signage Mockup is allowed to share online (A Must Linkback to this page)
2. Say thanks if you like or share/tweet with your friends. That means a lot to me.
3. And don't forget to follow or subscribe to receive more high quality premium freebies & awesome articles only.
Download Signage Mockup PSD
More Free Sign Board Mockup PSD Files: