Hi, everyone! It feels so good to be back with you guys as we are very excited to share our new and free yet highly editable bus stop poster mock-up PSD file. And we just cannot wait to share everything that you need to know in order to make your own designs, but before we do that, we would like to thank you guys for the love and support that you send our way and for also making sure to share our blogs within your personal and professional circles. We hope to receive more support from you guys in the future.  
If you're one of our regular readers, then you must have read all our blogs that we have done featuring bus stop advertising material in the past. However, in our today's blog, we are going to be sharing a couple of ideas that will help you guys work on really cool design projects during the new year. Make sure that you guys have read the blog till the end in order to make some super creative decisions in times to come.   
First things first; no matter how big or small your business is or what its status of it (whether it is something that has been in the market since forever, or if it has been recently launched), bus stop advertising is something that will always benefit you for your short and long term goals. It is like one of those tried and tested things that can never go wrong, you know!? So, if you are one of those people who do not really believe in the power of out-of-home advertising (OOH) for one reason or another other or if you are someone who is a little too scared to test the waters, trust us when we say this: you need to be everywhere your potential customers are in order to make things work for yourself as a business and to fulfil their needs & demands too (otherwise what's the point, right?). 
You must also know that bus stops literally offer scalability which means that you can get your bus stop advertising campaigns executed for cheaper rates as compared to the social and digital media campaigns for that matter and you will still get great results, you will get more eyeballs too and another great thing about bus stop advertising is that you get to reach a huge pool of people without limiting their access to just one platform. Also, your bus stop advertising is literally a 24/7 kind of a thing – meaning that it won't expire after 24 hours or won't get lost due to a dozen of other ads and social media content. So, it is very safe to say that you are literally accessible to your existing and potential customers, etc. throughout the day for as long as you would want to stay in the form of the bus stop posters and more.   
– – – – – – – – – – – – – – – – – – – – – – – – – – – – – – – – –
Recommended:
– – – – – – – – – – – – – – – – – – – – – – – – – – – – – – – – –
Know that the bus stop advertising is also more clear and to the point as compared to other advertising material which feels cluttered and it becomes very easy to ignore that too. With the bus stop advertising, you have more power to reach a maximum number of people and if you are using the tool of storytelling then you are already ahead in the game as no one would be able to ignore your branded communication and that is why we always say that you must make the most of the out of home advertising, especially bus stop advertising. You can always experiment if you are not really sure about exploring new avenues and we are sure that you will be so happy with the results, that you would never want to execute a campaign without including OOH advertising in it.   
Recommended: 135+ Free Outdoor Advertisment Branding Mockup PSD Files
Having said that, let's talk about how you can utilize our free bus stop poster mock-up PSD file. Use the minimum number of words, invoke emotions and incorporate attractive imagery to gather the attention of not just the ones who will become your direct customers but of those too who can spread your message even if they are not your direct customers.   
That's all for today! We hope that you not only had a great time reading the blog but that you will also share it with your friends, colleagues and acquaintances, etc. as well. Also, feel free to share your feedback with us in the comments section and while you are at it, we would love to know if you guys have any special requests to make too so that we can work on them and get back here super soon with your requested content and more – until then, keep creating magical designs for yourself and for the businesses that you are currently associated with. 
Free Bus Stop Poster Mockup PSD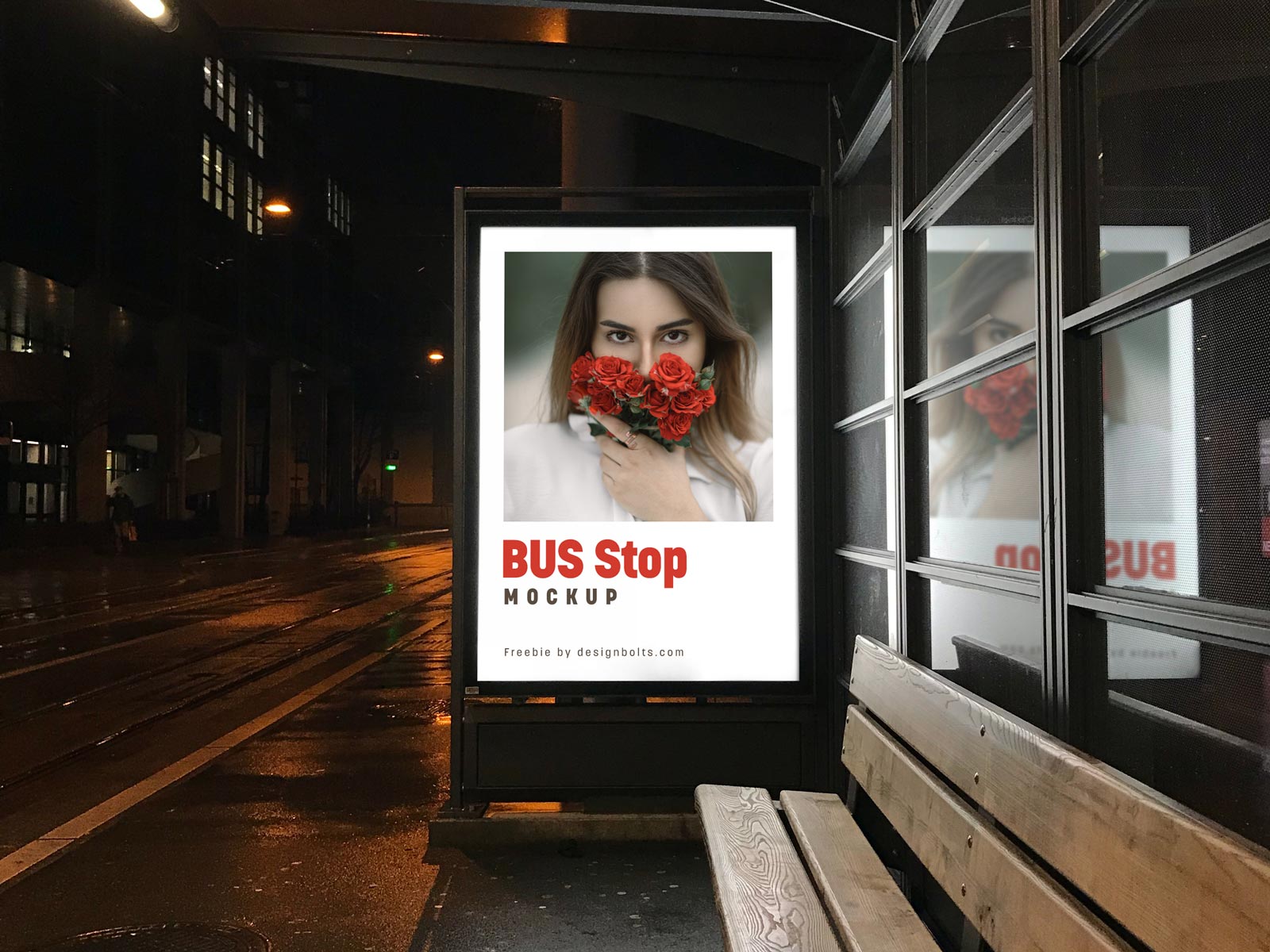 Available Format: Photoshop PSD
License: Free for personal and commercial usage
File Format: WinRAR
Mockup Resolution: 3000 x 2250 px
Note:
1. Free Bus Stop Poster Mockup is allowed to share online (A Must Linkback to this page)
2. Say thanks if you like or share/tweet with your friends. That means a lot to me.
3. And don't forget to follow or subscribe to receive more high-quality premium freebies & awesome articles only.
Download Bus Stop Mockup
More free mockups PSD files: