Hi everyone! We hope that you guys are having a great time at work after the holiday season and that you're super excited to check out what we are about to share with you all today. But before doing that, we would like to take a moment to thank you all for the love and support that you guys have been showering us with and for also taking out the time to send in your suggestions and feedback. We hope to keep making designs and more that can benefit you guys for your personal and commercial projects.  
If you guys are one of our regular readers, then you would have read the blogs that we have done in the past featuring our menu designs in many different types but even if you are someone who has just started to read our blogs, we are happy that you are here and we also want you to know that you are going to have so much fun working on our free table stand menu mock-up PSD file so, let us get started right away!  
We know that all the things that we happen to create are mainly created after we have received a brief from the client or the internal management and that makes sense because you, then know what you need to make, alright? But there are many things that can be or dare we say, must be created beyond a set of guidelines or even deadline for that matter – as you cannot just confine the creative minds to make something that you have decided in your head, in fact, you need to allow yourself and your team members to explore the opportunities, the new techniques that are there and also figure out their way out of the brief in order to deliver a task or two. Because only then you would be able to ensure that you are creating something that is not only different from your competitors but is so powerful and meaningful that it actually has an impact, you know.   
For example; we are sure that you guys must have come across a couple of menu designs that did not sit right with you and while that is okay too (as long as it is working for the eateries and the businesses), we would quickly like to share a couple of tips and tricks that you can follow in order to make the most effective menu designs for yourself or for your clients.  
First things first; for a menu design, it is very important for you to know that you must give the most priority to the content of the menu design, and then to the design itself. Because otherwise what will happen is that you will tend to keep focusing on the design and you will miss out on adding important menu-related information to the design. If this reminds you of a poorly spelled menu design, then we know that you know what would have gone wrong in that case. 🙂 Next thing that you need to focus on is the typography in the design as that can bring so much more life to the menu design and will also make it more exciting to look at, you know!?   
Then comes the copy of the menu; it needs to be playful, witty, and thoughtful so that whoever is looking at knows that you are not some dull person running this business whose only goal in life is to make money, and even if that is the case, just don't give it all away as it won't hurt anybody to spread out some happy and cheerful vibes, right? 😉 Although, there is no harm in branding the menu design but we would really want you guys to drop your logo from the menu design, really because well, how much more branding awareness do you need to create in order to make someone visit your eatery, hmm? The people are already literally there, right? Focus on the menu itself and also make sure that whatever you are selling is just perfect.   
While you don't need to go overboard with the fonts, wittiness, and everything else, invoke emotions through ecstatic photography that is in high resolution and just makes you want to place an order right away.   
That's all for today! We can bet that you guys enjoyed reading the blog and that you will also share it with your friends, colleagues, and everyone else too who can make the most of the free table stand menu mock-up PSD file for their upcoming projects. We would love to hear your feedback too so send it our way and while you are at it, don't forget to let us know if you guys want us to work.
Free Table Stand Menu Mockup PSD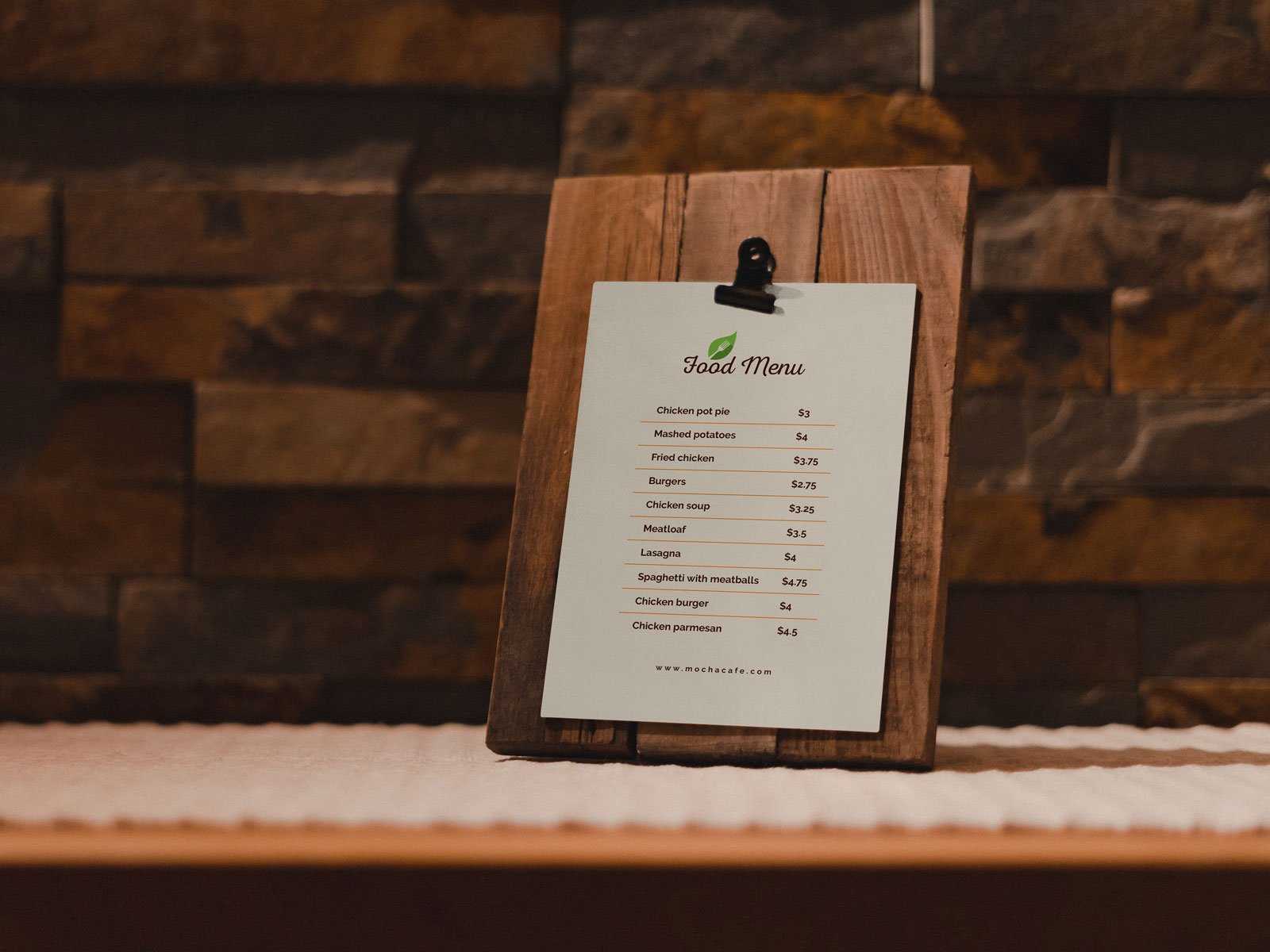 Available Format: Photoshop PSD with changeable background color
License: Free for personal and commercial usage
File Format: WinRAR
Mockup Resolution: 4000 x 3000 px
Note:
1. Free Table Stand Menu Mockup is allowed to share online (A Must Linkback to this page)
2. Say thanks if you like or share/tweet with your friends. That means a lot to me.
3. And don't forget to follow or subscribe to receive more high-quality premium freebies & awesome articles only.
Download Menu Mockup PSD
More Free Menu Mockups: