Hi there everyone! We hope that you guys are having a great time reading our blogs and that you cannot wait to check our free round signboard mock-up PSD file as well. But before we start sharing everything that you guys need to know in order to make the best signboard designs for yourself and for the businesses that you are working for, we must take a moment and thank you all for the love and support that you send our way and for also making sure that your friends, family and colleagues are reading our blogs. And we would love to see more of that happening in the future too.
If you guys are one of our regular readers then you would know how much we love to talk about signage and all the things that can help you make effective branding material for yourself. And for our today's blog, we decided to work on this free yet highly editable round signage mock-up PSD file for you guys that is not just different from the usual signboard designs, but will also help you guys incorporate all your ideas into making great things perfectly. Make sure that you guys have read the blog till the end in order to work on some exciting new signboard designs in 2023!
First things first; check out the spot where you wish to install your signboard and do not disregard this suggestion because we know that there are many people who first work on the designs and then adjust them all to the spots they have picked for the installation phase. We are here to tell you guys that, that is not a wise approach and here is why: when you create something; and in this case a signboard, without having a clear idea of how it is going to look once installed, you are bound to fail in that plan – no matter how versatile you are going to keep that design for yourself.
That will not work in your favor because you would not know about the sun shade that might cover the signboard for some time during the day, you would not know of any tree(s) that might be blocking the view of your audiences, and when things like that happen, you will missing out on the opportunity of getting more eyeballs and eventually more clients / customers too and we are sure that you do not want that to happen, right?
Recommended: 50+ Vintage Hotel Signage Ideas
Once you have recced the area in detail, you can now work on the themes and designs for the signboards. Now, it is very important that you follow the design brief that you received from your clients or internal management but it is also the need of the hour that you up your game and suggest a couple of ideas that are not directly in compliance with the brief that you got but has the potential of doing exactly what is expected from a clever signboard design to do – that is to entice your customers so much that they are bound to visit your store, office, shop, etc. at least once to get to know more about your business, you know.
We know that you would want to keep it all fancy and unique when it comes to designing the signboard but you guys, make sure that whenever you are working on something that is to be displayed outside of your shop, office, etc., it must be in easy to read fonts and language as well because you would not want to confuse your potential customers or visitors for that matter and you would definitely want to increase your workload by attracting those who are not even your direct customers too. So, keep the signboard designs as simple as you can but you have all the freedom to play with the color palettes – make them as interesting as you can and see that working in the favor of your business in times to come.
Recommended: 60+ Best Free Signage Mockups
Lastly, make multiple design options in the form of mock-ups before your review meeting to make a nice impression. That is all for today! Here is hoping that you guys enjoyed reading the blog and that you are all set to make the most of our free round signboard mock-up PSD file for your upcoming design projects, college assignments and more. We would also like you all to share your feedback with us in the comments section and while you are at it, feel free to spread our blog within your personal and professional circles and we will see you guys next time with something more fun and exciting to read and work on. Until then, keep creating magical designs for yourself and for the businesses that you are associated with.
Free Round Signboard Mockup PSD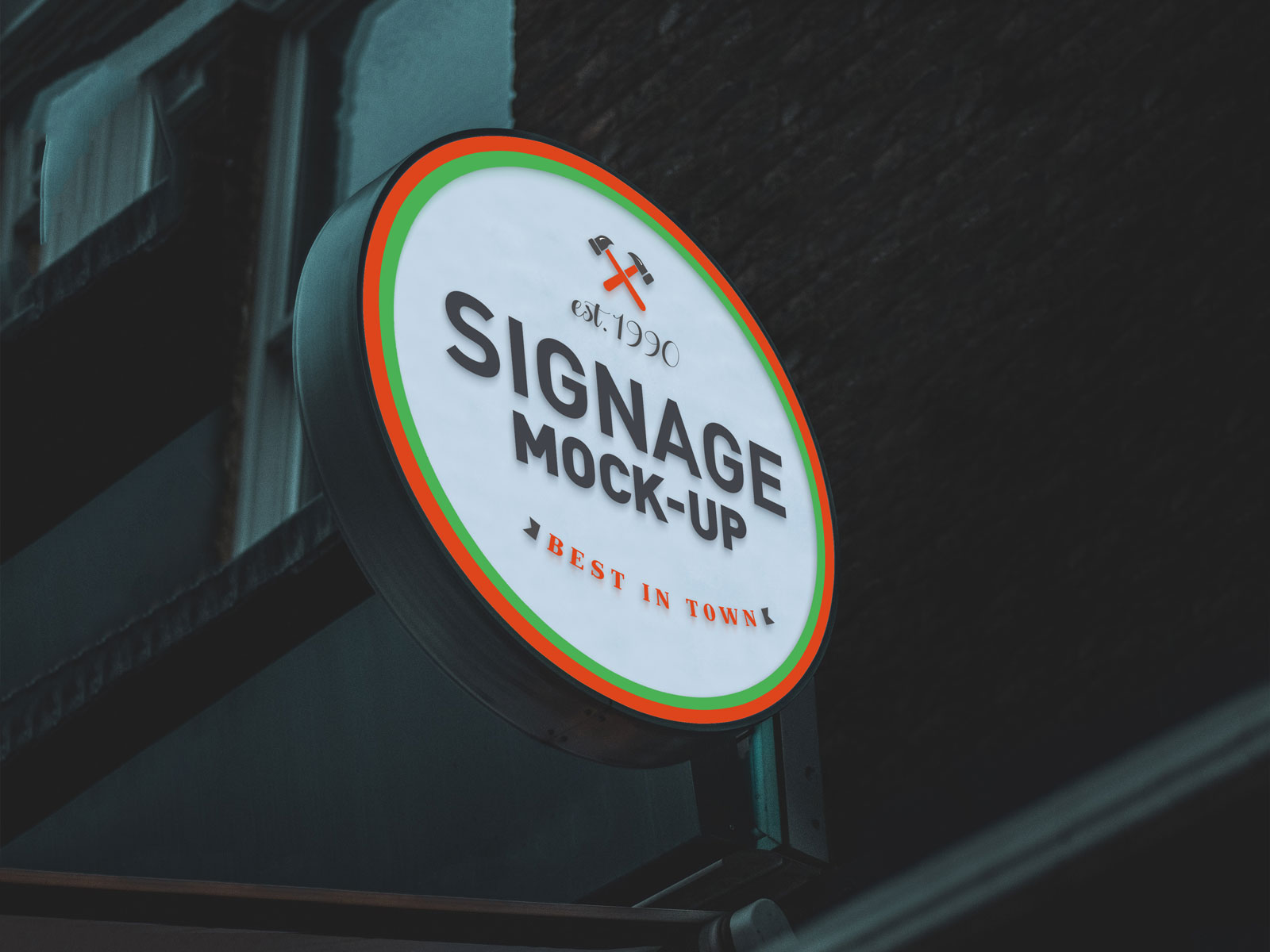 Available Format: Photoshop PSD
License: Free for personal and commercial usage
File Format: WinRAR
Mock-up Resolution: 4000 x 3000 px
Artwork Size: 1900 x 1900 px
Note:
1. Free Signboard Mockup is allowed to share online (A Must Linkback to this page)
2. Say thanks if you like or share/tweet with your friends. That means a lot to me.
3. And don't forget to follow or subscribe to receive more high-quality premium freebies & awesome articles only.
Download Signboard Mockup
More Free Sign Board Mockup PSD Files: