Hi there everyone! We hope that you guys are having a great time reading our blogs and that you are very excited to check out our free yet highly editable nail polish bottles mock-up PSD file and see what you guys can do with it. But before we start sharing everything that you all need to know in order to make the best nail polish bottle designs, we would love to take a moment to thank you for all that you guys do for us; from sharing your suggestions and requests to sending your constant support our way, we feel amazing to have found you guys as our readers. And we hope to receive more love from you guys in the future as well.
Although, back in the day only women used to wear nail polishes to make their hands look pretty and to also put up a nice, synchronized look with their outfits, etc. but we are sure that you guys must have seen nail polishes being used by literally anyone and everyone and since we are all up for a colorful life, we wanted to share this free nail polish bottles mock-up PSD file with you guys that you can get your hands on right away and start making impressive designs for your personal and commercial clients.
Like everything that you have designed in the past, packaging for beauty products plays a major role in making or breaking the brand and since you guys are aware of the fact that it is your communication and packaging that come in contact with your potential customers at first, you have to make sure that you are putting up a nice show to entice people to check out your products and buy them too – for themselves or for their loved ones. In short, your communication needs to be so effective that it does not just convince your direct customers to purchase a product or two but it should also convince your secondary customers to make a move as well and only then you would be able to always stay ahead in the game.
Now, there are many ways of staying ahead in the game, but the most effective one is to make sure that whatever you are selling is being sold by keeping in mind various aspects of running a business. For example; when it comes to cosmetics and beauty products, many, many people have started to prefer brands that do not test their products on animals, then there is a significantly higher demand for vegan products in the market as well, and lastly, those brands are becoming popular that do not make you feel bad in your own skin rather they reinforce the idea that how beautiful it is to be who you really are – without the anti ageing products, or the products that change your skin tone(s), or the products that are not healthy for your skin and body but you feel the need to use them because well, they are being sold, the society you live in expects you to who you are not, etc.
Recommended: 30+ Premium Quality Product Mockups
You might never see nail polishes stored in any other container unless it is made of glass because of the fact that the chemicals that are used to create the formula happen to dissolve plastic hence, it is so not advisable to ever store your nail polishes in a plastic container – not as a brand and not as a customer too. Also, glass bottles look nice, no? Especially when you make them aesthetically pleasing, you are bound to get more eye balls and eventually a higher revenue as well because people would just want to purchase the nail polishes, see how they look on their hands and then get them too.
And that is the end goal too, right? Well, not really as in addition to making pretty bottles and containers for your products, you must also ensure that your products are safe to use by the targeted audiences and that they won't result in any allergies or chemical reactions.
Recommended: 80+ Best Packaging Mockups
That is all for today! We hope that you guys have already started to jot down all the ideas that came to your mind when you were reading our today's blog. Feel free to share how you liked reading the blog in the comments section and while you are at it, don't forget to share the blog with your graphic designer friends, favorite colleagues and students, etc. as well and we will see you guys next time with something more fun & exciting to read and work on.
Oh, and if you guys wish to see something specific here, then send in your requests and we will come back with your requested content and more super soon.
– – – – – – – – – – – – – – – – – – – – – – – – – – – –
More Awesome Free Mockups:
– – – – – – – – – – – – – – – – – – – – – – – – – – – –
Free Nail Polish Bottles Mockup PSD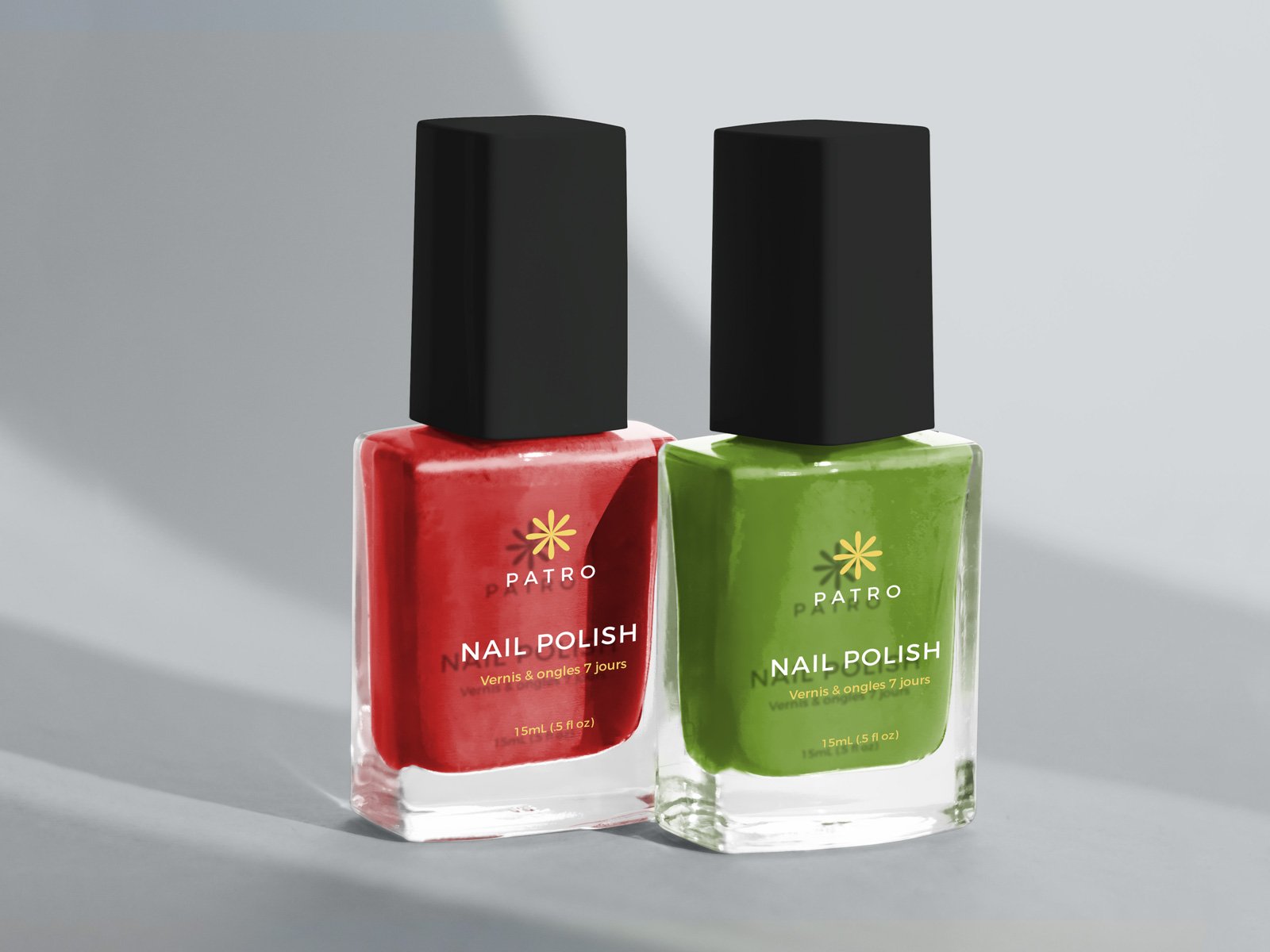 Available Format: Layered PSD with smart object insertion
License: Free for personal presentational use only
Zip File Includes: Nail Polish Bottle Mockup PSD
Note:
1. PSD Nail Polish Mockup is allowed for sharing online (A Must Linkback to this page)
2. Say thanks if you like or share/tweet with your friends. That means a lot to me.
3. And don't forget to subscribe to receive for more high quality premium freebies & awesome articles only.
Download Nail Polish Bottle Mockup
More Latest Free Bottle Mockups: