Hi everyone! We hope that you guys had a nice time reading the blog and that you cannot wait to check out what we are about to share with you all today. Since the new year has just started, we are sure many people have already been planning to revamp their brand identities, physical stores, etc., so that they can keep things fun and exciting for their existing customers and also attract potential customers as well. And we won't take too long to share everything that you need to know to create a couple of classic shop signage designs but we really need to thank you all for your constant support and for always encouraging us to keep making what we love to create.
If you are one of our regular readers, then we are sure that you guys know how much we love to share ideas and tips, etc. to help you create a bunch of attractive signage designs for your businesses and everything else that you are doing in your personal and professional lives. But if you are someone who has just started to read our blog, we would like you all to know that we are happy to have you here and we can bet that you are going to love reading it because we know how much of an effort people put into making things work when it comes to run a business or two and it just so happens that due to lack of guidance, resources and materials, many people fail at things that, otherwise look very basic.
For example; creating a logo design for a business might be something that is the easiest task to deliver; but it's the execution of it that is kinda tricky. You can spend hundreds and thousands of dollars on getting the designs made but if they are not being executed the way they are supposed to that is through proper recce, planning and strategy, then you are bound to fail, you know. And we are not here to be the party poopers, honestly but it is what it is. In order to make your designs work, you have gotta make sure that you have a solid execution plan too along with it, an attitude of someone who is ready to take the risks and does not bow down in front of those who have nothing good to say but negative things.
To help you guys stay ahead in the game – any time of the year, we are going to be sharing a couple of tricks that you must follow before you start working on your signage using our free yet highly editable classic shop signage mock-up PSD file. Make sure that you have guys read the blog till the end to make informed decisions only!
Recommended: 50+ Vintage Hotel Signage Ideas
First things first; you need to check out what recent trends have emerged on the surface and if they are relevant to your brand too (this is like the most important thing that you have to do, alright?). Check out all the platforms that are there, which are used by your competitors as well. You can also see what is happening around the globe as well in order to have much clearer insights into getting to know what might entice people and then you can work around that information to deliver to your very own customers too. Right? Your next step is to bring in all the elements and themes together to see what represents your brand the best and has a powerful message to give to and then you would want to keep those things aside to formalize your creative thought process and eventually the designs.
Lastly, you would want to experiment with colors, typography, and other design elements until you have reached a point where you cannot make things any more meaningful because otherwise, they might not make any sense to anybody and then just have them reviewed with the decision making bodies and we can bet that you will be provided with appreciation and approvals just like that.
Recommended: 60+ Best Free Signage Mockups
That is all from our end, you guys! We hope that you had a great time reading the blog and that you will also share it with your graphic designer friends, favorite colleagues, students and acquittances, etc. as well so that all of them can make the most of our tips and tricks and can also up their game in 2023 and years to come. We would also like to encourage you guys to send in your feedback and requests so that we can work on them and get back here with your requested content and more super soon. Until then, keep creating magical designs for yourself and for the businesses that you are associated with.
Free Classic Shop Signage Mockup PSD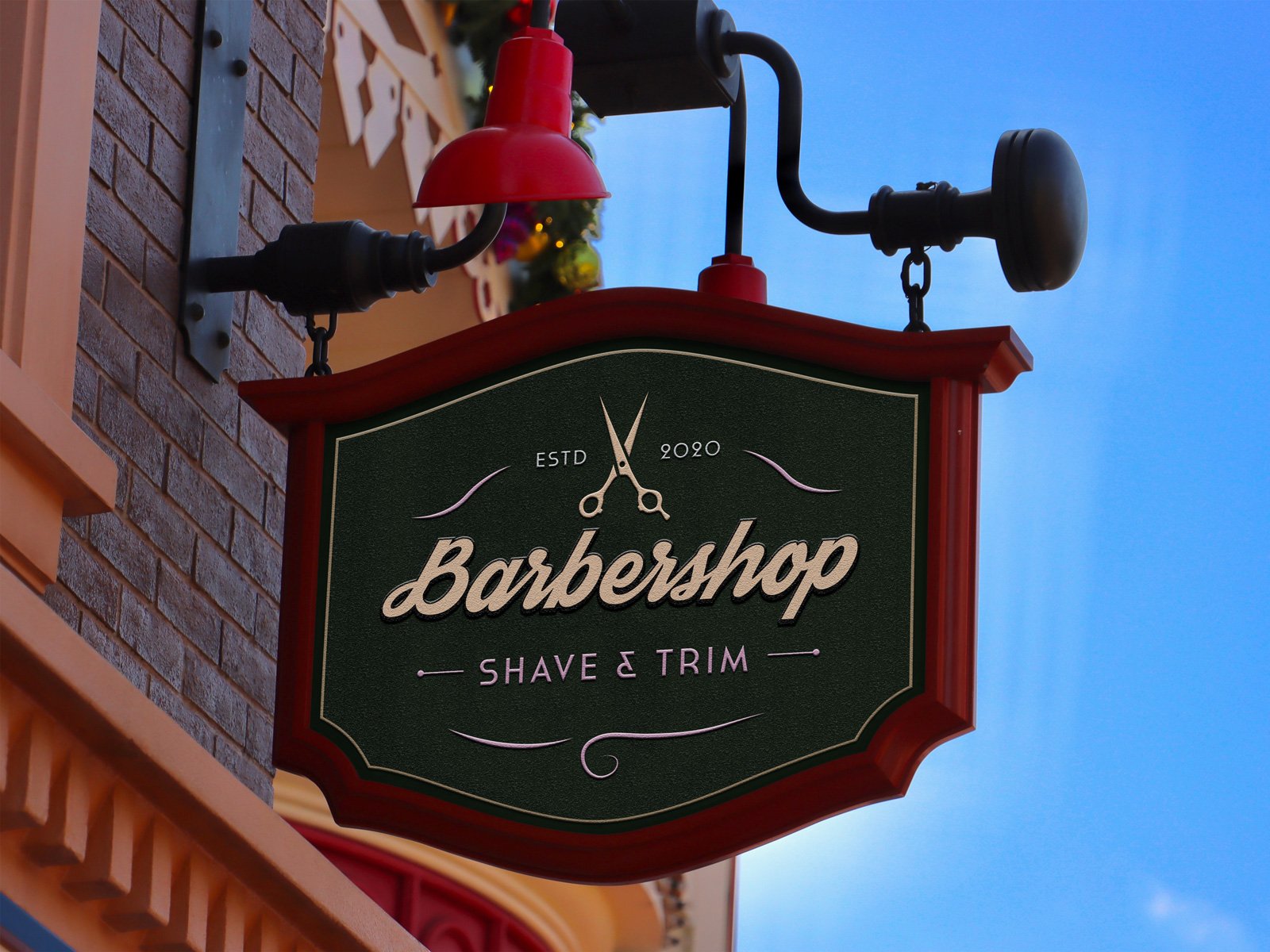 Available Format: Photoshop PSD
License: Free for personal and commercial usage
File Format: WinRAR
Mock-up Resolution: 4000 x 3000 px
Artwork Size: 2012 x 1611 px
Note:
1. Free Signage Mockup is allowed to share online (A Must Linkback to this page)
2. Say thanks if you like or share/tweet with your friends. That means a lot to me.
3. And don't forget to follow or subscribe to receive more high-quality premium freebies & awesome articles only.
Download Signage Mockup
More Free Sign Board Mockup PSD Files: