Hi there everyone! We are back with yet another super fantastic and useful blog of ours and we can bet that you all are going to love it too as we are about to share our free yet highly editable 3D shop facade logo mock-up PSD file. But before we do that, we just want to thank you all for the love and support that you have been showering us with and for always making sure that your friends, family and colleagues are also reading our blogs. We hope to see more of that in the future too.
We are sure that by now you guys know how your branding designs can make or break your brand but what's more important than that is that you know how to up your game especially if you are someone who in the market for quite some time now and since it is 2023, it would not hurt you to revamp a thing or two here and there, you know!? We would also like to mention it there that when we say revamp or when you start planning to do something to change the way your brand looks, you do not have to change everything all at once because a) it will be super overwhelming and b) it can confuse your target audiences as well and we are sure that you would never want that to happen. Right?
Always know that there are multiple ways of doing one simple thing; for example, you want to change the outer look of your shop but you want to keep the look and feel of the inside as is. Now, what do you think you should be doing? Well, first things first; no matter how many fronts you are going to touch upon during the revamping sessions, you have to make sure that all the things have harmony in them, you know? Everything that is going out in the market in the form of communication, branding, trademark or even public relations for that matter, it must be synched, it must be relevant to each other and most importantly, and it must be meaningful to make an impact too.
Of course the customers you have turned into your loyal advocates would immediately notice a change in your reading or communication for that matter and in order to keep the enticed so that they can check out more about what's happening, you have to make it interesting for them. Don't give it all away even if you are targeting your existing customers at this point, but make sure that whatever information you are putting out there will make them take the desired action that you want them to take.
That being said; let's now talk about how you guys can use our free 3D shop facade logo mock-up PSD file for your upcoming design projects. As you guys know that in order to make the smartest of moves, you first need to see what is happening around you – in the market that is. Conduct surveys, check what your competitors are doing, and deep dive into everything that will get you insights into your own customers, the market gap that you can fill in, and only after that you should initiate the brainstorming sessions with your internal teams or maybe even with the client(s) as well.
In addition to that, you also need to check out the latest trends that are being followed in the country that you run your business or maybe outside of it too but, of course, look into the same category of business only and do not let irrelevant businesses and their strategies confuse or distract you. We know that you guys would have your own color palette and other design elements to go with for the projects but that must never stop you from trying anything that can make your signage more exciting and powerful at the same time. Experiment with different creative and design approaches and make as many mock-ups as you would want to go with before you all can decide on the final designs.
And that is all for today! We hope that you guys not only had a great time reading the blog but that you will also share it with your students, friends, favorite colleagues and other people who can make the most of the free 3D shop facade logo mock-up PSD file for their personal and commercial design projects. Feel free to let us know if you guys have any feedback or requests to make too and we will make sure to work on them and get back here so very soon – until then, keep creating magical designs for yourself and for the businesses, etc. that you are working with.
Free 3D Shop Facade Logo Mockup PSD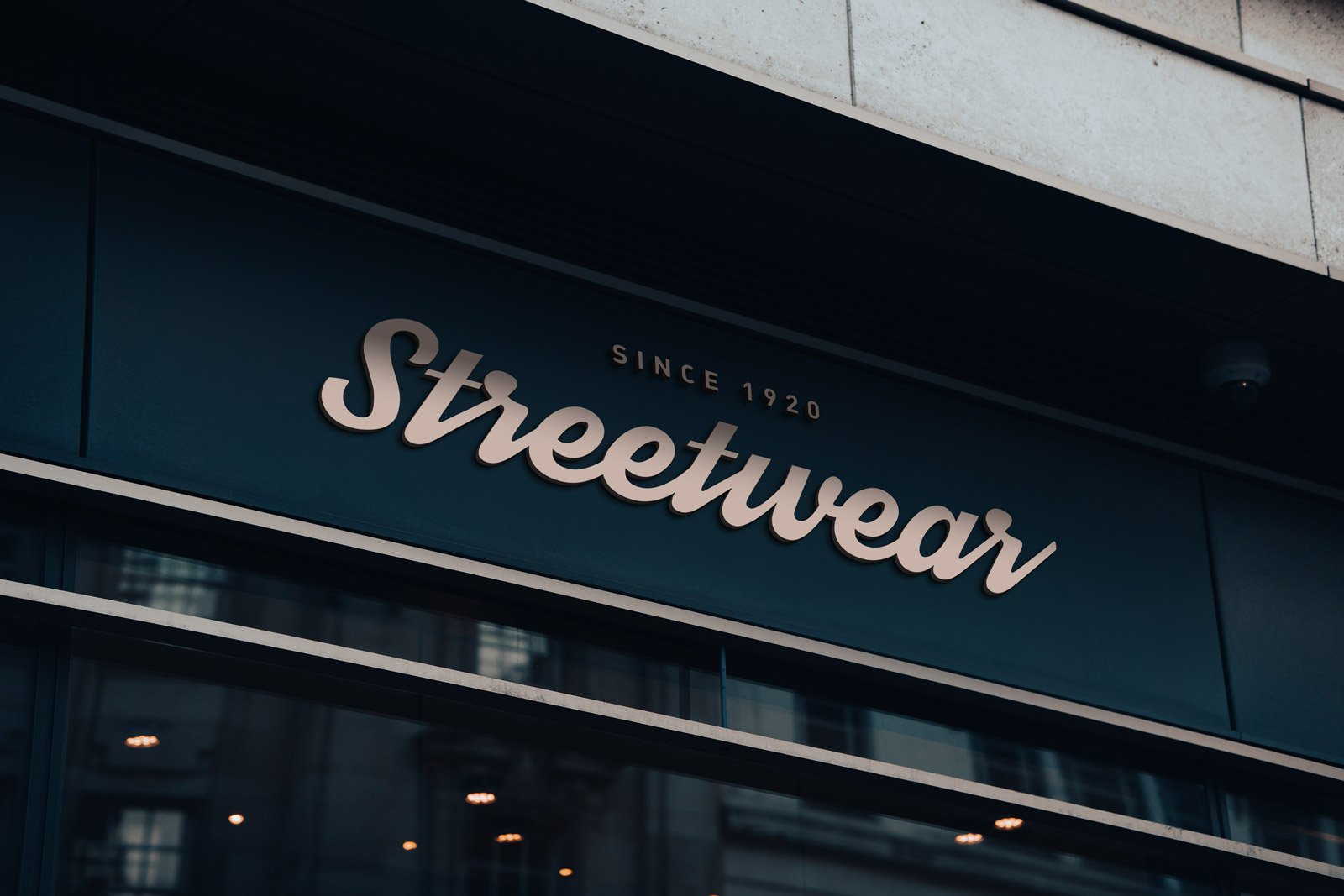 Available Format: Layered PSD with smart object insertion
License: Free for personal and commercial usage
RAR File Includes: Free 3D Logo Mockup PSD
Mock-up Resolution: 4500 x 3000

Note:
1. Free 3D Shop Logo Mockup PSD is allowed to share online (A Must Linkback to this post)
2. Say thanks if you like or share/tweet with your friends. That means a lot to us.
3. And don't forget to subscribe to receive for more high quality premium freebies & awesome articles only.
Download 3D Logo Mockup
More Logo Mockup PSD Files: