Hi there everyone! We are back with yet another super helpful blog of ours and we know that you all are going to love reading it especially if you are someone who is planning to up their business cards game in 2023. But before we start sharing everything that you guys need to know in order to make the most attractive and practical business card designs, we must take a moment to thank you all for the love and support that you send our way and for always encouraging us to keep making what we love to create.
Business cards are never going out of fashion – no matter how much a person from a digital background or someone who has recently converted to it wants you to believe. And although, we know that most of you guys have been reading our blogs for quite some time now but we would really want to share the basic information on the effectiveness of the business cards with the readers who have just started reading our blog. The information will not only help you guys understand that there are things that matter the most when it comes to human interactions and more but you will also be able to make informed decisions to go for physical business cards for yourself too. Also, make sure that you guys have read the blog till the end!
Imagine you are attending a conference and high-profile individuals are attending the event along with you. Now, during the interactive sessions or coffee breaks, for that matter, how do you think you will be able to break the ice? You cannot just hold your phone in your hands – all ready to put in the contact information of the person you have just met, you know? Because not only will it make you look like a creep but it won't look professional as well, especially if they have greeted you with a smile and a nicely designed business card in their hand.
Recommended: 5 Types of Business Card Printing
During any professional meeting, it is very important for you to put up a good show, you know. You cannot be all casual about it as you have to impress your prospective employees, team members, partners, etc. You are a physical representation of your organization and your first impression will make the audience or the person you are interacting with choose you or lose you and move to the next suitable opportunity/company. So, always make sure that you are making it worth their while.
In addition to a subtle and targeted direct marketing of your company, services, etc. you are also allowing your professional acquaintance with a memorable takeaway of your business as well in the form of a nicely designed business card that is so depictive of what you stand for, what you offer and so much more. And you guys would agree with us that a business card that is designed keeping in mind the standards of an effective business card can do more than you can think of.
Now, allow us to share with you guys how you can make effective business card designs in 2023 by utilizing our free yet highly editable business card mock-up PSD file. Always keep in mind that there are a couple of things that must always go on a business card which are:
Your name
Your designation
The name of your company/business and its logo
Your email address
Your social media handles
Your website address
Your phone numbers (landline & mobile)
Your postal address along with the postal code
The rest of the design space is yours to play on – really. All you have to do is to see what relevant design elements can you bring to the business card design without taking too much focus from the content of it and then do your thing. And by that we mean; check out the latest printing papers that are trending in the market, the foiling and finishing, also have a look at the type of printing you would prefer to go with to set the tone of creating your professional brand image and you will be just so good to go. Make mock-ups if you have multiple ideas in mind and then pick the one that best suits your business.
That is all for our today's blog! We hope that you guys not only had a great time reading the blog but that you will also share it with your graphic designer friends, favorite colleagues, students, etc. as well. We would love to read your feedback as well so send it our way. And while you are at it, do not forget to share your special requests with us so that we can work on them and get back here super soon.
Free Business Card Mockup PSD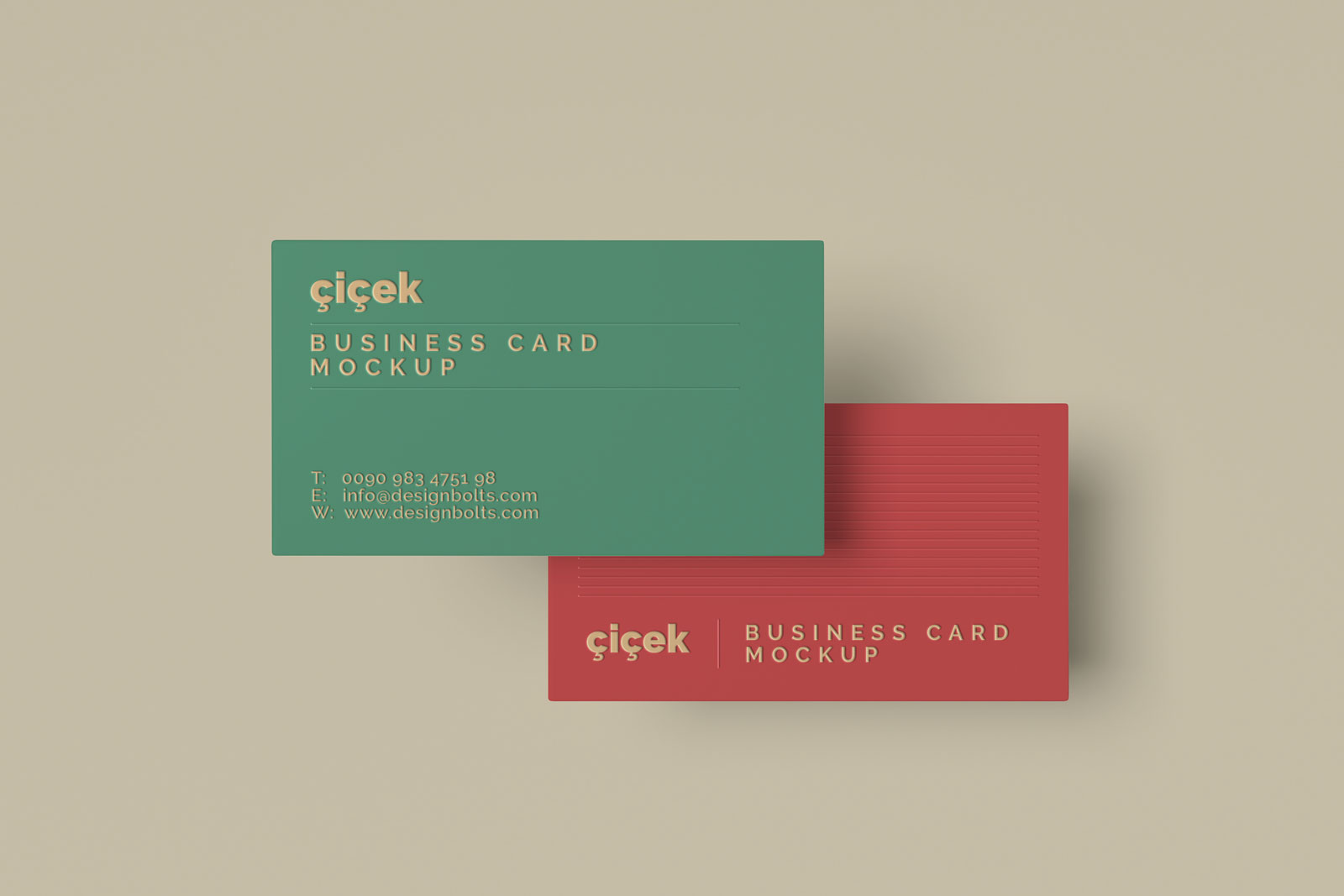 Available Format: Layered PSD with smart object insertion
License: Free for personal and commercial usage
WinRAR File Includes: Free Business Card Mockup PSD
Mock-up Resolution: 3240 x 2160 px
Artwork size: 3.5 x 2 inches
Note:
1. Free Business Card Mockup PSD is allowed to share online (A Must Linkback to designbolts.com)
2. Say thanks if you like or share/tweet with your friends. That means a lot to me.
3. And don't forget to subscribe to receive for more high-quality premium freebies & awesome articles only.
Download Business Card Mockup
More Awesome Free Business Card Mockups: