Hi there everyone! We are back with yet another super useful blog of ours and, of course, a free yet highly editable mock-up PSD file for you guys so that you can create stunning flyer designs for your own businesses or for the ones that you are associated with. And we cannot wait to share everything that you need to know in order to make the most of this free A4 flyer mock-up PSD file too but before doing that, we would like to thank you all for the love and support that you send our way and for also motivating us to keep creating the stuff that we love to create.
Ever since digital and social media platforms have taken over the fields of communication, marketing and advertising, many people have started to feel that the conventional methods of advertising businesses, etc. do not have a place in the market anymore or that they are not that effective because you can monitor the performance of your campaigns directly from your mobile and desktops for that matter and can immediately make changes if you notice that something is not quite working for you.
But what if we told you guys that, that's not the case? Because that is exactly what we are going to share with you guys flyers and other advertising materials are still very much relevant and will stay relevant in times to come as well. Here is why: flyers are considered to be one of the most effective tools to raise awareness for the business, its services and its products that you are offering and selling mainly because they can give you a fair idea of what the business / message is about in easy to understand words and at times, offers that you would not want to miss.
In addition to that, flyer marketing is considered to be the most cost effective tool as well and it is really a fact that you won't have to spend thousands of dollars, that too in order to reach a selected group of people you think, is going to perform an action that you want them to perform. And quite frankly speaking, if you are getting something that is more effective than your paid online campaigns, and does not cost you a lot too, then you must consider it at least once to see if it is bringing you the results that you wanted to get, you know?!
Recommended: High Quality A4 flyer mockups
Now, let's have a look at the design tips and tricks which will help you utilize our free A4 flyer mock-up PSD file in the best ways possible:
Always remember that anything and everything that goes out in the market from your end is a representation of your business which means that it has to be so good that the moment someone comes across it (and even if they are not your direct customers), they feel the need to know more about your business whatever you are offering as well. It could be the services that attract them, the unique products that you are selling or even if you are opening a new store or two). Make the information seem interesting and effective. Also, do not go too wordy and also avoid hard-core technical language as well as it will only confuse your potential customers who would rather ignore the flyer than ask around what the hype is all about, alright?
You would also want to keep the information concise and focus on just one main message for example; you are opening up a new store, talk about that, share the address and if you want to make things exciting, then feel free to add an offer to attract a huge number of people as well. Or you are introducing a new technology and you want your existing and potential customers to know about it, spread that information through a nicely designed flyer and you will be good to go.
– – – – – – – – – – – – – – – – – – – – – – – – – – – – – – – – – – – –
More Free Premium Flyer Templates:
– – – – – – – – – – – – – – – – – – – – – – – – – – – – – – – – – – – –
You might also want to divide your flyer design into multiple sections to keep the information to the point and easy to go through as well and with the help of high resolution images and a striking Call to Action (CTA), we can bet that you will be able to deliver your promotional messages more than just perfectly.
And that is all for today, you guys! We hope that you not only had a great time reading the blog but that you will also share it with your graphic designer friends, favorite colleagues and students, etc. as well. Do let us know if you have any suggestions and requests to share with us and we will make sure that we get back here with your requested content and more super soon. Until then, keep making magical designs!
Free Realistic A4 Flier Mockup PSD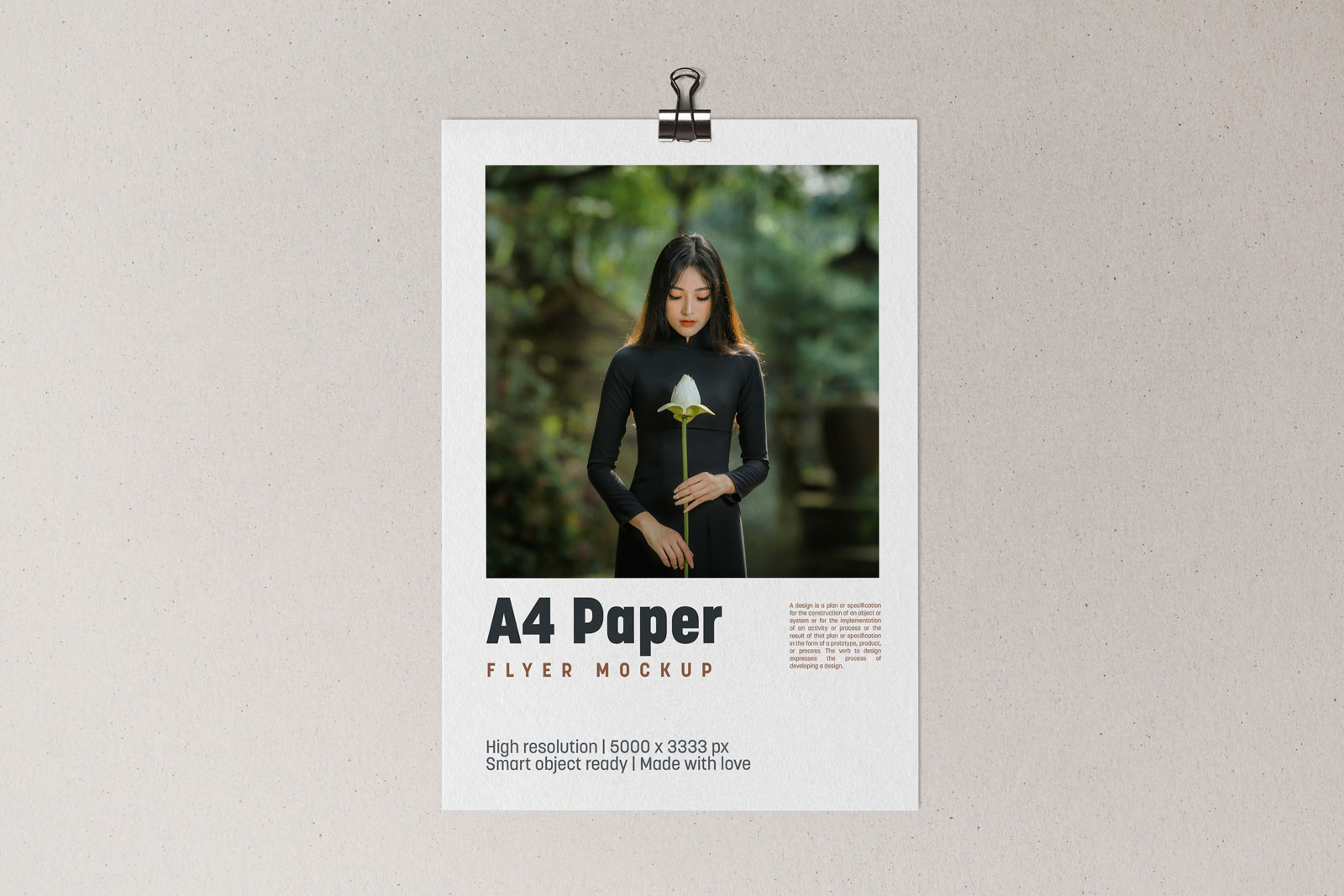 Available Format: Photoshop PSD
License: Free for personal and commercial usage
File Format: WinRAR
Mockup Resolution: 4000 x 2667 px
Paper Artwork Size: A4
Note:
1. Free A4 Flier Mockup is allowed to share online (A Must Linkback to this page)
2. Say thanks if you like or share/tweet with your friends. That means a lot to me.
3. And don't forget to follow or subscribe to receive more high-quality premium freebies & awesome articles only.
Download A4 Mockup
More Flyer Free Mockup PSD files: