Hi there everyone! We hope that you guys are not only having a great time reading our blogs but that you are also making the most of them for your personal and commercial design projects as well. For our today's blog, we have worked on this new, free and yet highly editable square signage mock-up PSD file that you all are going to love working on but before we start sharing everything that you need to know in order to make just the perfect signage for yourself in the near future, we would like to take a moment to thank you all for your constant support and for always encouraging us to keep creating what we love to create.
Recommended: 60+ Best Free Signage Mockups
Signage is not just the most crucial element for any business but it really has the power to make or break it too and we are sure that whoever comes up with an idea of launching a new business into the market, is also hoping to make progress from the day they start so there is literally no chance of taking a not so serious route. Having said that, we also know that when you are working on something as important as creating signage, you need to understand the business and its market inside and out so that you can give them what is expected from you.
Now, you would know that there is no one way of doing something. Right? But it is also very important that whatever way you choose, you make it look so good and effective that it always works in your favor. For example; more than creating the perfect signage and having it installed outside your store / building, etc. is needed, right? You have to do more than just that in order to deliver your message in the best ways possible which also gets you a return on investment (ROI) and then some more.
We know that in the past, business owners and their related creative and advertising agencies would just stick to making the signage look powerful without integrating it into the digital and social media communication but now things have changed and for good. You have more than one platform or outlet where you can launch and promote your (physical) signage and let it do the rest of the work for you for example; not a lot of people will immediately get to know that you have upgraded your signage, right? And the best way to spread the word is to talk about it, initiate a conversation and let your targeted audiences know why you did, what you did.
Recommended: 50+ Vintage Hotel Signage Ideas
Make the most of the storytelling concept and share the messages in crisp, easy-to-understand language so that the message can be spread far and wide. This can be done through email marketing, teaser content on your YouTube channel, Twitter and Instagram accounts along with your Facebook Page as well so that you can reach your direct and indirect customers wherever they are present. And if your brand has a following that is also present on TikTok or Snapchat, then you must, by all means, take your promotional messages there as well and we can bet that you will be able to get enough traction to announce the big reveal.
You can also use flyer marketing for this purpose as well and it will also help you reach the people who are not on the digital and social media platforms but will still get the message and since flyer marketing is not something that is going to cost you a lot of money either, it will be a win-win situation for you as well as for your target audience so make sure that you make the most of it too.
We would also like to briefly share how you can make the perfect signage by incorporating your skills into our free square signage mock-up PSD file. Go for a compelling but relevant brand color for the main signage and pick a contrasting color for the text. Keep the font size big to make it easier to read and lastly, pick the most appropriate spot to install the signage.
That is all for today from our end! We hope that you guys liked reading the blog and that you will also share it with your graphic designer friends, favorite colleagues, students, etc. as well so that they can also work on a couple of amazing square signage for themselves or for the people that they are working for. We would also love to read your special requests and suggestions, etc. so feel free to send them our way and we promise to get back here super soon with your requested content and more. And until then, you guys keep making magical stuff!
Free Square Signage Mockup PSD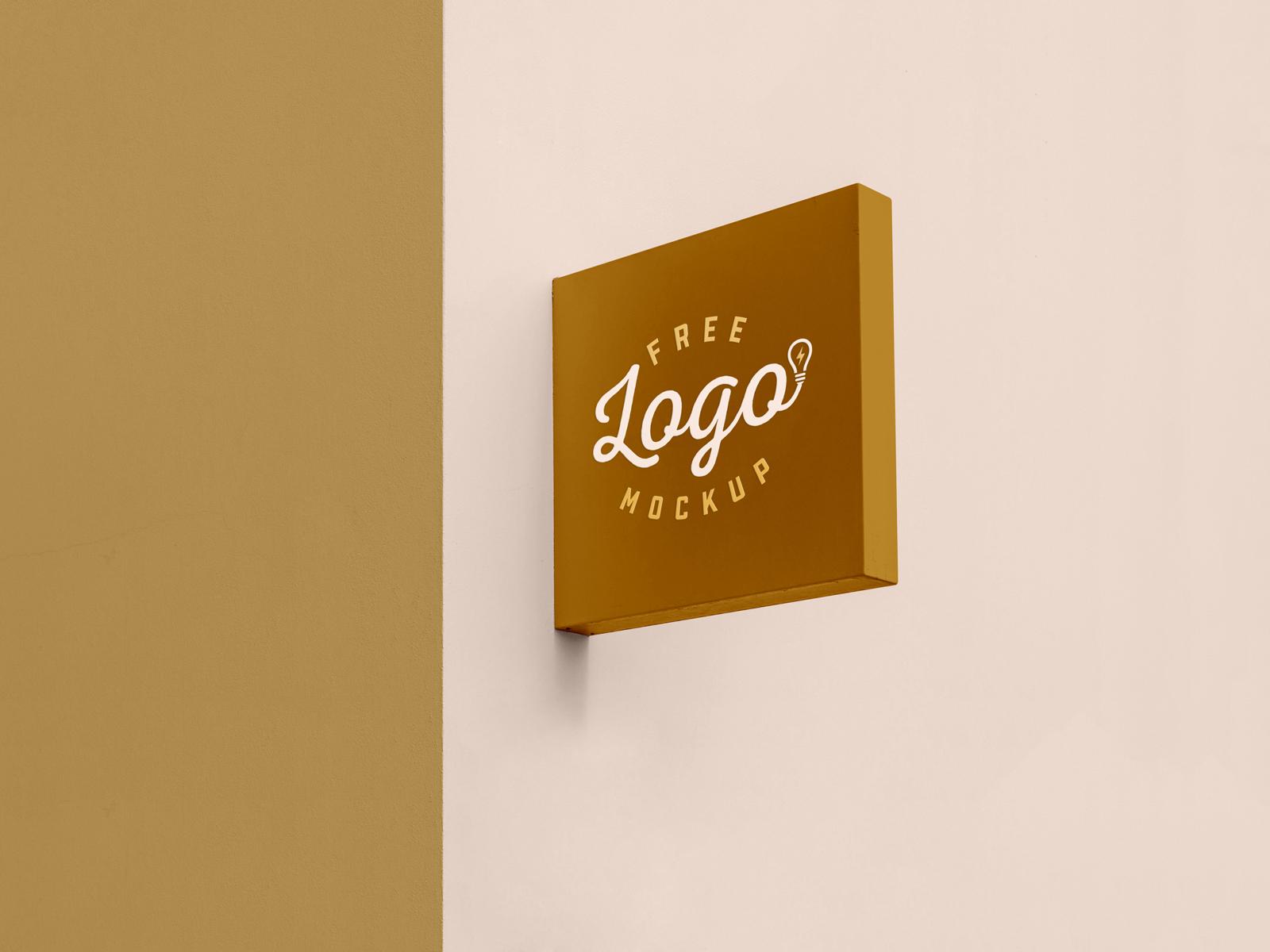 Available Format: Photoshop PSD
License: Free for personal and commercial usage
File Format: WinRAR
Mockup Resolution: 4000 x 3000 px
Note:
1. Free Square Signage Mockup is allowed to share online (A Must Linkback to this page)
2. Say thanks if you like or share/tweet with your friends. That means a lot to me.
3. And don't forget to follow or subscribe to receive more high-quality premium freebies & awesome articles only.
Download Sign Board Mockup
More Free Sign Board Mockup PSD Files: