Hi there everyone! We hope that you all are having a great time reading our blogs and that you are super excited to read this one too. And although we can't wait to share everything that you guys need to know in order to make the most beautiful and practical vertical menu designs, we would like to take a moment to thank you for the love and support that you send our way and for also sharing our blogs within your personal and professional circles so that everyone can make the most of them. We hope to see more of that happening in the future too.
If you guys are one of our regular readers then you must have read all the blogs that we shared in the past with different kinds of menu mock-up PSD files along with easy-to-follow design tips and tricks which you can follow to make the best designs. And for our today's blog, we have created this free yet highly editable vertical menu mock-up PSD file that you can instantly get your hands on and start making the menu designs as per your creative and design briefs. Allow us to share how you can make the most of our mock-up PSD file!
Menu designs are a depiction of your eatery regardless of what you are offering to your customers so, from the design to its content, everything has to be on point and not just aesthetically but it should give anyone and everyone a fair idea of what you are making, the spice level, prices, quantities, etc. We are sure that you guys must have across many different styles of menu cards and we feel it is safe to say that the ones which were designed by following all the rules and everything else for that matter would not have only made it easier for you to place an order, but you would also remember some part of it by heart now so that next time you are there, you know what you are going to have and that is what an effective menu design can do for the business owners while facilitating the customers.
Having said that, we would first like to mention that for a menu design, you need to know that your content matters more than the design itself because the content is what will make the people place an order, right? So, whenever you sit down to work on a menu design, you must focus on the content of the menu more than the overall design. Moving on, you also need to know that for a menu design, typography works the best and you can do so much with it by just picking the right kind of style for your business' menu design and trust us when we say that it will do wonders for you. Use typography to reflect the vibe of the eatery that you run. Let people feel the experience of the place where they are even before they get to taste your food and drinks.
Your menu design does not have to have your branding or even a huge logo placed on every page of it. Let your menu stay as is with just the menu items on it because your customers are already sitting inside your restaurant, coffee shop, etc. so there is no need to bombard them with more branding, you know. As long as the copy of your menu design is concerned, keep it witty if you run a coffee shop, a bakery, cafe, etc. and classy but interesting if you cater to an audience that's at your eatery for business meetings, formal dinners, and corporate events.
You also have to make sure that you are not overdoing the menu design; keep it simple, easy to go through and place an order in minimum time and also give all the necessary details such as mentioning allergens clearly without hiding them from anybody. Lastly, proofread your menu as much as you can and then some more so that there are no typos anywhere because that does not leave a good impression on the customers.
That is all for today, you guys! We hope that you enjoyed reading the blog and that you will also take out some time to share your feedback with us in the comments section. Do share the blog with your graphic designer friends, favorite colleagues and acquaintances, etc. so that they can also create stunning menu designs for their own businesses or for the ones they are working for. Also, while you guys are at it, don't forget to send in your special requests so that we can start working on them and get back here with your requested content and more super soon.
Free Vertical Menu Mockup PSD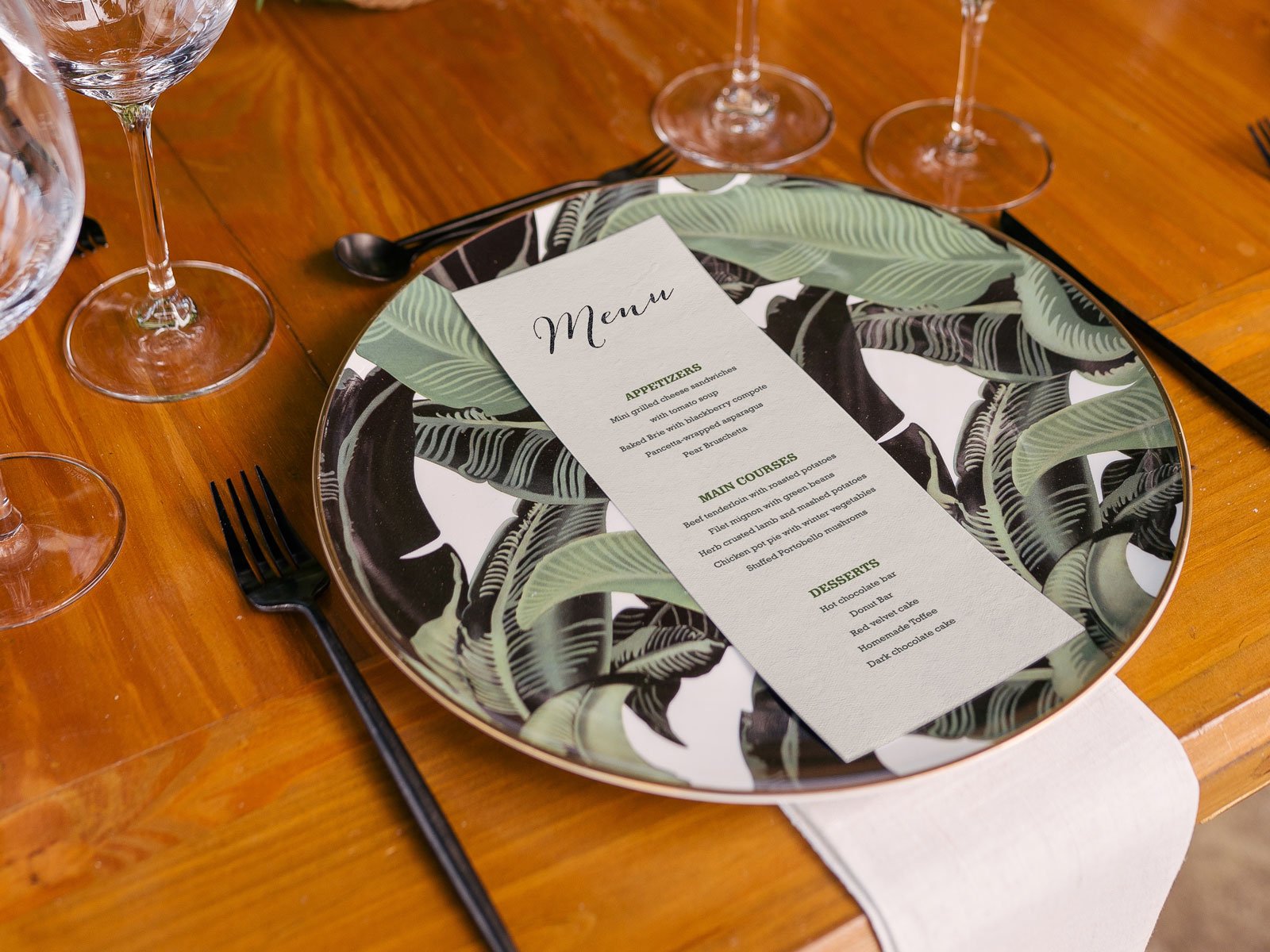 Available Format: Photoshop PSD with changeable background color
License: Free for personal and commercial usage
File Format: WinRAR
Mockup Resolution: 3760 x 2820 px
Note:
1. Free Menu Mockup is allowed to share online (A Must Linkback to this page)
2. Say thanks if you like or share/tweet with your friends. That means a lot to me.
3. And don't forget to follow or subscribe to receive more high-quality premium freebies & awesome articles only.
Download Menu Mockup
More Free Menu Mockups: