Hi there everyone! We are back with yet another super useful blog of ours which we can bet that you all are going to love reading as we are about to share our free yet highly editable lightbox signboard mock-up PSD file and everything that you need to know to make the most impressive designs possible. But before doing that, we would like to take a moment to thank you all for your love and constant support that you guys shower us with and we hope to see more of that happening in the future too.
Recommended: 50+ Vintage Hotel Signage Ideas
If you are one of our regular readers, then you guys must have read the previous blogs that we have done on lightbox signage and how they can help you advertise your business in the best ways possible. But if you are someone who has just started reading our blog, then we want to first start by sharing what a lightbox signboard/signage is. Lightbox signage is a box or a cabinet with LED illumination which allows you to ensure visibility for your communication 24/7.
For any business; big or small, you have to make sure that your signage is just perfect, and stands apart from the crowd, you also have to ensure that what you have put up as your signage is effective too – otherwise, what is the point? To assist you guys to make the perfect designs for your signage, we decided to work on this incredible free lightbox signboard mockup PSD file which will let you be as creative as you want to be and then some more with your concept and ideas. Allow us to share a couple of easy-to-follow tips and tricks to get you all started!
First things first; you have to have a creative and design brief that you need to follow in order to make sure that you are on the same page as the other stakeholders regardless of the fact that it is your own personal business or someone else's and you are in charge to make great things happen. Then you also need to involve as many people as you can who will be assisting you with creative ideas. Always make the most of your brainstorming sessions and until you have not finalized the theme and actual thing that you are going to deliver, do not (ever) discard a thought. Record everything in the form of notes and more and keep revisiting them from time to time as this practice might help you come up with something even more powerful, you know!?
Recommended: 60+ Best Free Signage Mockups
We would also like to mention here that no matter what business you are looking after as their creative and design team member(s), you must be open to crazy ideas; ideas that you have never worked on, ideas that no one else has executed in the past and ideas that will be remembered in times to come.
Oh, and while you are doing that; there is one more thing that you need to be sure of and that is to never go for controversial ideas to get traction and engagement. Because there are chances that you will become the talk of the town or maybe even get mentioned internationally for a campaign or two but when something is built on controversies or ideas that do not have anything to do with real life, then you also start becoming irrelevant as fast as you try to become relevant in the first place.
That being said, we want you guys to be super clear and to the point in your communication and not just for the out-of-home (OOH) signage but beyond that too. But also make sure that you go for integrated campaigns so that everything looks harmonious and does not confuse your audiences. We are sure that with our free lightbox signboard mock-up PSD file, you can achieve more than you can imagine. You can also go for double-sided lightbox signboards to make a bigger impact on your existing and potential audiences as well and honestly, it is all about trying out new things to see what's working for you and then sticking with it.
That is all for today, you all! We hope that you guys not only had a great time reading the blog but that you are also going to share it with your graphic designer friends, favorite colleagues and students, etc. as well so that they can work on a bunch of amazing lightbox signboard designs by making the most of our free lightbox signboard mock-up PSD file. Also, feel free to send in your feedback and special requests as well so that we can work on them and be back here super soon with your requested content and more.
Free Lightbox Signboard Mockup PSD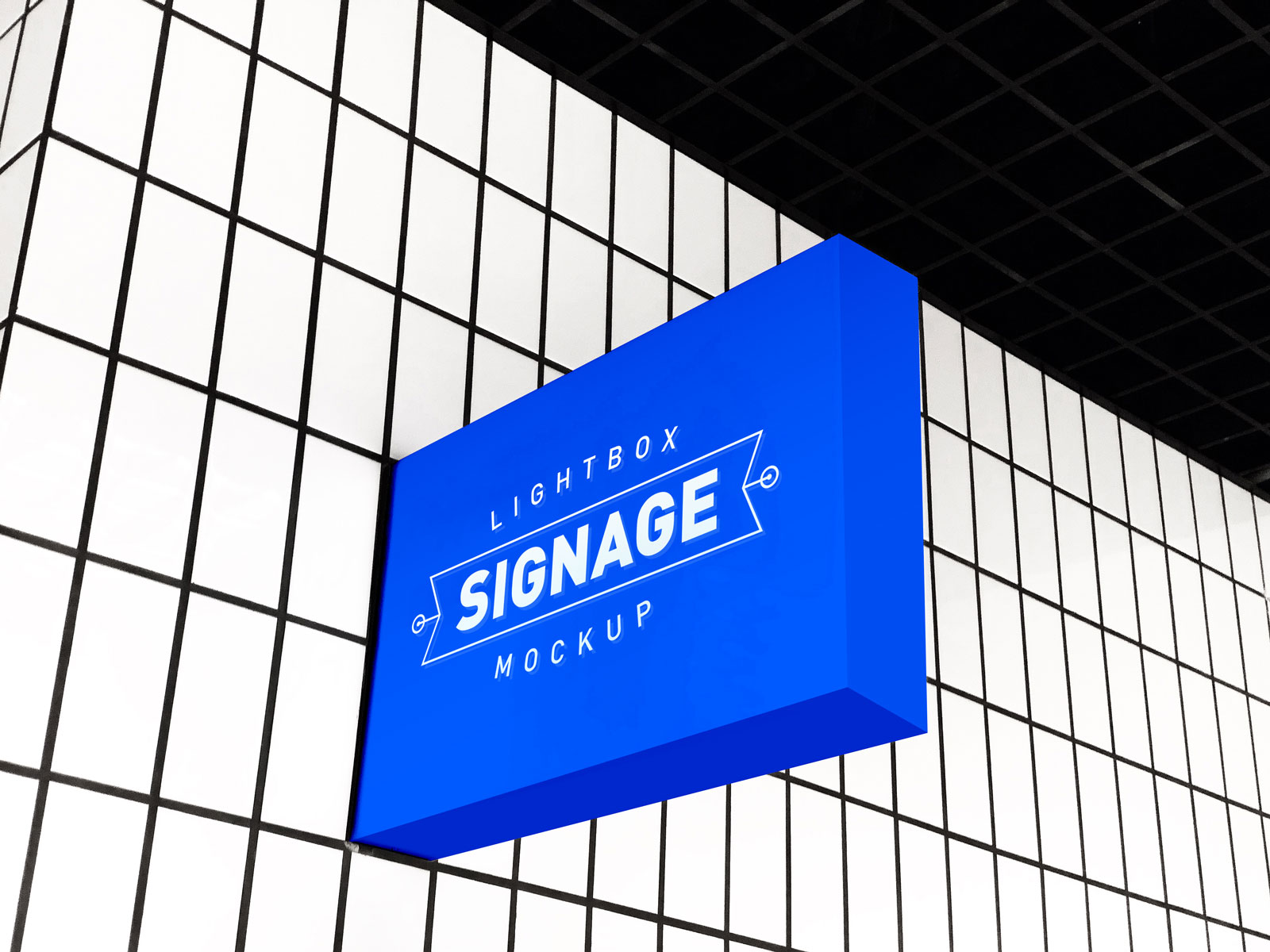 Available Format: Photoshop PSD
License: Free for personal and commercial usage
File Format: WinRAR
Mock-up Resolution: 4000 x 3000 px
Artwork Size: 1888 x 1284 px
Note:
1. Free Rectangular Sign Mockup is allowed to share online (A Must Linkback to this page)
2. Say thanks if you like or share/tweet with your friends. That means a lot to me.
3. And don't forget to follow or subscribe to receive more high-quality premium freebies & awesome articles only.
Download Rectangular Sign Mockup
More Free Sign Board Mockup PSD Files: