For our today's round-up, we have decided to share the best Cost Calculator WordPress plugin, which is created by Stylemix Themes that will help you convert all your potential leads into sales. We just cannot wait to tell you everything that you need to know about it so, let us get started right away!
If you own an online business or if you happen to look after someone else's business website, you will find Cost Calculator super useful – regardless of the scale of the business itself. And that is not it because Cost Calculator offers various exciting features that you can make the most of and generate revenue like a professional. What you guys need to do is to go through each and every feature in detail, experiment, and learn what is working for you. If there is something that you think you don't understand, then you will be very pleased to know that Cost Calculator offers support like no one else. All you will have to do is to generate a ticket and get things rolling after you have spoken to a representative.
In this part of our article, we will briefly share what all you can do with the Cost Calculator plugin so that you can get the gist of it and then we will move ahead with explaining everything in detail to help you guys understand everything that you can do once you have incorporated this amazing plugin into your WordPress website.
Introduction: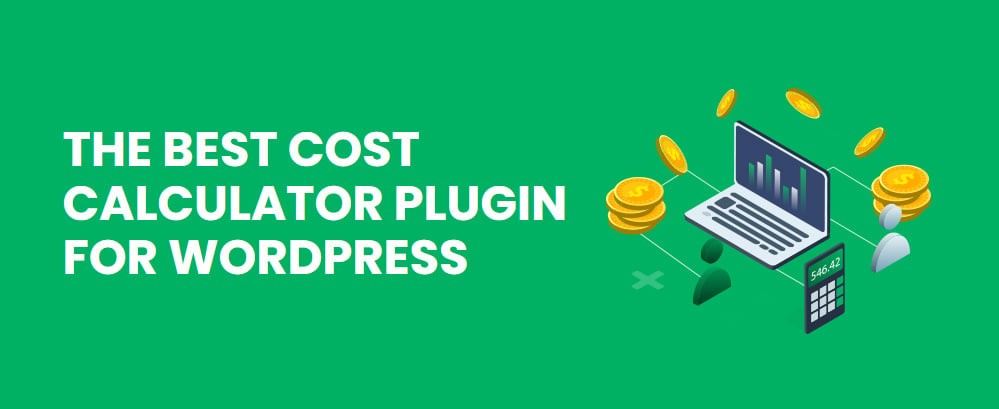 First things first; Cost Calculator allows the users to easily create price and cost estimations on your WordPress website so that you can provide all the information related to costing right there on your website. By doing so, you will be able to instantly gain the trust of your potential customers who would want to make a purchase or two once they have gotten an idea of the pricing, etc. This will also help you ensure that you convert all your potential leads into real sales. All of this will be extremely transparent helping your potential audiences not only purchase items from you but they will also become your loyal advocates by recommending your business to their friends and family members as well. And, of course, by incorporating Cost Calculator into your WordPress website, you will be able to make your website look pro and we know you are going to like that.
Features:

100+ Premade Templates: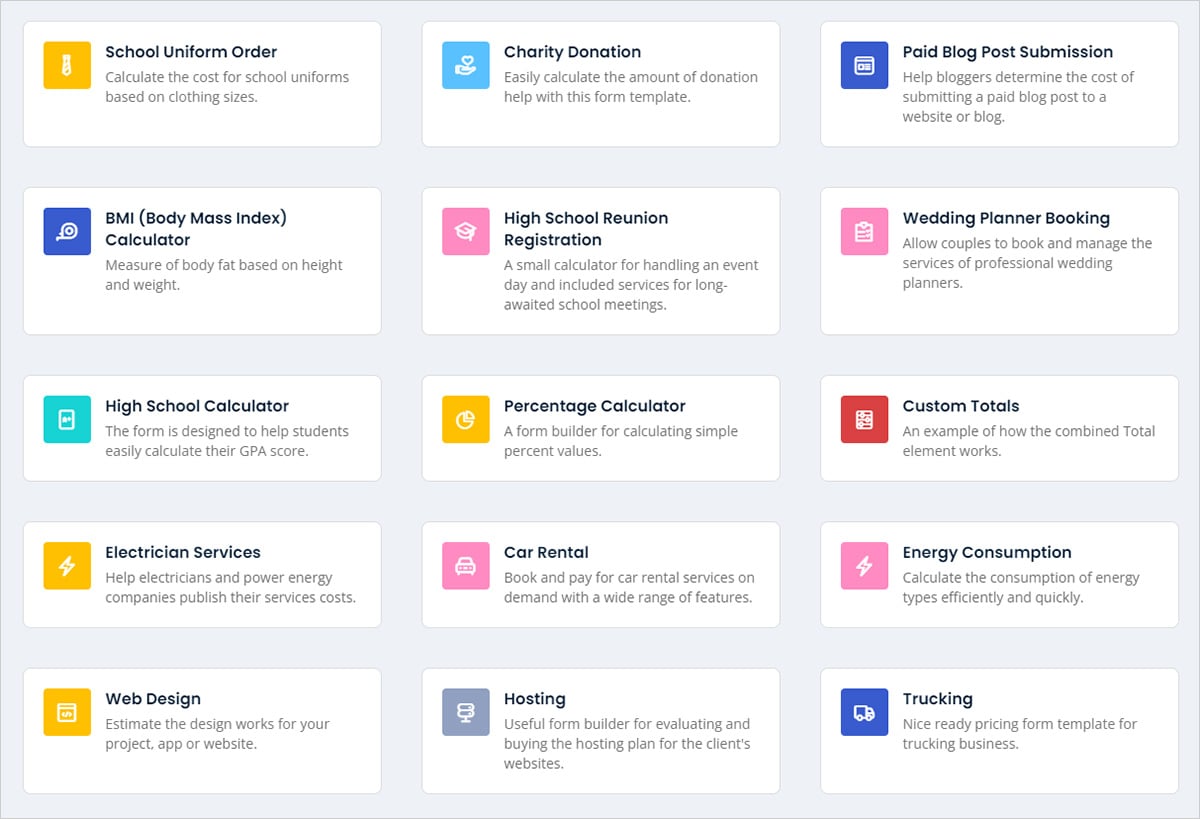 Cost Calculator has 100+ different templates to offer ranging from dental services to creating a chess club to a car payment calculator to insurance booking to a fuel cost calculator and so much more. So, do not worry about the kind of business you own or assist someone else with, know that with Cost Calculator, you are in for a treat. In addition to that, Cost Calculator has many exciting features to offer which make the work easy. Allow us to share all the template:
Medical
Services
Events
Education
Finance
Marketing
Booking
Health & Wellness
Non Profit
Orders
Conditional System:
This feature of the Cost Calculator helps you create detailed and practical forms. By using this feature you can link your calculator fields and add different conditions to the system. You can also show, hide and disable form fields once the conditions have been met. This will allow your potential customers to only interact with the fields they really need to use without getting confused. 'Conditions' work on the following Cost Calculator plugin elements:
Checkbox
Radio
Date picker
Total
Multi-range
Toggle
Range
File Upload
Image Select
DropDown
Image Radio
Image Checkbox
Quantity
It's important to note here that the conditions don't work on Text box, Line, and Html. You can also check out the Live Preview on the website to better understand what we have mentioned above.
Woocommerce Price Calculator:
We would like to let you all know that Cost Calculator is also fully compatible with WooCommerce and its products. You can use all the custom elements in price calculation formulas to change the price of the WooCommerce product. In addition, you can also add a calculator to all WooCommerce products in any category without having to insert it manually on the product pages. To understand the feature and to make the most of it, check out the Live Preview on the website or watch the video mentioned below:
Orders Dashboard:
To help you stay informed regarding the status of the orders that have been placed by your customers and instantly view the payment details of the paid ones, Cost Calculator also offers a nice and detailed dashboard from where you can track, operate and confirm the order status efficiently. In addition, you can also view, filter and confirm the details of the pending arrangements from their pricing to the dates for each built calculator separately.
Custom Calculator For Valuable Products: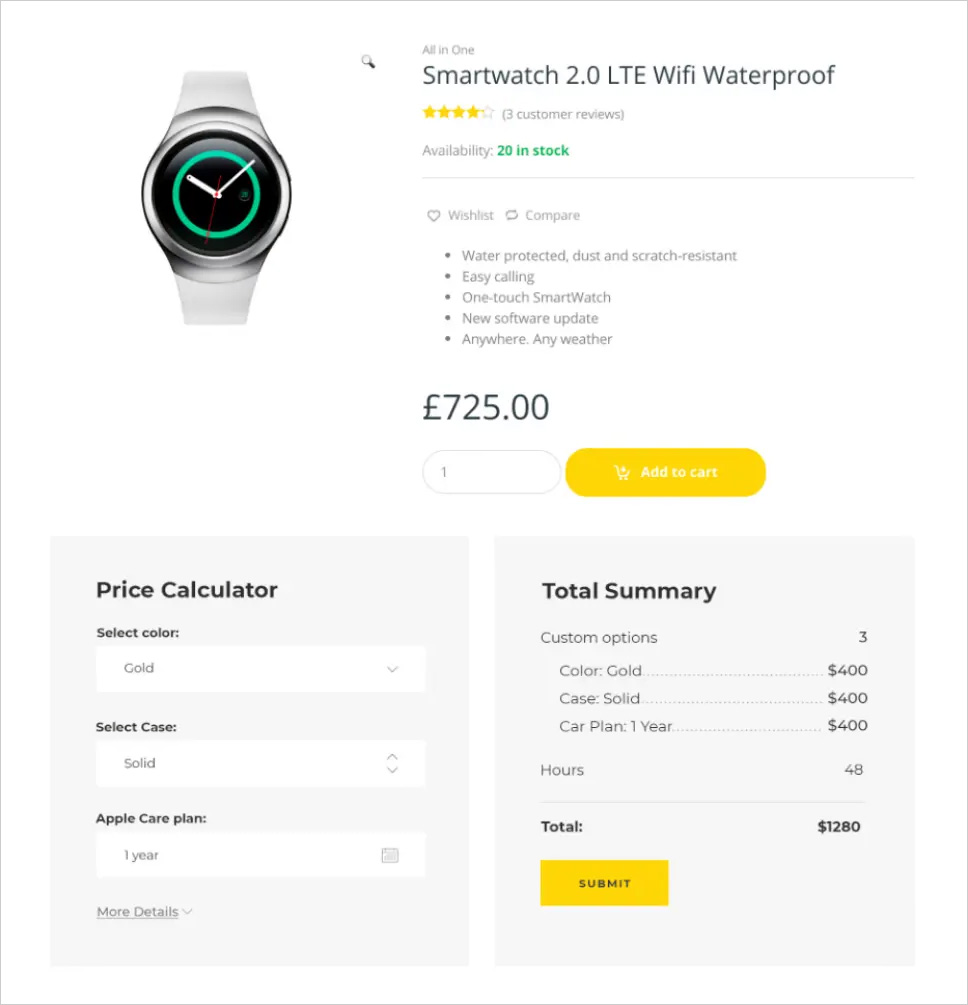 If you are selling variable products that have prices that are to be calculated by custom units and measurements, then you are going to find the custom calculator super useful as it is going to make the calculations very easy for your customers. They can enter the variations and the calculator will withdraw the total for them. You can also add extra options to the product calculator allowing your customers to make inputs and instantly view the total estimated prices. For more details, you can also check out the Live Preview for this feature.
Unlimited File Attachments: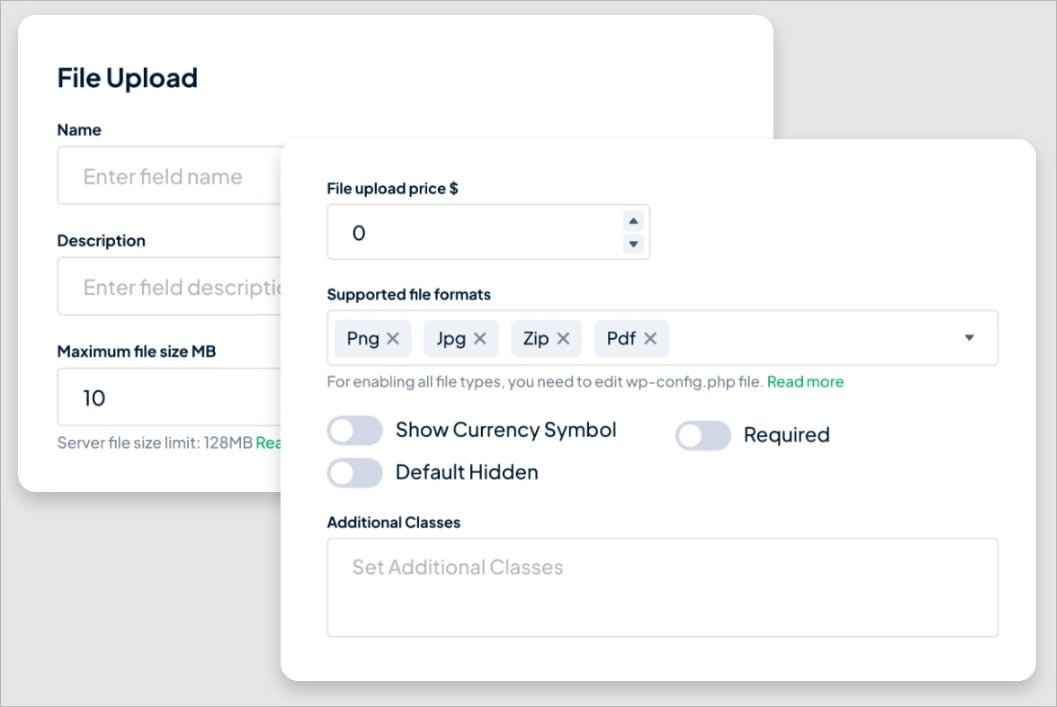 With Cost Calculator, you will be able to allow your customers to use the file upload module on the website where they can add files/data on your specified settings. There are many different types of files that can be uploaded such as; images, documents, audio, videos, and even tables as well. You can also define the maximum number and sizes of the files which can be uploaded. In addition, you can also monetize this element which interestingly fits every business just perfectly. To understand the feature better, you can check out the Live Preview option on the website.
PDF Entries Generation:
Once your customers have placed an order or booked an appointment, etc., they will be able to get their hands on a detailed invoice. The invoice would be in PDF format allowing the users to download, print and email it to other people as well. And you will be able to access all the PDF documents in a special section to maintain a record of all the issued invoices. For more information, do check out the Live Preview for this feature on the Cost Calculator website.
Customized Appearance: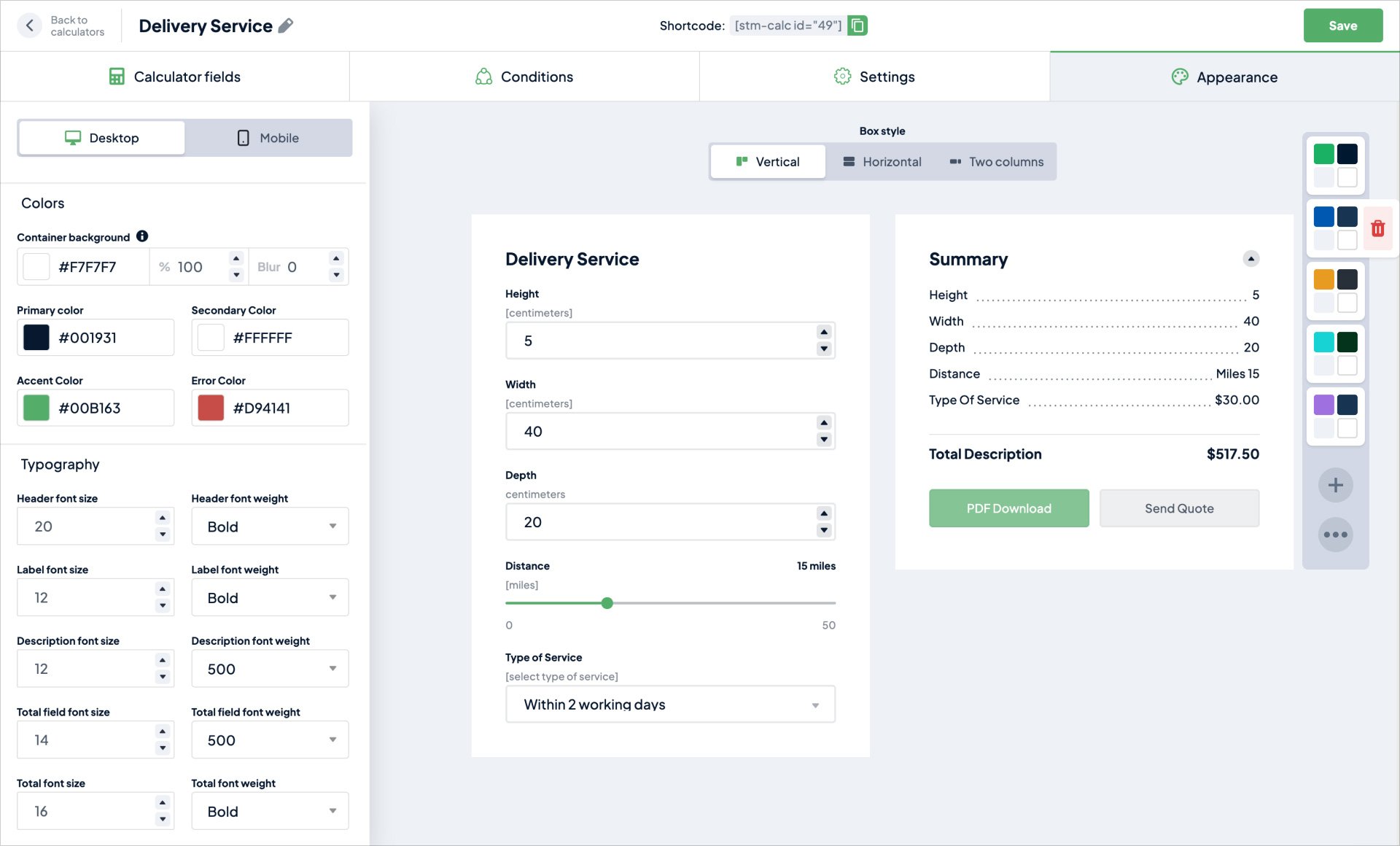 We know that whoever is working on a website design, they want to make it look the most perfect among all the websites that have been launched by business. This should apply on every page and feature of the website so that the customers can keep coming to your website to place an order, make an appointment or avail of what you are offering. You'd be pleased to know that you can customize your Cost Calculator as much as you would want to and then some more with the easy-to-use builder being offered by the plugin.
You can customize colors, typography, shadows, borders, font sizes as well as spacing and positions. Allow us to share what else you will get to make the most of by applying customizations to your Cost Calculator appearance! Would you like to try the Live Preview?
Fully Responsive Design: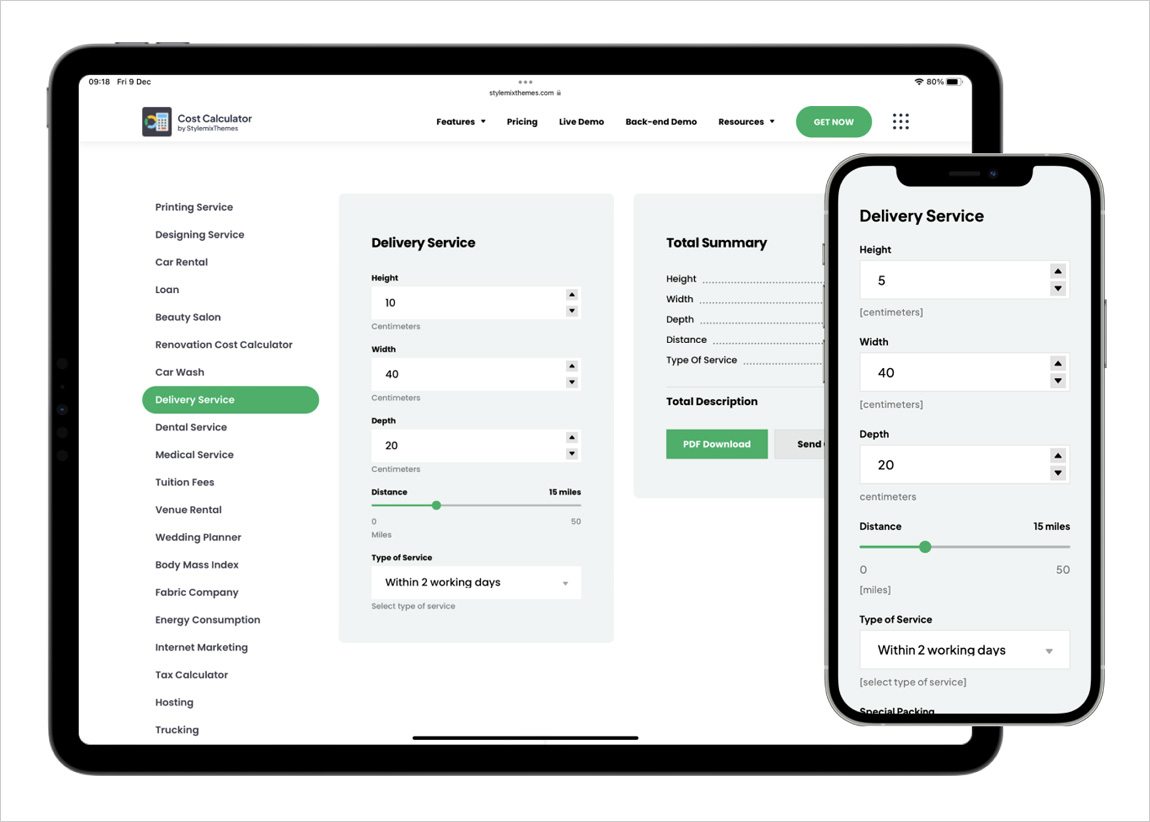 The fully responsive design will not only allow you to customize colors for the calculator, but you will also be able to edit the properties in the settings as well and can make the desktop and mobile versions appear to be identical too. Check out the Back-end Demo to learn more about this option and then make the most of it too!
Attractive View Modes:
You can also decide the view mode for the cost calculator as well for example you can go for:
Two columns
Vertical
Horizontal
Grand Total & Sticky Charge:
With the Cost Calculator plugin, your customers will be able to easily see the grand total that they are supposed to pay. To customize the option, you will find the settings in the separate section to choose what should be displayed. And you can also disable it if you don't wish to display the Grand Total section.
The Grand Total Sticky will let you / your customers access the total summary via Sticky Note when the calculator has added everything from the item list to a bucket, etc.
Now, let's talk about the Cost Calculator's annual pricing in detail! You can also buy a lifetime plan that will give you lifetime updates and support.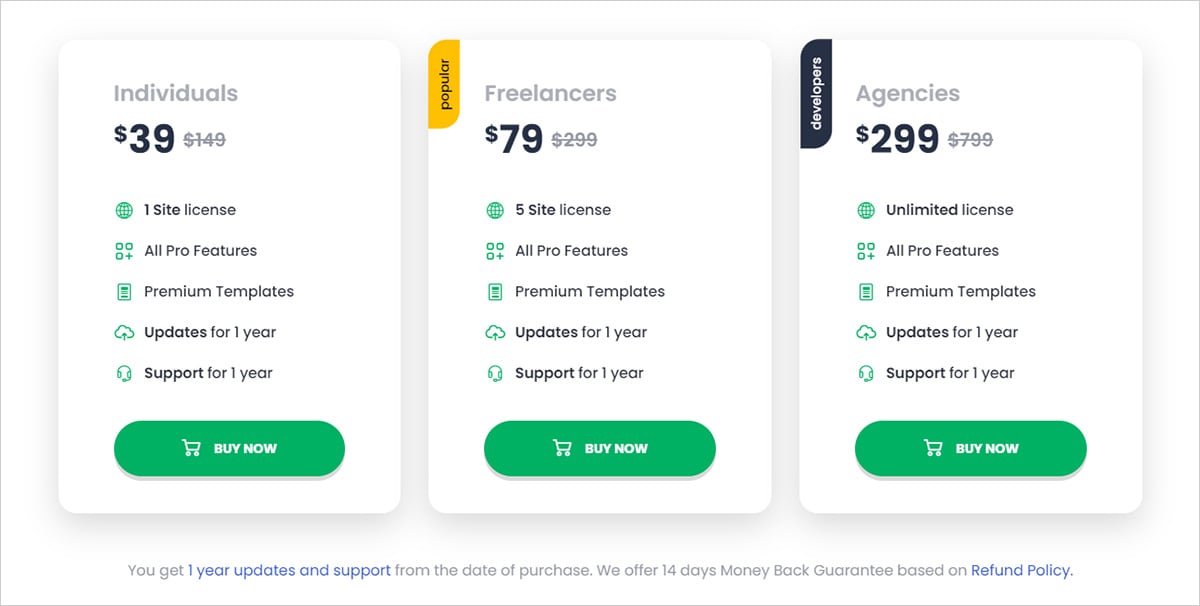 In addition to that, we would love to share what you guys can get in Cost Calculator Free and Cost Calculator Pro: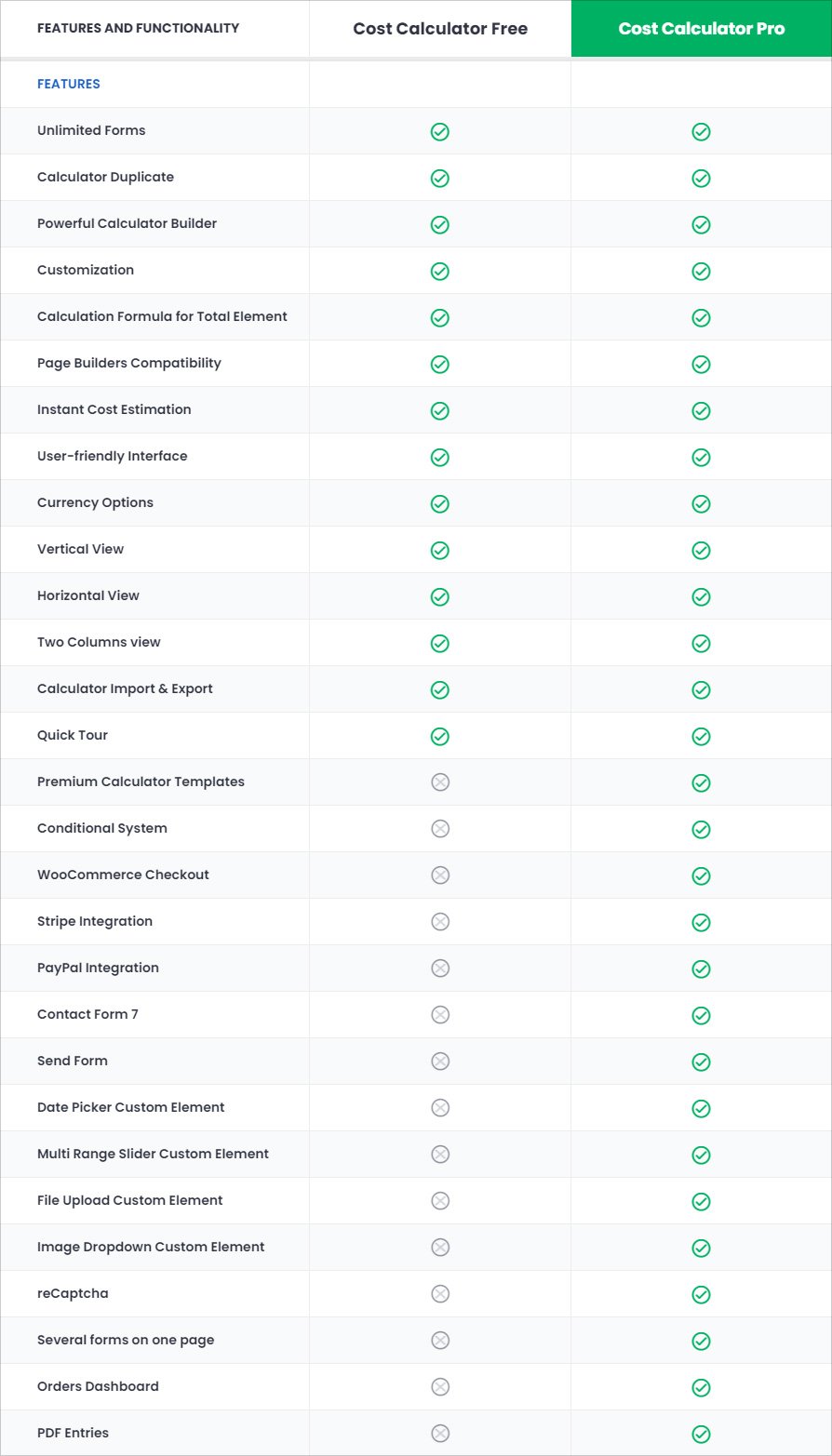 In addition to all things great that are being offered by Stylemix Themes' Cost Calculator, you can also make the most of the Live Demo and Back-end Demo after you can have created your account to use the plugin for your personal or commercial purposes. There is also a Facebook Community that allows you to join the group and get to know anything and everything that you need to know to use the Cost Calculator like a pro but if you would still require guidance, then you can access the blog, video tutorials and the Premium Support option as well so that you can trust the process and only make informed decisions.
And before we conclude our today's blog, we would just like to say that you won't regret incorporating the Cost Calculator plugin into your website but to make sure that you don't regret your decision, spend as much time as you would require and then some more so that you have hands-on knowledge on the features that are being offered and the customizations that you can apply on your own Cost Calculator (s) and you will be good to go!
– – – – – – – – – – – – – – –
Recommended: