Hi there everybody! We hope that you had a really nice time reading our previous blog and you are very excited to get to know what we are about to share in our today's blog. And we can't wait too, because this blog will help you make better and more informed decisions regarding which printing to go for in 2023 and why. But before we start sharing everything that you guys need to know to pick between digital and offset printing today, we would like to take a moment to thank you all for the love and support that you send our way and for always making sure that the people you love and care for are also reading our blogs and making that most of them too. We hope to see more of that happening in the future as well.
Before we get into the details of which printing method is better than the other one, we would first like to talk about what they are so that those of you guys who do not know much about them can not only familiarize themselves with the concept but can also share their gained knowledge with others as well. Okay so; the digital printing method is basically a process of printing during which a digital file in the format of JPEG or PDF is transferred directly to a printer which then applies it to the material which needs to be packaged.
On the other hand, offset printing or offset lithographic printing is a printing press technique that transfers the ink from a plate to a rubber roller (also called a blanket) and then to other materials knowns as substrates in order to produce high-quality images and packaging designs, etc. Now, the digital printing method is far newer as compared to the offset printing method but the methods are used as per the requirements of the clients or the business owners themselves so the method that seems to be working better than the other one gets preferred and is used in the long run too.
Recommended: 5 Types of Printing Techniques for Business Cards with Examples
We would also like to mention that the material produced by the offset printing method looks more attractive and neat as compared to the material produced by the digital printing method. Let's talk about the differences in detail!
DIFFERENCES BETWEEN DIGITAL AND OFFSET PRINTING: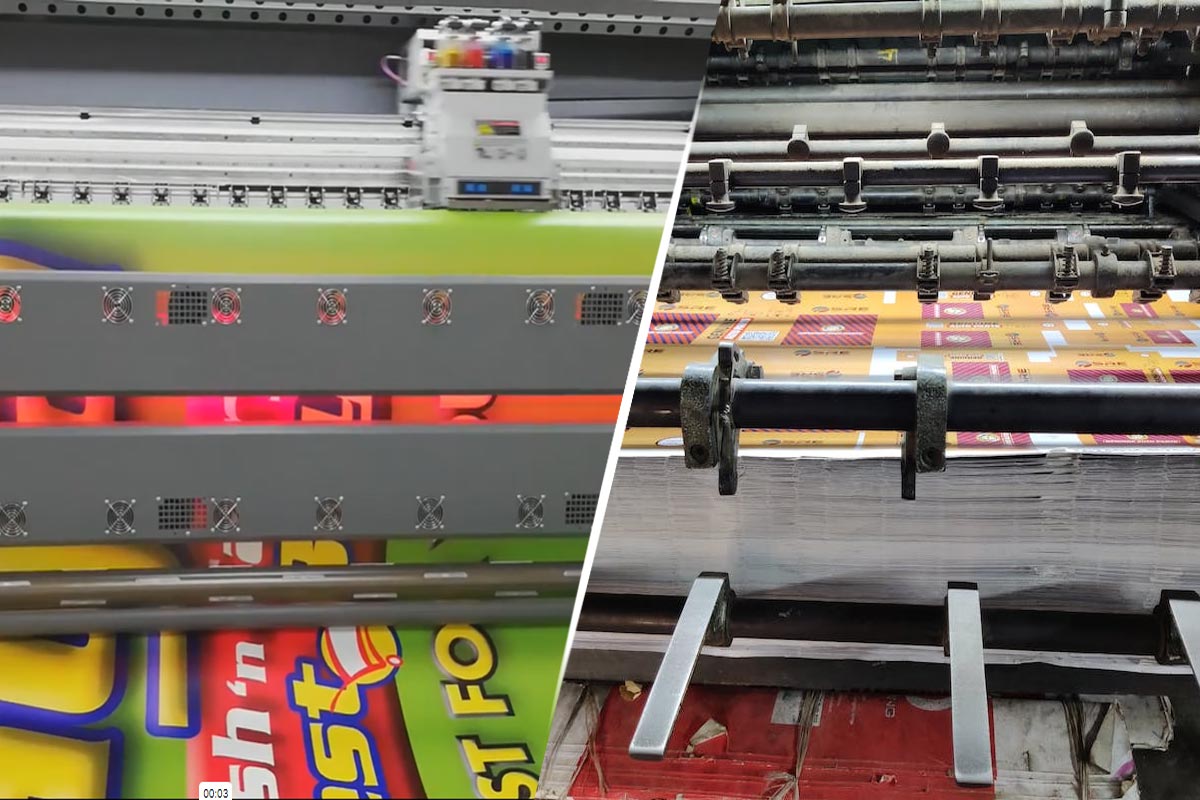 Digital printing method is more compact and works like a regular printer whereas the offset printing method is usually incorporated for a larger scale – meaning that it requires bigger spaces and more people to work too.
Digital printing method offers quick turn-around times and also makes the entire process cost-effective whereas the offset printing method is bound to deliver high-quality images for your personal and commercial clients.
Digital printing method happens to involve only 4 colors when it comes to printing whereas the offset printing method offers a variety of colors making the projects look more than just amazing. Some special colors like gold, silver, and bronze can be printed on the paper.
Now, let's talk about which methods to go for your projects in the future so that you get to spend your money and efforts wisely.
There are usually three different types of printing. We are listing down the names below:
Rigid packaging
Corrugated packaging
Paperboard packaging
Poly Packaging
For Rigid packaging (packaging that offers structure, support, and strength for products), it is always a good idea to incorporate the offset printing method because it not only offers high-quality images and packaging finish to offer but you will also able to get a really nice and cost-effective rate for the whole project in bulk quality as well without having to put a dent in your finances.
For Corrugated packaging (packaging that is slightly less powerful as compared to rigid packaging but offers great support nonetheless) is used for containers and even notebooks, etc. as well and it is a good idea if you wish to go for rigid packaging or corrugated packaging.
For paperboard packaging (packaging usually used for cosmetics, medicine, commercial products, etc.); you must go for offset printing methods as it offers strength and can deliver the products as is to the stores as well as to the customers.
For poly packaging (packaging used for plastic bags, shrink wrap, plastic bottles, wrapping papers, stickers, etc); you need to buy a flexible sheet (a thin plastic film) or even fabric. This specific packaging is now widely printed on modern digital printers and can be produced for food items, medicine, commercial chemical bottle, etc for all your 2023 needs. Digital printing outcome is always remarkable and can be considered over traditional offset printing.
That's all for today, you guys! We not only hope that you enjoyed reading the blog today, but that you will also share it with your friends, colleagues, and everyone else too who you think might be able to make the most of it today and beyond. We would love to encourage you all to take out some time and share your genuine feedback with us in the comments section and while you are it, don't forget to share your special requests with us too so that we can work on them and be back here super soon with your requested content and more.
Recommended: