Hi there everyone! We hope that you enjoyed reading our previous blog and that you are very excited to check out what our today's blog is going to be about. We cannot wait to share all of it too but before we do that, we would like to take a moment and thank you all for the love and support that you send our way and for also making sure that your friends, family members and favorite colleagues are reading and making the most of our blogs too. And we hope to see more of that happening in the future as well.
If you guys are familiar with the concept of how lithium batteries work, then you would know that it serves many purposes. But for those of you guys who do not really know a lot about these batteries, this part of our blog is for you guys. Also, make sure that you all read the blog till the very end so that you can pick and choose the ideas that you can easily incorporate into your future designs.
Okay so, lithium batteries are preferred over other types of batteries mainly because of the fact that they are designed to last longer and what else can make a battery the very best than that, hmm? But wait, there is more to it. For example; these batteries lasting longer means they are a perfect match for smart devices as well as for those devices which are high tech. In addition to that, these batteries can also work perfectly fine in super low temperatures as well without failing which means that you can use all sorts of devices that are powered by lithium batteries without having to worry about a thing.
We would also like to talk about how lithium batteries are a perfect choice for vaping devices too and from a device that small, the lithium batteries are also used for cell phones, tablets as well as laptops too. Oh, and did we tell you guys that the lithium batteries are also used in electric toothbrushes, scooters, E-bikes, and also in solar power backup storage? Because yes, these batteries have many functions to perform and it just makes them the most preferred type of battery because of how versatile they can be.
Recommended: Free AA Battery Mockup PSD
Now, let's talk about how you guys can design the lithium batteries for your upcoming projects by utilizing our free yet highly editable lithium battery mock-up PSD file. First things first; like every design item that you guys have to work on, for lithium battery designs, you need to know about what all is happening in the local market in terms of the designs and other communication that your competitors are going with. Once you have gathered that information, you also need to find out what your target audiences are expecting when it comes to lithium batteries as mostly your customers will be the ones who would want to get the stuff in bulk instead of getting individual pieces but even in that case, you have to move in the forward direction super strategically so much so that you actually do stand part from the crowd.
It is also very important for you guys to understand that there will be multiple brands already existing in the market which are trying their best to sell their products to a wider audience and in order to beat them, you have to make the most of all your platforms on digital and social media platforms along with your on-ground activities to ensure that you are not only offering something different but your services are so good that your potential customers are going to become your loyal advocates too with the passage of time.
For your designs, make sure that you use colors and design elements that are striking and attention grabbing so that you don't miss a chance to attract your customers and produce content that is actually quite convincing for all of them to give your brand a try.
That is all for today, everyone! We not only hope that you had an excellent time reading our blog but that you will also share it with your graphic designer friends, colleagues and students, etc. as well so that they can make their own designs of the lithium battery for their personal and commercial projects. We would also like you all to share your honest feedback with us in the comment section and while you are at it, don't forget to share your special requests with us too so that we can start working on them and get back here super soon with your requested content and more. Until next time, keep creating amazing stuff for yourself and for the businesses that you are associated with.
Free Lithium 9V Battery Mockup PSD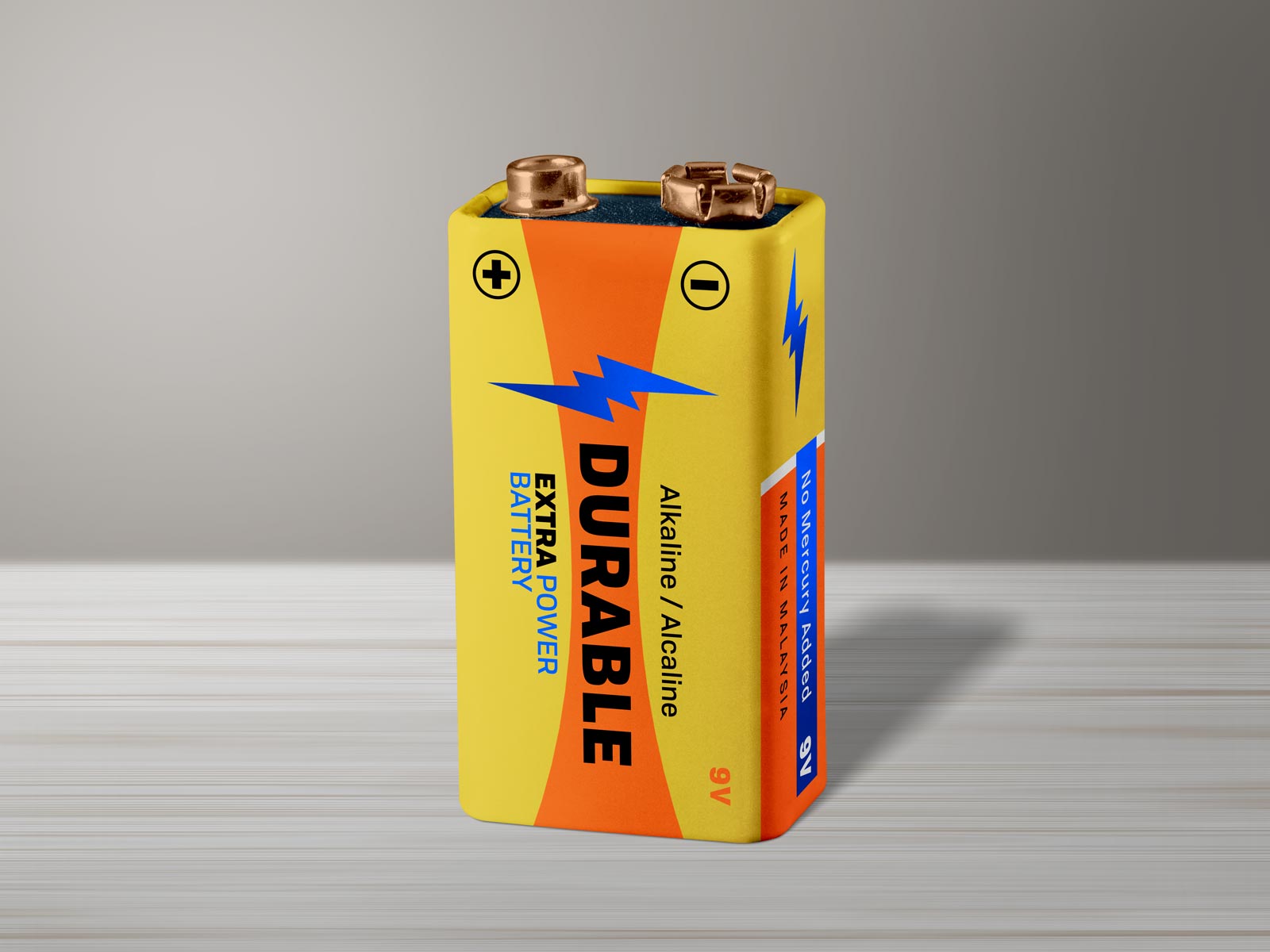 Available Format: Layered PSD with smart object insertion
License: Free for personal and commercial usage
RAR File Includes: Free 9V Battery Mockup PSD
Mock-up Resolution: 5000 x 3750 px
Note:
1. Free Mockup PSD is allowed to share online (A Must Linkback to designbolts.com)
2. Say thanks if you like or share/tweet with your friends. That means a lot to me.
3. And don't forget to follow or subscribe to receive for more high quality premium freebies & awesome articles only.
Download Battery Mockup
Recommended: