Hello, there everyone! We hope that you all had a great time reading our previous blogs and that you are very excited to check out our free corner fascia logo mock-up PSD file today. And we can't wait to share everything that you guys need to know about making beautiful and impressive corner fascia designs too but before doing that, we would like to take a moment to thank you all for the love and support that you send our way and for always making sure that your friends, family members and colleagues, etc. are also reading our blogs and making the most of them too. We would love to see more of that happening in the future as well.
Recommended: 50+ Vintage Hotel Signage Ideas
If you guys are one of our regular readers, then you must have read our previous blogs as well that featured fascia logo mock-up PSD files along with all the tips and tricks that you can follow in order to make the most effective designs for yourself and for the clients that you are working with. And if you are new here, we would like you all to know that you are not only in for a treat but you are going to be having a lot of fun when you will start working on our mock-up PSD files as well.
In this part of our blog, we will share how you guys can initiate the creative thinking process and then move forward to make the designs that are ready for your review meetings and more. Make sure that you guys read the blog till the end in order to make better and more creative decisions in the future.
As you know that a shop / store fascia logo is basically displayed to promote the name of the business or the services it provides and in case of any mega events happening, then related information is displayed through fascias as well which means that your fascia designs have to be so on point that they not only promote who you are, but they also convince your existing and potential customers to visit your store / office, etc. and see what all is happening inside and see if they can purchase a thing or two or can avail the services that you happen to offer.
So, in order to make your fascia logos work, you really have to think through the process and only then get to the design work. You can have conversations with your creative department and your client (if you are working with some business), and you can also reach out to other departments at your workplace as well who might be able to give you an insight or two which will help you think of something even more creative and exciting.
Recommended: 60+ Best Free Signage Mockups
Secondly, you need to keep in mind all the factors that can impact the performance of your fascia logo throughout the year and that can only be done when you will be creating mock-up designs. Also, since the mock-up PSD file that we have designed for you guys features a corner fascia logo mock-up PSD file, you all have more room to be creative and design something that will help you get maximum attention from multiple sides of the building. Sounds exciting, right? Well, there is more for you guys to read so, continue reading!
For any and every design that you are making that you intend to display outside an office, shop, etc., you have to make sure that it is perfectly designed and displayed strategically so that the word can reach out to a maximum number of people at all times even when you are not operating the business during some part of the day. You can achieve that by experimenting with typography that best suits your business needs and can also attract your audiences too. In addition to that, you need to work with attention grabbing design elements to properly convince your audiences what you are about and how only you can fulfil their needs and demands in the market.
That's all for today, you guys! We hope that you not only enjoyed reading the blog but that you will also share it with your graphic designer friends, favorite colleagues and students, etc. as well so that they can also work on a couple of exciting personal and commercial projects by utilizing our free corner fascia logo mock-up PSD file. We would love to hear your feedback so feel free to share that with us in the comments section and while you are at it, don't forget to let us know if you guys have any special requests to make too so that we can work on them and be back here soon with your requested content and more.
Free Corner Fascia Logo Mockup PSD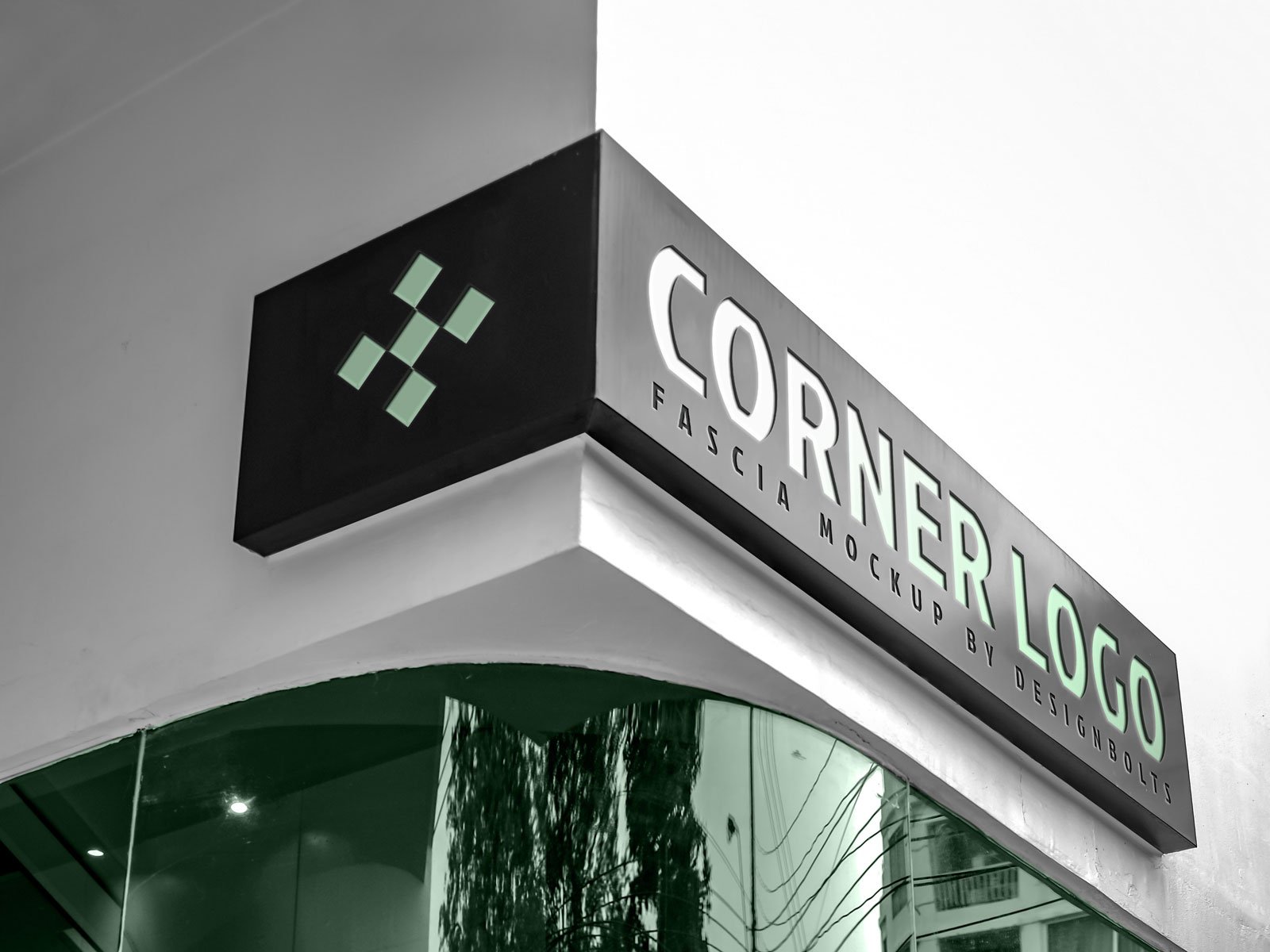 Available Format: Photoshop PSD
License: Free for personal and commercial usage
File Format: WinRAR
Mock-up Resolution: 4000 x 3000 px
Note:
1. Free Rectangular Fascia Mockup is allowed to share online (A Must Linkback to this page)
2. Say thanks if you like or share/tweet with your friends. That means a lot to me.
3. And don't forget to follow or subscribe to receive more high-quality premium freebies & awesome articles only.
Download Fascia Logo Mockup
More Free Sign Board Mockup PSD Files: