Hello, everyone! We hope that you guys are having a great time reading our blogs and that you are very excited to check out what we are about to share with you all today as the blog features a free highly editable round signage mock-up PSD file that you are going to love working on. And we can't wait to share everything that you need to know in order to make the most impressive signage for yourself or for the businesses that you are associated with but before we do that, we would like to take a moment to thank you all for the love and support that you send our way and for always making sure that your near and dear ones are also reading our blogs and making the most of them too.
Recommended: 50+ Vintage Hotel Signage Ideas
If you guys are our regular readers then you must have read our previous blogs that feature signage mock-up PSD files and that you have also made the most of them too for your personal and commercial projects. But if you are someone who has just started reading our blog, then know that you are in for a treat here so, allow us to share how you can make your next design project super exciting and worth all your efforts and time.
Okay so, first things first before you even get to have a conversation with your creative and design teams to initiate the design project, you need to know what all your competitors are doing in the market so that you know you have to think things that are different from the campaigns that have been already launched. To get more perspective, you can also see what is happening in other countries if there exists a brand that you have in the same business category. Always remember that the more insights you have, the better ideas you are going to come up with whenever you will arrange brainstorming sessions with your own team or with your clients as well.
You need to determine the sign location too so that you know what you are going to put up and where. You can also keep in mind the trees and other buildings that might impact the visibility of your signage and then think of a strategy that will work in your favor any time of the day and eventually year as well. There are chances that you have a set of brand guidelines which you will follow for your signage but if you are just launching a business, then you have ample time to work on a contrasting set of colors and attractive design elements that you will be able to incorporate into your digital and social media content along with your out of home advertising (OOH) materials.
Recommended: 60+ Best Free Signage Mockups
We are sure that you would know that for any and every signage, you have to ensure that you don't use super fancy fonts and typography styles that are not easy to read and understand too. You need to keep it classy but you also need to keep it simple so that anyone who comes across your signage or other content anywhere knows what you are saying or promoting. In addition to that, you also need to determine the size and scale of your signage so that it does not look overdone nor does it look too small for a signage design. The beauty of every signage design is that it has great graphics to offer so you need to make sure that you keep that in mind as well and you will see how things have started to work in your favor.
Lastly, you have to ensure that you proofread everything that you release from your end in the form of designs so that you don't have to revise anything nor do you have to suffer any monetary loss. Also, if you think you need extra pairs of eyes to get the proofreading done, you must not hesitate and go for it.
That's all for today! We hope that you not only enjoyed reading the blog but that you will immediately get your hands on our free round signage mock-up PSD file and create stunning designs for yourself and for the businesses that you are working for. We would love to hear your feedback on the blog and in general too so feel free to send it our way and while you do that, we would like to encourage you guys to also let us know if you guys have any special requests to make too. And we will work on them and be back here super soon with your requested content and more until then, keep creating magical designs for yourself and for the businesses that you are associated with.
Free Round Signage Mockup PSD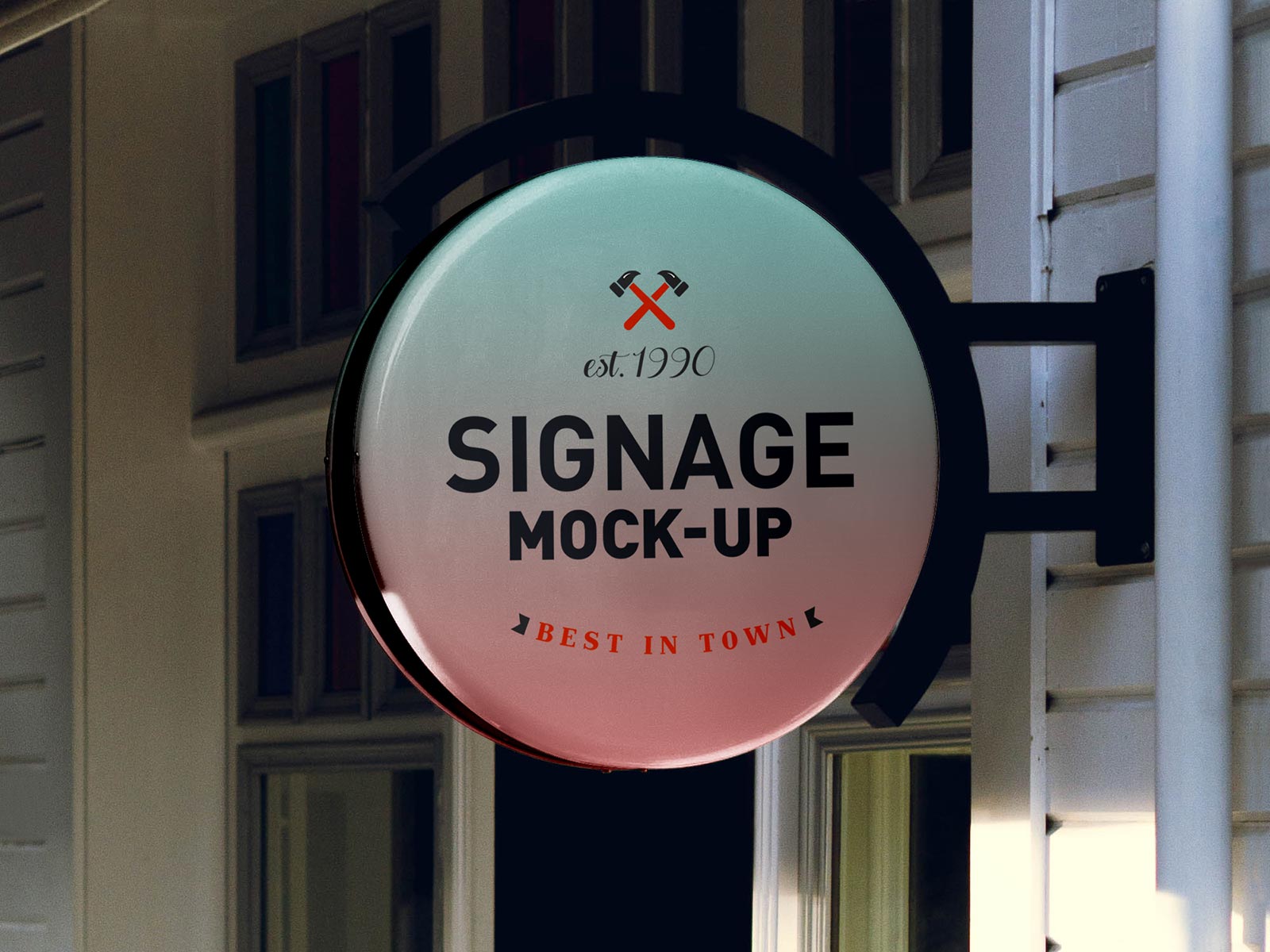 Available Format: Photoshop PSD
License: Free for personal and commercial usage
File Format: WinRAR
Mock-up Resolution: 2000 x 1500 px
Note:
1. Free Round Sign Mockup is allowed to share online (A Must Linkback to this page)
2. Say thanks if you like or share/tweet with your friends. That means a lot to me.
3. And don't forget to follow or subscribe to receive more high-quality premium freebies & awesome articles only.
Download Sign Mockup
More Free Sign Board Mockup PSD Files: