Hi, there everyone! We hope that you all are having an amazing time reading our blogs and that you can't wait to check out what we are about to share with you guys today especially if you are someone who is into creating art or likes scrapbooking as well. But before we start sharing with you guys how you can make the most of our free yet highly editable sketchbook mock-up PSD file, we would like to take a moment to thank you for the constant love and support that you send our way and for always making sure that your friends, your colleagues as well as your family members are reading our blogs and making the most of them too. And we hope to see more of that happening in the future as well.
We are sure that you guys must have seen people sitting quietly in a corner somewhere in your university campus, super involved in creating something on their sketchbook and there are chances that you would have thought to yourself that how different things would be if you could create art like that too. Or maybe you have a friend who is always busy with their scrapbook creating something out of the stickers, and newspapers that they happen to have to unwind from their work schedule or just put their thoughts on a piece of paper in the form of art and for that purpose and more; sketchbooks are not only loved by the people who spend their time on such activities but they are always in demand too.
So, we thought it would be a great idea if we shared a free sketchbook mock-up PSD file with you guys that you could use for your personal and commercial projects. Keep reading the blog till the end so that you guys can know more and design things in more effective ways.
First things first; you need to categorize your sketchbook designs by keeping in mind your target audiences. For example; the sketchbooks are bought and used by many different people who are young kids, adults, students, working professionals (people working with creative and design agencies, engineers, dress designers, etc.), stay at home moms, and people from multiple professionals. In order to make your designs work and get sold as soon as you launch them, you need to come up with a strategy and relevant themes so that people can pick the designs that they think will complement their personality and personal liking as well and they can enjoy the time they will spend on making things for their tasks, etc.
For starters, you can start your creative thinking process once you have determined the sizes of the sketchbooks. From pocket size sketchbooks to big ones, you can create any design size that you would want to launch and then move to the next step which is to think of the ideas. Now, you can start off with a couple of themes that revolve around seasons, songs, celebrities, politics, etc. or just witty quotes for the workaholics, art lovers and more so that you can create those designs in order to make the sketchbooks even more enticing to look at and have too. You can also go for solid colors for the sketchbook designs because there are many, many people who like things plain and simple and there is nothing more beautiful than a solid colored sketchbook which is nicely branded with golden foiling (or not) and you can launch it as one of your minimalist designed items.
You can also offer customized sketchbooks as well through your Instagram account or Facebook Page or you can announce that on your website too that your customers can easily get their sketchbooks as per customizations and you will see that you are getting a positive response from anyone and everyone who will shop from your online store. Just keep on experimenting and offering unique designs that no one offers at reasonable prices and you will always stay ahead in the game, trust us on that!
That is all for today, dear friends! We not only hope that you enjoyed reading the blog today, but that you will also share it with your friends, favorite colleagues, acquaintances, etc. as well who can also utilize our free sketchbook mock-up PSD files for their upcoming design projects and make the most of it too. Feel free to share your feedback with us in the comments section too and also let us know if you guys have any special requests to make so that we can start working on them and be back here soon with your requested content and more. Until then, keep creating magical designs for yourself and for the businesses that you are working with.
Free Sketchbook Mockup PSD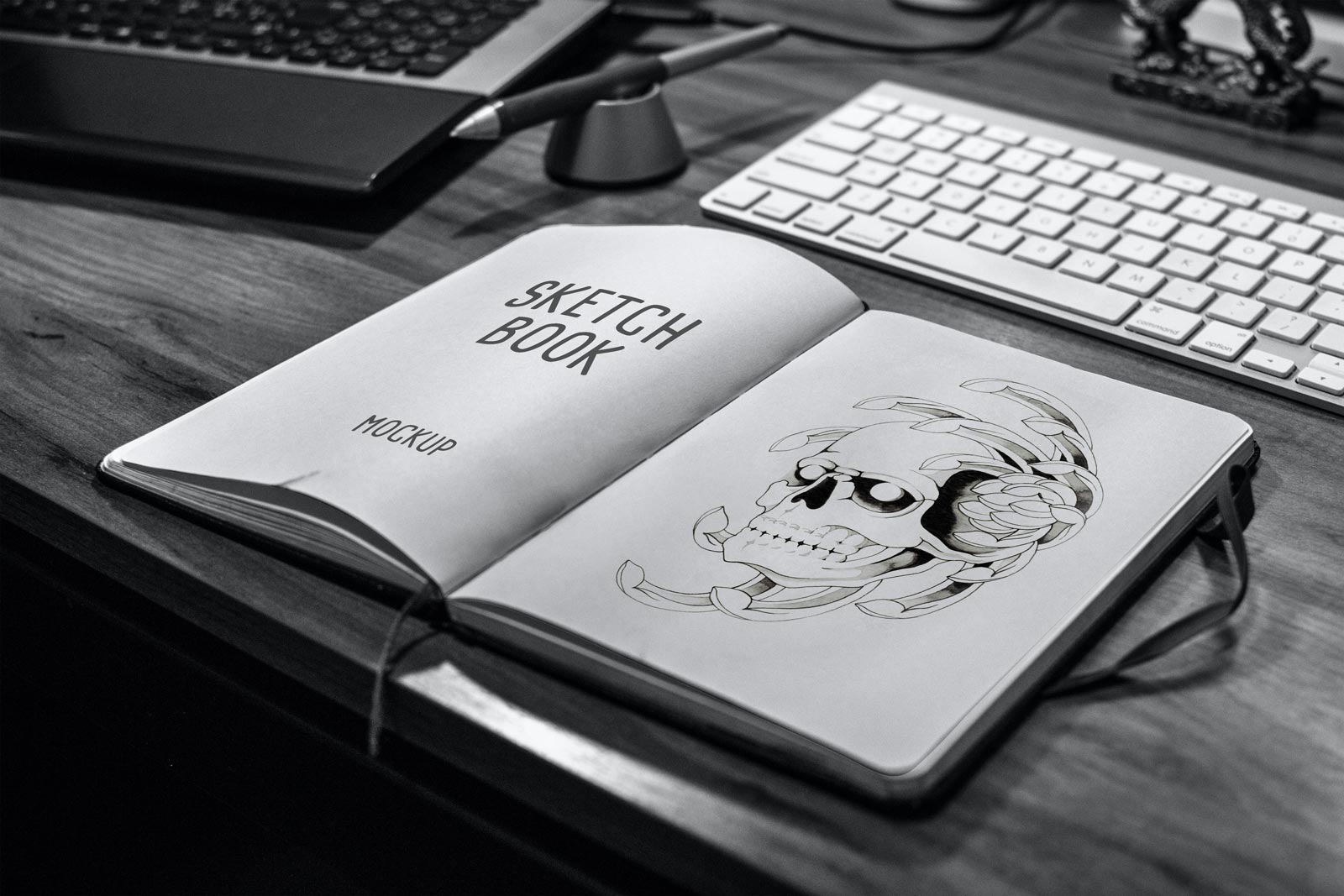 Available Format: Layered PSD with smart object insertion
License: Free for personal presentational use only
WinRAR File Includes: Book Mockup PSD
Resolution: 4500 x 3000 px
Artwork Resolution: US Letter
Note:
1. Sketchbook Mockup is allowed for sharing online (A Must Linkback to this page)
2. Say thanks if you like or share/tweet with your friends.
Download Sketchbook Mockup
More High-Quality Mockups You Would Love To Download: