Are you looking for an option to create a catchy, versatile, and modern business card design? We will gladly help you choose among the best free business card templates. We have prepared a selection of templates that everyone can customize to suit their specific business needs. All options can be edited in Google Docs using simple and intuitive customization tools. So, you can save time and money and still get a guaranteed high-quality design! Let's get to the fun part – the 30 best templates we've put together for you.
Luxury Business Card
Seeking a contemporary and chic appearance for your professional cards? Opt for the complimentary template, conserving both time and resources. This exclusive design features a sophisticated beige backdrop with contrasting blue typography, easily tailored to personal preferences. Effortlessly input relevant contact data using Google Docs.

Professional Business Card Template
Acquire this cutting-edge business card template, ideal for tech industry professionals. This complimentary design offers simplicity in obtaining and modifying to suit individual needs. Boasting top-notch composition and visuals, it presents full customization capabilities for a truly personalized touch.

Modern Business Card
Elevate your brand with the sleek and refined template, available in Google Docs. This tasteful design, featuring striking black and red hues with contrasting white accents, is sure to captivate and spark interest in your enterprise. Minimalist in nature, it aims to set you apart from the competition. Effortlessly modify elements as desired, achieving a tailor-made look in mere moments.

Square Business Card Template
Desiring a distinctive professional card? Explore this square-shaped template, designed to fulfill your needs. This highly adaptable template allows for the seamless integration of your brand through personalized text, hues, and logos. Craft the ultimate business card, reflecting your exceptional style and identity.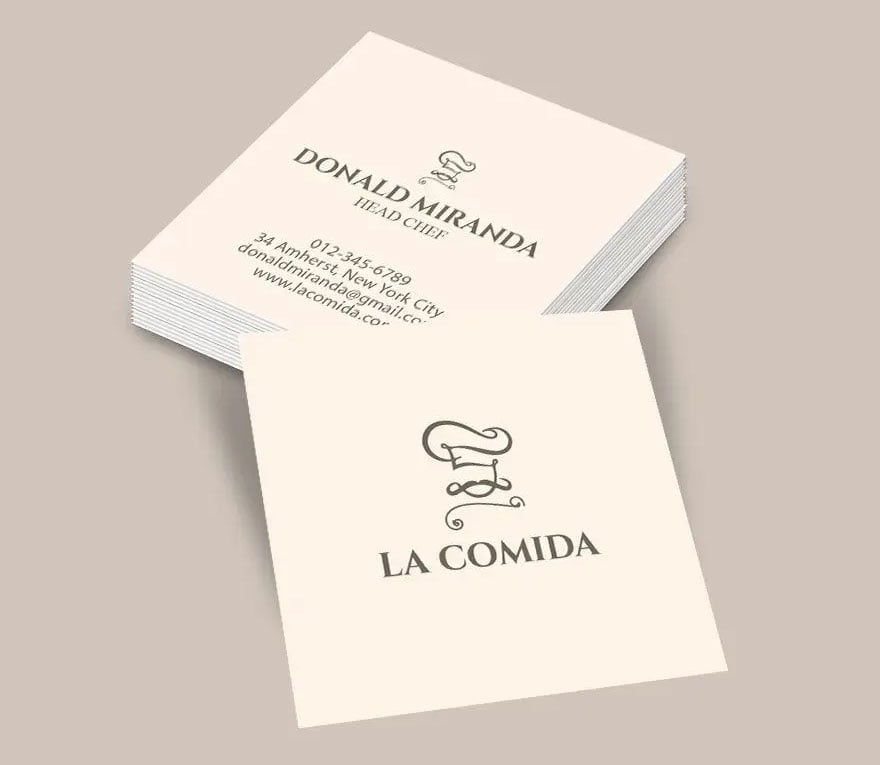 Trendy Music Business Card
For musicians and recording studios seeking a fresh, modern look for their business cards, this business card template is the perfect solution. The user-friendly and customizable design saves valuable time and money. Add your essential information and social media links using Google Docs for a seamless, professional finish.
Elegant Business Card Template
Business coaches, financial consultants, or high-end service providers require sophisticated and classy business cards. Utilizing a limited color palette, including a base shade like white, black, or navy, is advisable. Add elegance with gold or silver accents. An exquisite gold pattern is designed to make your business card truly stand out and impress.

Bright Business Card
A bright and eye-catching business card can make all the difference in establishing success. With so much competition, it's crucial to create a memorable brand identity. Expert designers have crafted a stylish template that ensures your business card stands out from the crowd.

Steakhouse Restaurant Business Card
This template is tailor-made for restaurants specializing in delectable meat dishes, particularly beef or pork steaks. The fascinating, minimalist retro design features a striking logo emblem and traced images of mouth-watering meals, such as "meat with asparagus" and "serving board with cuts of figs, bacon, and meat." Simple, sleek sans-serif fonts enhance the impact of captivating illustrations. With a bold red accent color, this template adds a touch of sophistication and elegance to your branding.

Real Estate Agency Business Card Template
Real estate agents need to provide clients with easily accessible contact details, making a professional and visually appealing business card essential. That's why this customizable business card template is specifically designed for real estate agents. Featuring suggestive content and an attractive design, this template is created with scalable vectors, allowing for effortless customization.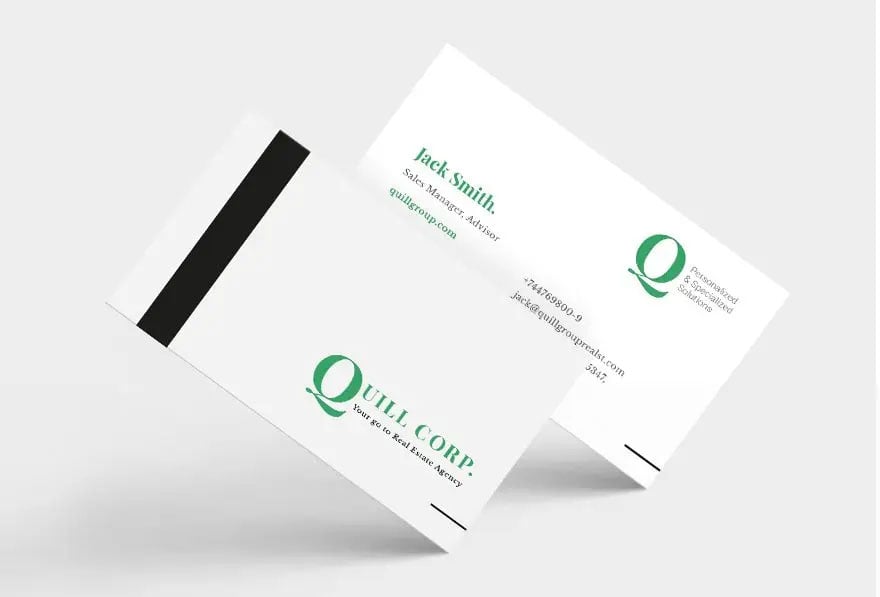 Black Business Card
Crafting a memorable brand identity requires a standout business card design, not just a run-of-the-mill paper with a dull, uninspired layout. The black background is accented with vibrant, attention-grabbing yellow details that are sure to impress the recipient. Don't settle for ordinary business cards that fade into the background. Choose this remarkable template and make a lasting impression that reflects the unique personality of your brand.

Geometric Business Card Design
Incorporating minimalist geometric elements can create captivating business cards in Google Docs. The versatile nature of these shapes makes them suitable for various professions. Ideal for IT, architecture, or science fields, this vibrant, modern card is also perfect for trendy startups and tech firms. Elevate your professional image, even as an accountant, with this striking business card template.

Beige Yoga Business Card
Yoga instructors seeking a professional business card design need look no further. With this free template, you can bypass the expense and time-consuming process of hiring a graphic designer. Simply utilize the user-friendly Google Docs platform, customize the layout to your preferences, and add your essential information.

Stylish Photography Business Card
Captivating business cards require an attention-grabbing template design that emphasizes your best photo. This customizable template allows you to replace the existing photo with your own, ensuring the recipient's focus is directed to your most impressive feature. For added impact, experiment with a bold, high-contrast filter. With these simple steps, your business card is already fifty percent complete!

Photograph Business Card
Stand out from the competition with a unique, professionally designed business card. The sleek, dark tones make this template suitable for a variety of businesses and purposes beyond photography. Customize the design to your liking with ease using Google Docs.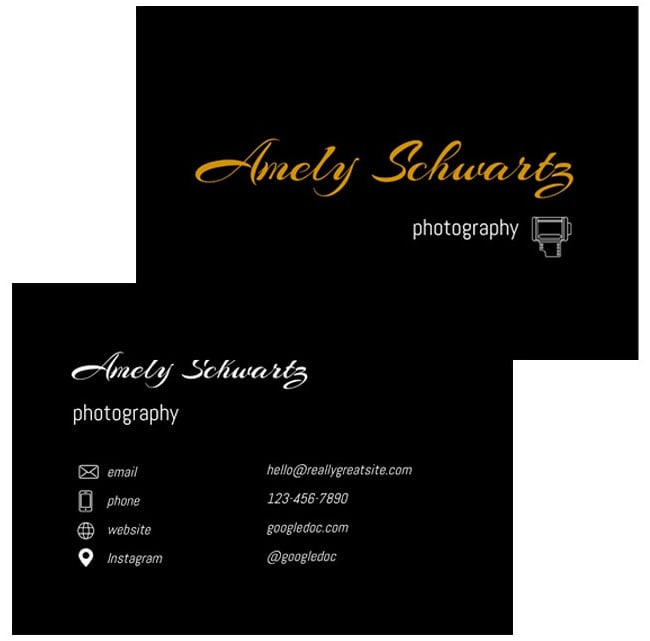 Frilly Business Card Template
Creating stunning business cards in Google Docs is achievable and impressive! Ideal for florists, fashion designers, and wedding planners, this exquisite design adds a touch of elusive charm that sets you apart from competitors. Life coaches and massage therapists can evoke tranquility and serenity with these designs. Select a delicate, cursive font to enhance the dreamy appeal of your cards.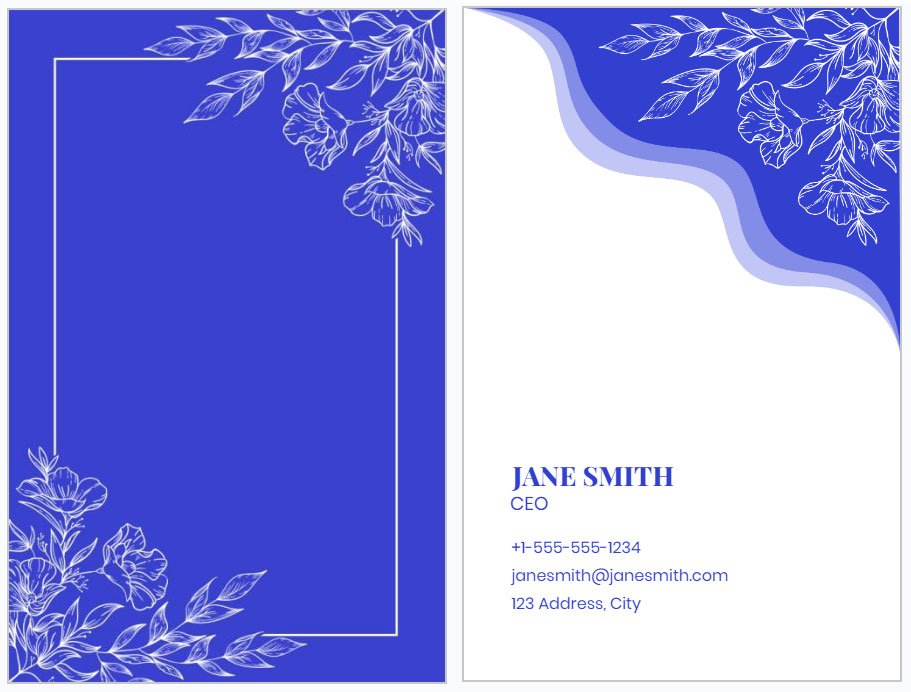 Stylist Business Card
Struggling to find the perfect design for your business card without breaking the bank? Look no further than this simple and cost-effective solution. With this ready-made template, you can effortlessly customize the design using Google Docs. Add up-to-date contact details, social media links, and other relevant information to create a professional and eye-catching business card. Don't compromise on your brand's image – get your hands on this customizable template today.

Fashion Business Card
Elevate your business card design with the powerful tool of golden ratio compositions combined with a text block on the front side. Add your personal brand information and maintain your unique style by experimenting with effects, color schemes, and angles. The reverse side includes all the essential contact information, such as your phone number, address, and email.

Lawyer's Business Card
Impress clients with a sophisticated and professional image using this one-of-a-kind template. The elegant black background and gold trim exude a sense of authority and class, making it the perfect choice for any law firm. Customization is a breeze – simply add your name or organization's name, phone number, and other relevant contact information using the built-in tools of Google Docs or other text editors.

Photographer Business Card
This template offers a bold and memorable design that showcases your brand in a unique and captivating way. Create a professional image that reflects your individuality and style with this customizable template.

Vertical Business Card
Standing out in today's crowded market can be a challenge, but with this vertical business card template, you can make a bold and memorable statement. While others rely on vivid colors and catchy words, this template offers a unique approach by flipping the traditional horizontal format to a vertical position. Imagine the impact when someone expects a typical horizontal business card and is surprised to find it in a vertical position – this unexpected twist will make you stand out as extraordinary.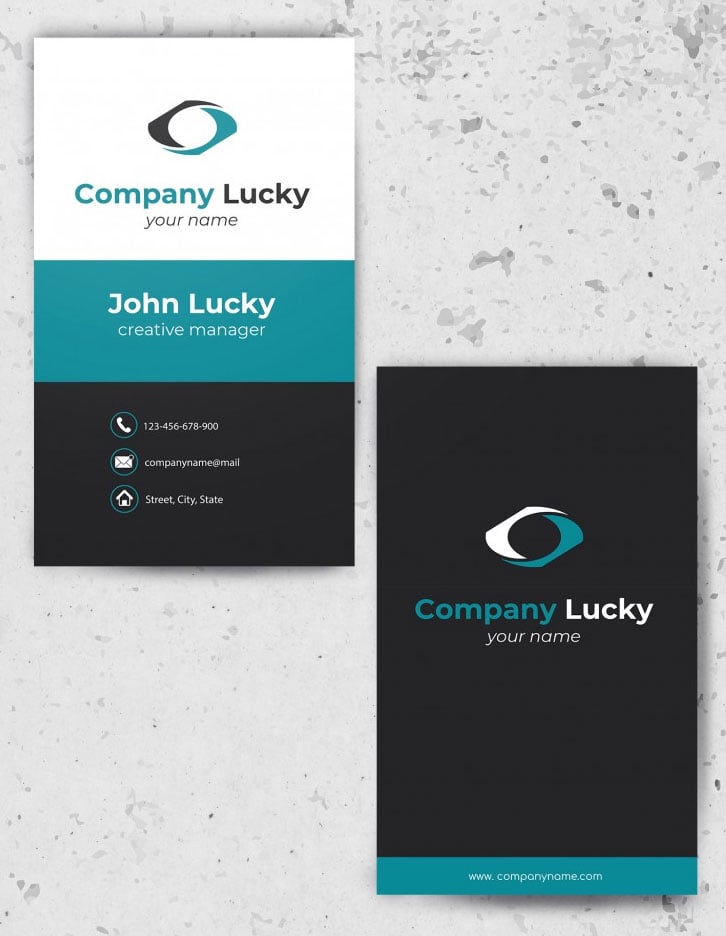 Makeup Artist Business Card
With a timeless layout that features your business information on the left and plenty of space for additional content on the right, this template is perfect for anyone in the beauty industry.

Freelancer Business Card
Make a professional impression with this freelancer business card template – the perfect solution for anyone looking for a stylish and eye-catching design. Simply add your contact details and any other relevant information using Google Docs or other text editors, and you're ready to go! Whether you're a freelancer, consultant, or entrepreneur, this template is the perfect tool to help you stand out from the competition.

Cake Business Card
This charming and delightful template is an ideal choice for any skilled cake maker specializing in weddings and birthdays. Its minimalistic design is crafted to highlight a detailed photo of your signature baked goods. The soothing pink-beige color palette can effortlessly blend with a range of confectionery items like biscuits, cake layers, berries, flowers, ice cream, chocolate, and caramel, making it a versatile and eye-catching choice for your business card.

Painted Business Card
Unleash your creativity and make a statement with this stunning painted business card template! Impress your clients and partners with a design that is both bold and artistic. The vibrant red color scheme adds a pop of energy, making your card stand out from a pile of boring cards.

Simple Business Card Design
Embracing simplicity is a wise strategy when crafting timeless business cards. Featuring clean lines, negative space, and a straightforward outline, this Google Docs template is a superb choice for enduring appeal. The versatile design works seamlessly both with and without your logo, ensuring professional elegance in every context.

Abstract Business Card
This abstract business card template is sure to impress anyone who lays eyes on it. Its stunning design is not only visually appealing but is also a great way to showcase your professional image.

Fashion Designer Studio Business Card
This fashion designer business card template offers a trendy and casual vibe with its creative layout and pastel light colors. It's perfect for fashion designers looking to create a memorable impression. The free Google Docs template is easily customizable to match your brand's identity.

Marketing Business Card
This creative and colorful business card template is perfect for those in the marketing industry. Impress your potential clients with a unique and eye-catching design that showcases your creativity. The combination of different colors on the background creates a stunning visual effect that will leave a lasting impression.

Illustration Business Card Template
A captivating illustration exudes confidence and a sense of fun. Ideal for marketing or PR specialists and event planners, this card portrays an approachable and imaginative demeanor. Recipients of this charming, elegant illustration-based business card are likely to cherish and remember it. The unforgettable design leaves a lasting impression on every interaction.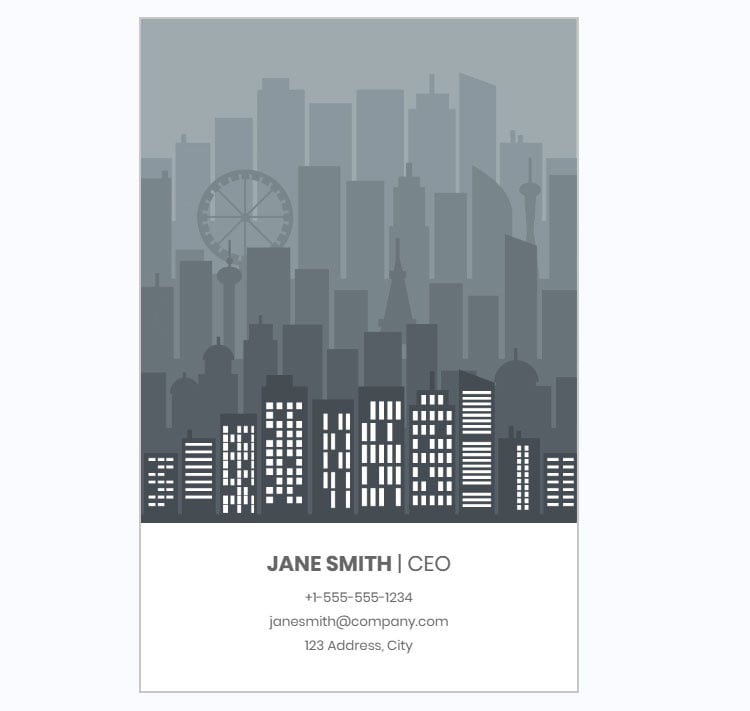 Digital Artist Business Card
Transform your law firm's image with a sleek business card template. The black background and gold trim radiate professionalism and sophistication. Simply add your name, organization name, phone number, and other relevant contact information using the user-friendly tools in Google Docs or other text editors.
Conclusion
Have you found the right option for you? You can use the free templates in Google Docs to save time and money on other things that will help your business grow. In addition, there are many useful options for individual needs. Using ready-made templates is always a great choice – see for yourself!
– – – – – – – –
More free business card templates: