Hi there everyone! We hope that you guys are having a really nice time reading our blogs and that you are very excited to check out our today's blog as well as we are about to share everything that you all need to know about Google Pixel Fold. But before doing that, we would like to take a moment to thank you all for your love and support and for always making sure that the people you love and care about are also reading our blogs and making the most of them too for their personal and commercial projects. And we hope to see more of that happening in the future too.
If you guys are fans of Google phones, then you would already know that the pre-orders for Google Pixel Fold started on May 10, 2023. The release date of this fantastic device is June 27, 2023, and it will be available in the United States, United Kingdom, and Germany for now. Allow us to share what you can expect from the Fold!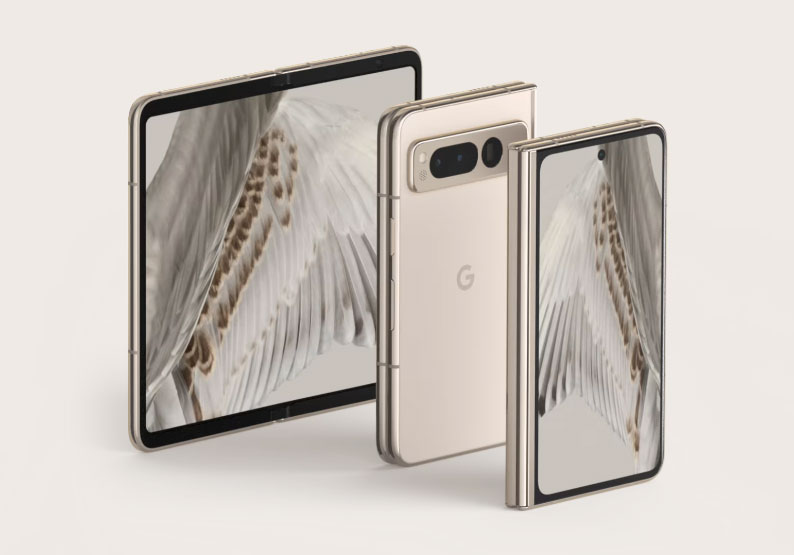 1. THE ARRIVAL OF THE PIXEL FOLD:
After months of speculation (and rumors), Google chose 'Star Wars' Day to officially unveil the Pixel Fold to the world. The timing seemed interestingly fitting, as the device brings a touch of sci-fi into reality. As the first foldable smartphone from Google, the Pixel Fold showcases the company's commitment to pushing the boundaries of smartphone technology.
2. EXQUISITE DESIGN:
The Pixel Fold features a stunning design that combines elegance with functionality. When unfolded, the device offers a large, flexible OLED display that measures around 7.6 inches, providing users with an immersive viewing experience. The exterior of the Pixel Fold offers a smaller display that serves as a quick access panel for notifications and basic functionalities.
3. FOLDABLE DISPLAY TECHNOLOGY:
The Pixel Fold utilizes advanced foldable display technology to achieve its seamless transition between folded and unfolded modes. The display offers ultra-thin glass combined with a flexible polymer layer, ensuring durability and smooth folding motion. This technology allows users to switch between a phone-like form factor and a tablet-like experience, offering greater versatility for productivity and entertainment.
4. POWERFUL PERFORMANCE:
Speaking of the performance; under the hood, the Pixel Fold is equipped with cutting-edge hardware. Powered by Qualcomm's flagship Snapdragon processor and supported by ample RAM, this device delivers outstanding performance for multitasking, gaming, and resource-intensive applications. Additionally, the Pixel Fold runs on the latest version of Google's Android operating system, providing a seamless and intuitive user experience.
5. IMPRESSIVE CAMERA CAPABILITIES:
Google has been renowned for its exceptional camera technology, and the Pixel Fold is no exception. The device features a high-quality camera system with multiple lenses and advanced computational photography capabilities. The users can capture stunning photos and videos, whether in folded or unfolded mode and make the most of Google's renowned image processing algorithms to enhance their photography skills like a pro.
6. ENHANCED SOFTWARE INTEGRATION:
As a Google product, the Pixel Fold leverages the company's extensive software ecosystem to provide a seamless experience across devices. The device seamlessly integrates with other Google services and applications, including Google Assistant, Google Photos, and Google Workspace, allowing users to effortlessly transition between their Pixel Fold and other devices in their Google ecosystem.
7. SUPER UNIQUE FEATURES:
The Pixel Fold introduces several unique features that take advantage of its foldable design. For example; the users can utilize a split-screen mode to simultaneously run two applications, each occupying one-half of the unfolded display. This feature enhances productivity and multitasking capabilities.
Before we conclude the blog today, we would like to mention that there are chances that a couple of features might still have to be confirmed once the product is out in the market and someone reliable (like a phone reviewer) has got it in a PR package or spent their money on it to actually see what's all Google is offering through its new smart phone for example; there are speculations that Google Fold does support stylus while some experts are of the viewpoint that it does not support stylus so which might be a little tricky on Google's part as they could *just* offer stylus support on the new smart phone.
That is all for today, dear friends! We hope that you enjoyed reading the blog and that you will also share it with your friends, family members and favorite colleagues, etc. as well so that they can check out Google Pixel Fold and can get one for themselves right away. We would also like you all to take some time out and share your honest feedback with us in the comments section regarding the blog and while you are at it, don't forget to share your special requests with us as well so that we can work on them and be back here super soon.
Recommended: