Hi there everyone! We are back with yet another amazing and super useful blog of ours and we can bet that you all are going to love reading it too as we have compiled a list of the 30+ best free ad-free messaging apps that will help you stay in contact with your loved ones without any distractions – no whatsoever. And we are very excited to share all the apps that you would want to know to use to talk to your loved ones but before we do that, we would like to take a moment to thank you all for the love and support that you send our way and for always making that your friends, family members and colleagues, etc. are also reading our blogs too. We hope to see more of that happening in the future as well so that we can continue creating the content that we love to create.
Whenever we use apps that help us stay connected with our loved ones or even with the people we work with, the best feature that attracts the majority is that they are free to use. But then there are other features as well which make the experience even better such as an easy-to-use interface or UI, compatibility with different operating systems such as Android and iOS, app's availability on the PC, and when it comes to security, the apps also offer end to end encryption as well. We are sure that those of you guys who use WhatsApp or prefer using it know that it also allows password protection too which only you know and from time to time, you have to enter the password to keep using your account too. So, all these features make the experience really breezy and at the same time, allow us to stay connected with the people who matter to us.
As you guys know that with the passage of time, many apps were launched in the market which either ended their businesses altogether or improved the apps so much that they have become the new favorites as well. We are sure that many of you guys would be able to immediately recall Viber; the purple app with really cool stickers and an interesting chat screen to offer too and even though it is still there, not a lot of people use it. Now, it is important for us to mention here that Viber did not become irrelevant altogether, but most of its users switched to better apps mainly because of the fact that other apps such as WhatsApp, Telegram, etc. are not only fun to use, are free, offer the web version of the app as well but you also get to sync the chats too on mobile and desktop as well. On the other hand, Viber does not offer an experience that easy and fun. And it also does not allow you to share documents too so that's like a major drawback of the app.
That being said, we would like to share what you guys can expect from the 30 best and free and also ad-free messaging apps that we have gathered in a collection for you guys to check out so that you can make an informed decision about which app to keep using if you are using it already or if you would like to switch to a better one. Make sure that you guys read the blog till the end in order to stay in contact with your loved ones without any distractions because we know it can get annoying at times especially when you would be talking about a serious thing with your siblings or discussing future plans with a partner, etc.
In addition to the apps being super secure, ad-free and easy to use, the apps that we have added to the list offer video calling as well which makes the conversations even more fun. Then you can make your chats interesting by using stickers, GIFs, and smileys, etc. as well to freely express your emotions and we think that counts as a nice feature too. And, of course, any and every app that is used for communication has to offer great speed as well so know that the apps that you will check out in our list of the 30+ best free ad-free messaging apps to stay in contact with your loved ones offer great loading speed given that your internet connection is stable.
That is all for today, you guys! We hope that you not only had a great time reading the blog but that you will also share it with your close friends, family and favorite colleagues as well so that they can also stay connected with the people they love and care for by using the ad-free messaging apps. We would love to know which apps you guys liked the most in the comments section and while you are at it, don't forget to let us know if you guys have any special requests to make too so that we can work on them and be back here super soon with your requested content and more. Here is the list: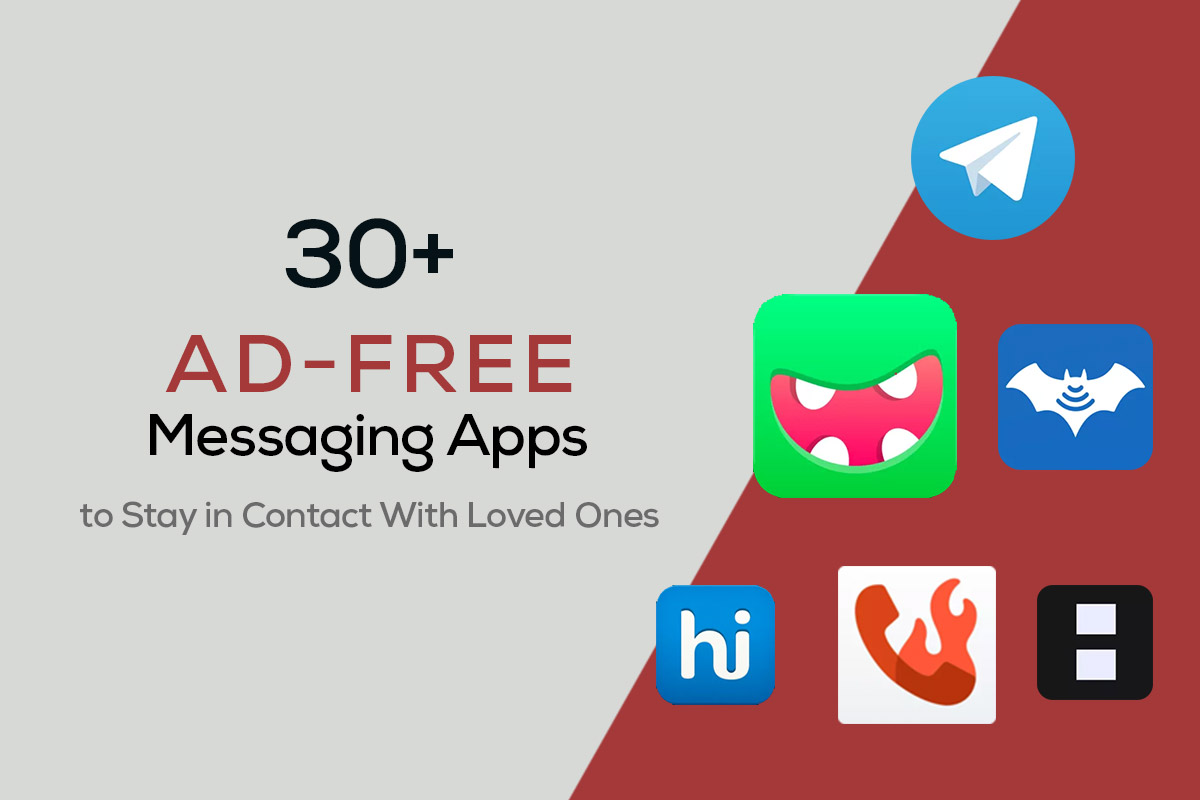 Recommended: