Hello there everyone! We hope that you guys are having an amazing time reading our blogs and that you are very excited to check out our free turmeric gummies bottle mock-up PSD file that we have made especially for you guys along with all the tips & tricks that you guys would need to know in order to make the perfect designs for your very turmeric gummies bottles or for any gummies for that matter. But before we do that, we would like to take a moment to thank you guys for the love and support that you always send our way and for making sure that your friends, family members and colleagues, etc. are also reading our blogs and making the most of them for their personal and commercial projects.
If you are someone who takes after their health and likes to maintain a healthy lifestyle, then we are sure that you guys have enough knowledge about supplements and gummies that come in many different packaging designs and flavors and are responsible for helping you improve your physical and mental health in multiple ways as well. What we like about gummies or supplements is that they are not too heavy on the body, work fine and give you the energy or provide you with the solution that you are looking for. Also, gummies are chewable medicines so, it's like a fun experience to consume them given that you are consuming them as per a prescription.
That being said, we want you guys that we know how busy our life has become and it's like we are almost always doing one thing or the other – be it work or be it something that we planned to do with our family which can also include a vacation with your loved ones as well so that you can unwind and relax with the people you care for. And that makes sense too, you know because you have to be there for your near and dear ones when you have spent so much of your time outside the house or at your home office desk. Know that even if you do not plan a lavish vacation with your family members, you can still sit with them and enjoy a cup of coffee with your favorite desserts.
We know that despite our schedules, we are trying as hard as we can to be there for the ones who love us but have you guys realised that while doing all the work and unwinding things too, we tend to ignore our health in so many ways, it is just sad. So, if you guys have the time and energy to get in touch with your general physician anytime soon, we would really want to encourage you guys to get your complete checkup done and see if you need to consume multivitamins or supplements, etc. that will boost your immunity or make things right in your mind and body that need attention.
And now, we feel it is time for us to share how you guys can work on making great bottle designs for gummies and more while also taking care of your physical and mental health. Make sure that you guys read the blog till the end to make informed decisions.
As you all know that we keep our mock-up PSD files highly editable and free so that you can work on anything and everything without having to worry about the quality of work that you will produce because it is going to be just the best version of whatever you will create. Keeping in mind that there are a couple of rules that you need to follow to design packaging for medicines, etc., we want you guys to take into consideration your target audiences and pick the colors that will complement the medicine itself and will also make the consumers feel okay instead of being scared to consume it. You also need to be very clear about the instructions, manufacturing and expiration dates, ingredients that were used to produce the supplements and if consuming the stuff can cause any allergies in the packaging design. Pick attractive design elements to complete the overall design and you'll be good to go.
That is all for today, dear friends! We not only hope that you had a great time reading the blog but that you will also take out the time to share your feedback with us on the blog too. Also, we would love to see you guys sharing the blog with your loved ones, your colleagues and friends, etc. as well so that they can utilize our free turmeric gummies bottle mock-up PSD file for their upcoming design projects. Lastly, we want you guys to also let us know if you have any special requests to make too so that we can work on them and be back here super soon with your requested content and more.
Free Turmeric Gummies Bottle Mockup PSD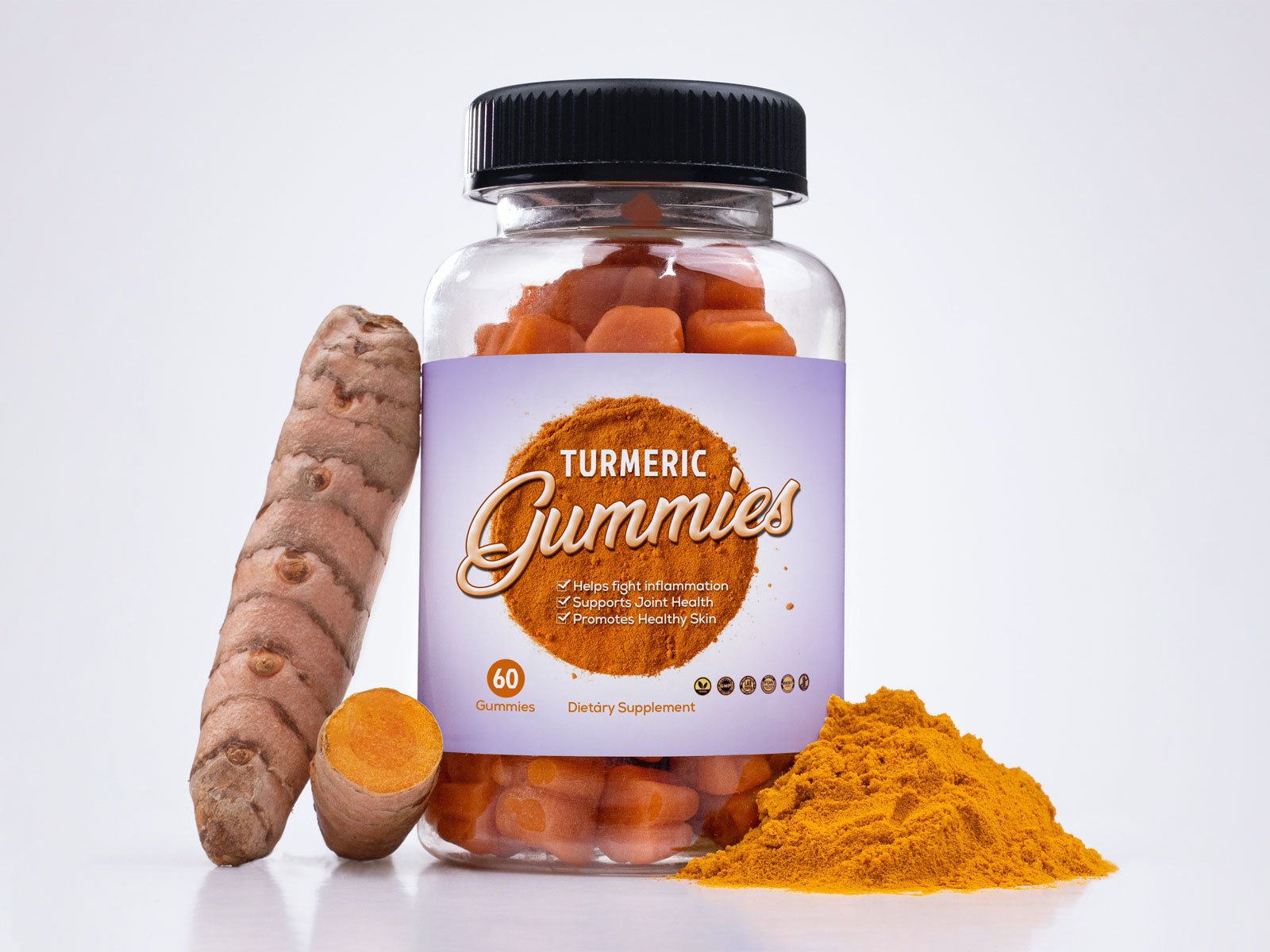 Available Format: Photoshop PSD
License: Free for personal and commercial usage
File Format: WinRAR
Mockup Resolution: 4000 x 3000 px
Note:
1. Free Bottle Mockup is allowed to share online (A Must Linkback to this page)
2. Say thanks if you like or share/tweet with your friends. That means a lot to me.
3. And don't forget to follow or subscribe to receive more high-quality premium freebies & awesome articles only.
Download Gummies Bottle Mockup
Recommended: