Hi there friends! We hope that you all are enjoying reading our blogs and that you are very excited to check out what we are about to share with you all today. But before we do that, we would like to take a moment to thank you, guys, for the constant support that you send our way and for always making sure that your friends, family members, and your colleagues are also reading our blogs and making the most of them too. And we hope to see more of that happening in the future as well. As you guys have already familiarized yourselves with the title of our blog, we would like to dive right into it without any further delays.
As you guys know that in the world of branding and marketing, presentation is, quite literally everything. When it comes to products, every detail matters, including the hanging tags. Hanging tags play a crucial role in delivering important information and creating a visual impact on your existing and potential customers. To make sure that your hanging tags make a lasting impression effectively, it's important for you to work on designs that really represent your brand values and other related information.
If you are one of our regular readers, then you must have read our blogs in the past that featured hanging tags along with the design tips and tricks that can help you create the most perfect hanging tag designs for your businesses or for the ones that you are associated with. However, for our today's blog, we have created something different for you guys so that you can present your creative ideas in a more realistic manner.
In this part of our blog, we will guide you on why using a hanging tag is important. Make sure that you read the blog till the end to know more and design better. Your hanging tags will help you provide essential information and make it easier for your customers to get to know about the product without having to wait for a representative to show up and guide them. This essential information can include details such as the product name, price, size, material, care instructions, and any other relevant information.
Recommended: 30+ Premium Quality Product Mockups
In addition, your hanging tags are an extension of your brand identity. They provide an opportunity to showcase your brand's logo, colors, typography as well as overall design aesthetic. By incorporating your brand elements into the hanging tags, you happen to create a consistent brand experience for your customers. We are sure that you guys would know that consistency in branding helps build brand recognition and loyalty and eventually makes your products easily identifiable in a store.
We would also like to mention that when people are in a crowded market, standing apart from the rest of the brands is essential. Hanging tags offer a unique opportunity to differentiate your products from your competitors. By making creative and eye-catching designs, you can make your products more memorable for your customers. Know that with hanging tags, you can have a significant impact on the perceived value of a product. When a product is accompanied by a well-designed and high-quality hanging tag, it gives an impression of professionalism and shows that you care for all the factors that can make or break your brand. This can create a perception of higher value in the minds of customers.
Recommended: 80+ Best Packaging Mockups
Also, it is interesting to note that brands today are not just about the products, they are also about stories. Hanging tags provide a space to communicate your brand's story and values with your customers. By incorporating quick and impactful messaging on the tags, you can create an emotional connection with customers. This storytelling approach will also help you build brand loyalty as well.
Lastly, hanging tags offer brand recall and help you generate word of mouth in an effective manner as well. When your customer purchases a product with an impressive hanging tag, there is a very high chance that they will remember the brand and will also share their positive experience with their family and friends. A well-designed and thoughtfully crafted hanging tag will also help you leave a lasting impression which will lead to increased brand recall and word-of-mouth recommendations.
And that is all for today, you guys! We hope that you not only had a great time reading the blog today but that you will also immediately get your hands on our free yet highly editable hanging tag mock-up PSD file and start creating your own designs too. Don't forget to share the blog with your friends, favorite colleagues, students, etc. as well so that they can also create stunning hanging tag designs for their personal and commercial projects we will see you guys next time with something more fun and exciting to read and work on.
Free Hanging Tag Mockup PSD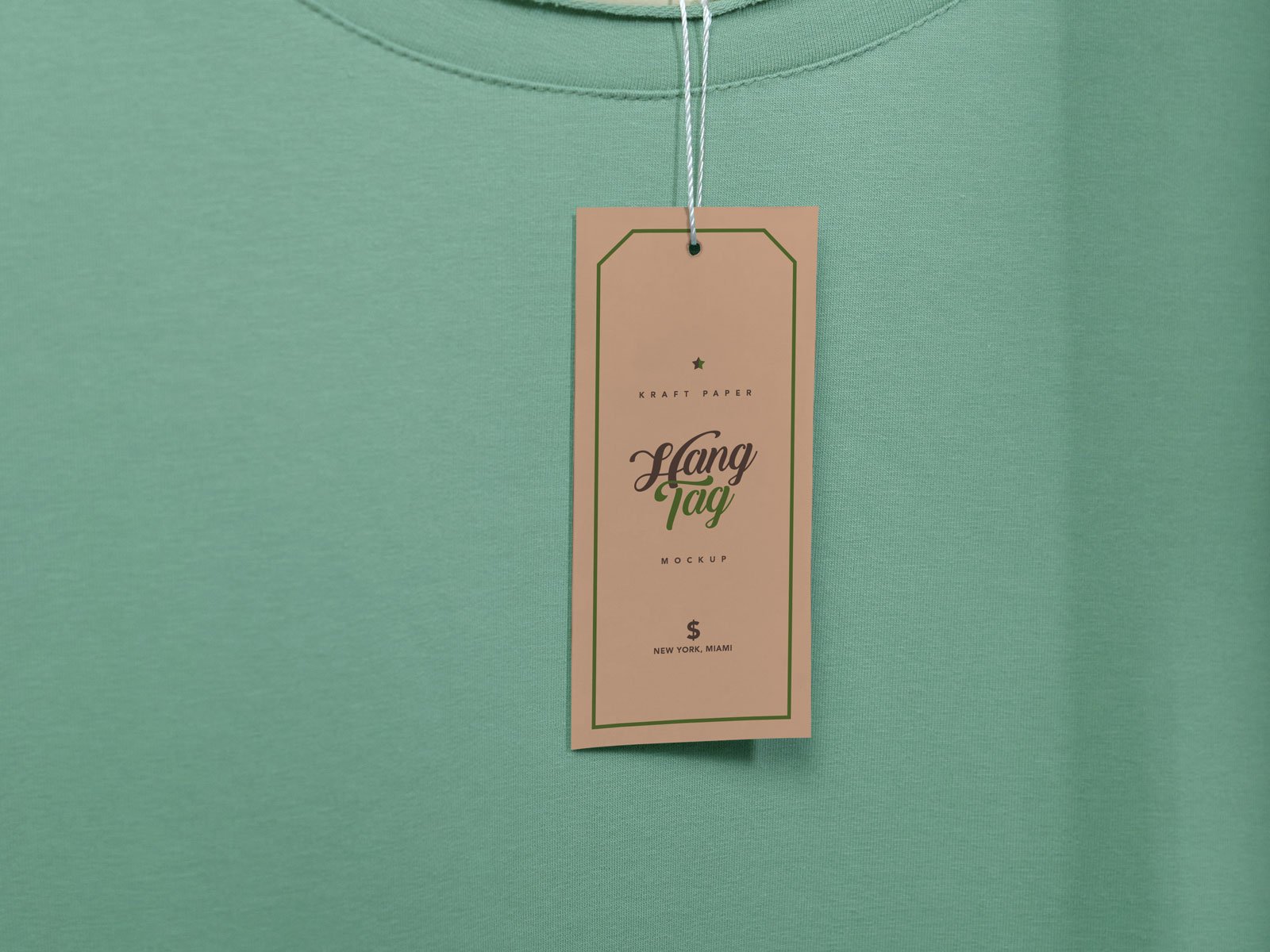 Available Format: Photoshop PSD
License: Free for personal and commercial usage
File Format: WinRAR
Mockup Resolution: 4000 x 3000 px
Note:
1. Free Hanging Tag Mockup is allowed to share online (A Must Linkback to this page)
2. Say thanks if you like or share/tweet with your friends. That means a lot to me.
3. And don't forget to follow or subscribe to receive more high-quality premium freebies & awesome articles only.
Download Hanging Tag Mockup
Recommended: