Hi guys! We hope that you had a fun time reading our previous blog and that you would love to know what we are about to share with you all today especially if you are someone who is planning to upgrade their resume and they could use a nice and elegantly designed template to make things work. We will be honest, we can't wait to let you guys know about our free yet highly editable elegant resume template Ai file but before we do that, we would like to take a moment to thank you all for the love and support that you always send our way and for making sure that your friends, family members and colleagues are also reading our blogs and making the most of them too. And we hope to see more of that happening in the future as well.
We are that you guys must have worked on your own resumes or may have asked to edit a couple of them for your friends, colleagues, etc. but as times are changing and people are always looking for something that is unique and modern, it is a good idea to upgrade the documents that you happen to use for your personal and official use. A resume is one of those documents that requires constant upgradation even if you are not actively applying anywhere. Also, keeping in mind that we have a diverse group of audience that reads our blogs here, we thought that we must work on a resume template that won't just guide you on how to keep it all modern but you will also be able to stand out among the many, many resumes that are shared with the recruiters for hiring purposes.
Okay so, there are a number of things that your resume must have for example, your resume must look modern and not like an old document that you haven't looked at for ages. Keep in mind that as you get to evolve professionally, you must keep the resume updated as well even if you are completing a couple of courses, have volunteered at some animal shelter or have attained a new skill – all of the updated information must be added to your resume, preferably in real-time so that you don't forget and in addition to that, you will also be able to write nicely about the activity too as you would be feeling proud of what you did so, it must be made the most of, alright!?
We would also like to mention here that your resume must have clear sections so that you can highlight your best features such as your education, your work experience as well as all the voluntary projects that you have been a part of. And if you would like to add any freelance projects that you have worked on or are working on, then you must add them to your resume as well. By utilizing sections in your resume you won't only be able to add all the relevant information that should be available in your resume but you will also allow the recruiter to go through your resume easily and it will also help them decide if they want to give you a call to schedule an interview or not. Do you want to know what can make your resume stand out really well? You, adding your awards, accomplishments, etc. as well and we suggest that you do it so that you can stay ahead in the game. Also, know that if the recruiters in one company don't think that you can be hired for a role that is vacant within their organization, then they can also refer you to some other place as well which is better suited for you so, give your best shot because usually, you have only one chance to make a good impression.
Recommended: Free A4 / Letter (US) Flyer Mockup PSD
Before we conclude our today's blog, we would also like to say that you can a color or two to make your resume look engaging. Know that you have to use an easy-to-read font and while you are at it, ensure that your resume is proofread multiple times before you email it to literally anyone.
That is all for today! If you liked reading the blog, feel free to share your valuable feedback with us in the comments section. We would also like to encourage you guys to share this blog with your friends, family members, acquaintances, etc. who are planning to revamp their resume style and could really use something like our free elegant resume template Ai template file. Lastly, don't forget to share your special requests with us so that we can work on them and be back here with your requested content and more super soon.
Free Elegant Resume Template & Cover Letter in Ai Format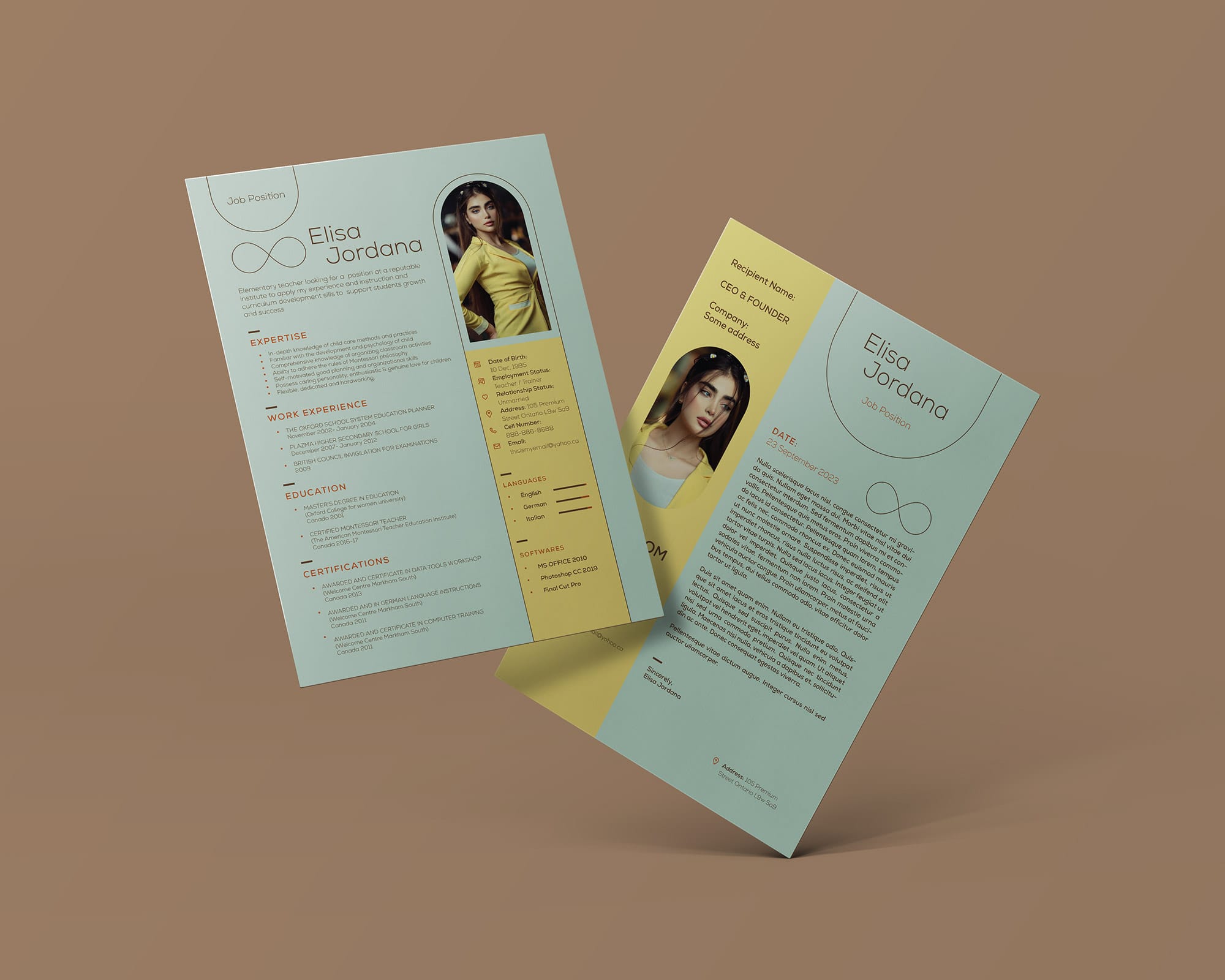 Format: Illustrator Ai (editable file)
License: This free curriculum vitae is for personal use only (link back if sharing online)
Font: Nexa
Designed by Zee Que | Designbolts.com
Download Resume Template
More Resume Templates for Free: