There are many freelance opportunities for all those beginners and experts who want to run a side course of job to earn a good amount little by little besides their regular routine jobs. I prefer it too because you are a bit carefree in this domain, after delivering the task one has much time to rest without worrying of any employer. But a monthly or weekly job has more of the responsibilities where boss is always controlling and stern in action, giving instructions, pushing, pressurizing, and always looking up for a flawless work without errors forgetting that "to err is human".
Even for a designer sometimes it becomes horrendous to be objectified, subjected to criticism and demurred to change and transform the designs that took him hours of struggle at first. One always grows and expands in a setting and sphere where everything is positive. A good staff and easygoing colleagues play a vital role in the success stories of the designers. In a negative situation, things become perilous and hence creativity somewhere gets reluctant to come out from inside.
If you wish to master the work of art then you must be ready enough to take the trials and to turn back tides with a lot of energy and enthusiasm. The setbacks should be turned to comebacks, the criticism should be taken productively and it should not be a catalyst to pain & tragedy. I know many designers who lose their spirit and heart there and then after being mercilessly criticized and underestimated whereas they can pick up themselves and produce beyond expectations. Since logo designing, brochures, business cards and typography are the day to day tasks, a variety is always welcomed in this profession so one must be ready to overcome fears.
Down here you will see free leather stamping logo mockup PSD that will draw your attention towards the fact that how differently a logo can build up its stance by using this technique of leather stamping. It can be embossed and engraved on merchandises and leather stationery.. How much this technique looks flawless, stunning and also profound. The more a designer simplify things the better results can be obtained. For more amazing design feed, I would ask you to subscribe to the blog and also give your kind feedback down below. Here we go.
Free Leather Stamping Logo Mockup PSD
Engraved Logo Mockup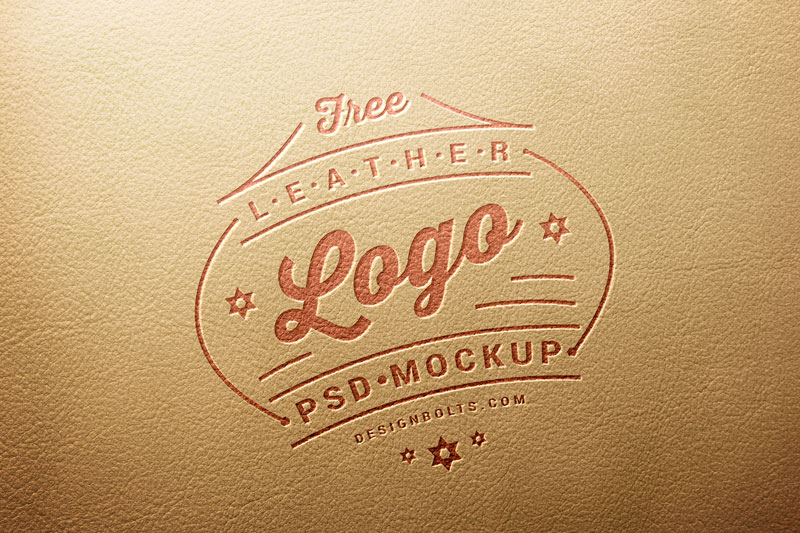 Embossed Logo Mockup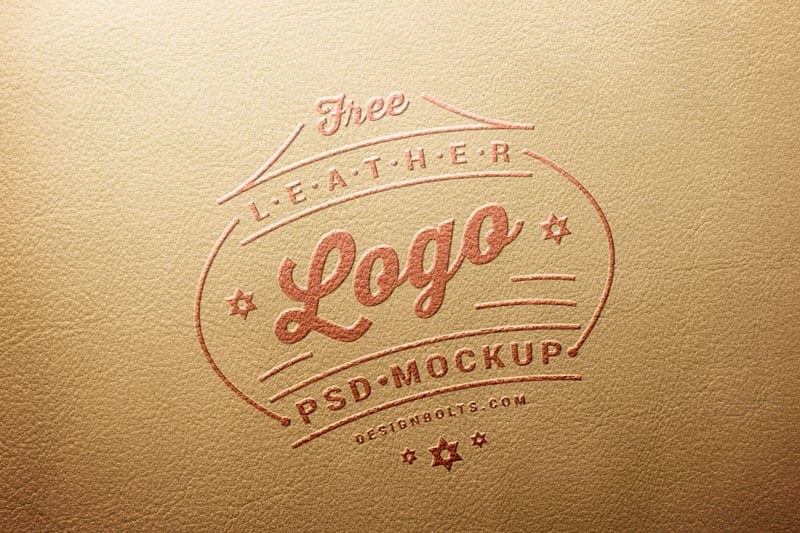 Colored Leather & Typography Logo Mockup
Available Format: Layered PSD with smart object insertion
License: Free for personal & Commercial use
Zip File Includes: Free Leather Stamping Logo Mockup PSD
Note:
1. Free Leather Stamping Logo Mockup and template are allowed for sharing online (A Must Linkback to this page)
2. Layers are hidden to decrease the size of file kindly unhide and place your design on red colored layer.
3. Say thanks if you like or share/tweet with your friends.
Leather Logo Mockup Engrave Effect
Leather Logo Mockup Emboss Effect
Recommended Posts: